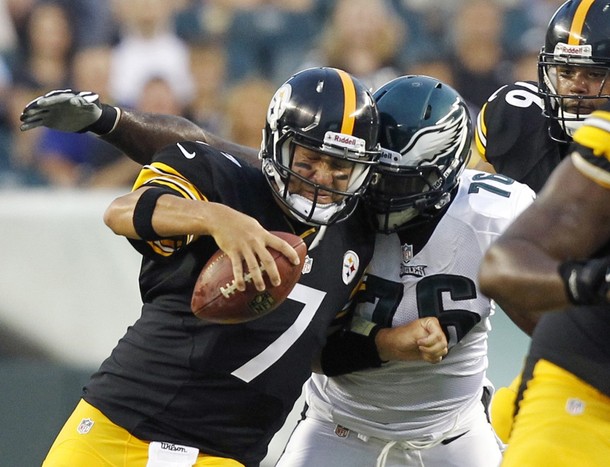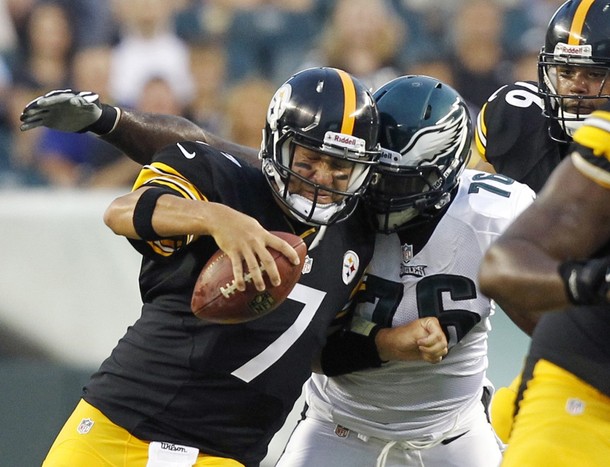 Pittsburgh Steelers
The Steelers have endured a transition period, and are ready to assert themselves to the top of the AFC North.
Ben Roethlisberger remains an elite quarterback, though durability has been a bit of a problem. He'll get a little more protection this season with the return of center Maurkice Pouncey, who missed all of 2015 with an ankle injury.
Ben has a tremendous amount of the depth at the running back position to support him. Le'Veon Bell is a top-five talent at the position when healthy/not suspended, but even if Bell misses more time for either reason, veteran DeAngelo Williams is more than capable of stepping in.
The team's depth at wide receiver has taken a hit with Martavious Bryant's suspension, but the club still has elite wideout Antonio Brown, and they're hopeful that young players Marcus Wheaton and Sammie Coates will take great strides forward in their development.
The Pittsburgh defense has been a disappointment in recent years. The team has invested a great deal of high draft picks into the unit over the last five years (Cameron Heyward, Bud Dupree, Jarvis Jones, Ryan Shazier, Artie Burns all in round one, Sean Davis, Senquez Golson in round two) and the team still has a squad that finished in the bottom 10 in total defense. The top is that much of this young talent will take big steps forward this season.
Projected Finish: 11-5, 1st Place
Cincinnati Bengals
The continued employment of head coach Marvin Lewis is one of the most baffling mysteries in the NFL.
After holding the position for 14 years (!!!!), Lewis has failed to achieve a single playoff victory with an 0-7 record (!!!!).
Andy Dalton comes off of one of the best seasons of his career, throwing for 25 touchdowns and seven interceptions. Whether or not Dalton is able to continue to keep his turnovers down without offensive coordinator Hue Jackson is to be determined.
Jeremy Hill and Gio Bernard make for one of the better thunder and lightning tandems in the league. Hill was a bit of a disappointment from his rookie season, but still found the endzone 11 times. Bernard gained over 1,000 total yards from scrimmage, and gives the offense a constant home-run threat.
A.J. Green is as consistent as they come at the wide receiver position, coming off of another 1,200-yard, 10-touchdown campaign. Mohammed Sanu left the team in free agency, and will be replaced by Brandon LaFell, who is two years removed from a 70-catch season with the Patriots. Tight end Tyler Eifert caught 13 touchdowns a year ago, but was injured in the Pro Bowl and may not start the season.
Cincinnati's defense took a hit in the offseason, losing safety Reggie Nelson to free agency. Nelson led the team with eight interceptions, and provided strong leadership. The team still has a formidable pass rush, anchored by Carlos Dunlap and Geno Atkins, who combined for nearly 25 sacks a year ago. The Bengals continue to invest high picks at the corner position, adding William Jackson to a group that has also spent top picks on Dre Kirkpatrick and Darqueze Dennard over the last three years.
The Bengal defense will still be the backbone of this team, but with Hue Jackson now in Cleveland, expect Dalton and the entire offense to regress, expect the Bengals to fall short of the playoffs, and expect the Lewis era to finally come to a close.
Projected Finish: 9-7, 2nd Place
Baltimore Ravens
Few teams were ravaged by the injury bug harder than the Baltimore Ravens last season.
Baltimore lost franchise quarterback Joe Flacco, top receiver Steve Smith, starting running back Justin Forsett, and elite pass rusher Terrell Suggs to season-ending injuries. These injuries not only ruined last season for the Ravens, but may also impact the club's success this year as well.
Joe Flacco's knee reportedly has responded well to the treatment it has received, but it may take him another year before he truly gets back to where he was before the injury. But even if Flacco is capable of performing at a high level this season, there just isn't much reason to be optimistic about the Ravens' offense. Steve Smith will always be as ferocious as a competitor as there is, but coming off of a serious injury at his age, he can't be counted on to do much. Mike Wallace could surprise with a change of scenery, but this will be his third team in as many years.
The Ravens' defense still finished ranked eighth in the league in total defense, but they didn't generate many turnovers. Baltimore intercepted only six passes a year ago, a number that they hope will increase dramatically. Linebacker C.J. Mosely is an emerging leader, and the team hopes a return of Suggs along with veteran Elvis Dumervill will lead to more sacks than they got a year ago.
Baltimore just doesn't have enough young, explosive talent on either side of the ball to get back into the playoff picture. This is a year for them to get Flacco back on track, and maybe develop a couple of young pieces for the future.
Projected Finish: 7-9, 3rd Place
Cleveland Browns
Once again, the Cleveland Browns are pressing the reset button.
The Browns are on their fourth head coach in five years, Mike Pettine is out and former Bengals offensive coordinator Hue Jackson is in.
Cleveland started their rebuild by making several draft day trades to stockpile high draft picks to speed up their process over the next few seasons.
Jackson has a history of bringing out the best in talented offensive players, and the Browns hope that he'll be able to have that same effect on some of the players that they've brought in.
Robert Griffin enters the season as the starting quarterback after failing in Washington. Griffin has tremendous athletic ability, but has been plagued by injuries and erratic play. The Browns spent their first-round pick on wideout Corey Coleman, and also will have Josh Gordon return to the fold after a lengthy suspension.
Defensively, the Browns are still struggling to acquire quality talent. Joe Haden is still considered one of the league's best corners, but his health is a question going into the season. First-round picks Justin Gilbert and Barkevious Mingo have been disappointments and set the team back.
Cleveland is still in the basement of this division, but with a high number of future picks coming their way, the future may finally look bright for this franchise with Jackson at the controls.
Projected Finish: 6-10, 4th Place