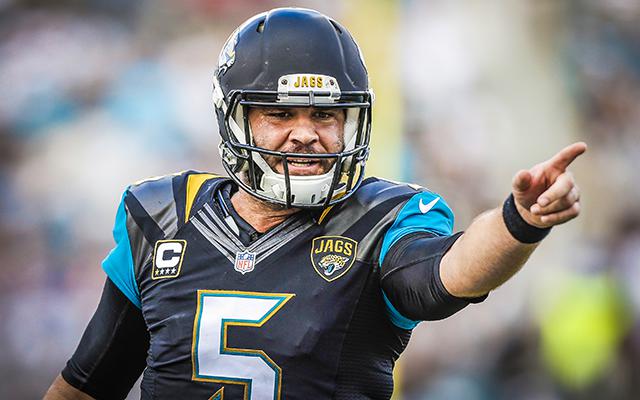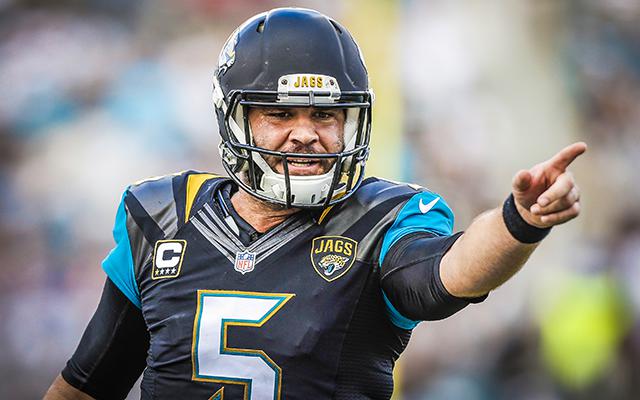 Jacksonville Jaguars
It's taken time, but Gus Bradley's Jaguars may finally be ready to turn the corner.
The Jags have developed a very impressive core of young talent, headed by young quarterback Blake Bortles. Bortles threw for over 4,400 yards and 35 touchdowns, though his interception total was still a little high at 18. Entering his third year, Bortles is still very much an ascending player, and he still has a ways to go before he hits his ceiling.
Bortles has a deep chest of weapons to work with, featuring Allen Robinson, who broke out for 1,400 yards and 14 touchdowns, along with Allen Hurns who also went for over 1,000 yards and scored 10 touchdowns of his own. Tight end Julius Thomas is expected to be healthy, and could add more in his second season, while former second-rounder Marqise Lee could still bring something to the table.
The club also added to their running back depth, shelling out a big contract to Chris Ivory to form a powerful tandem with last year's second-rounder T.J. Yeldon. The team tried to beef up their offensive line by signing offensive lineman Kelvin Beachum.
Defensively, the Jags added two of the top defensive prospects in the draft with Jalen Ramsey and Myles Jack, and also will get last year's top pick Dante Fowler back healthy. The team also gave a big contract to former Denver defensive end Malik Jackson, and signed former New York first-rounder Prince Amukamara to improve their depth in the secondary.
The Jaguars have just about assembled all of the talent that they need. Now this young team just needs to put it all together and have it translate into wins. I'm very high on this team, and I think in a weak AFC South, they could surprise a lot of people and take the division this year.
Projected Finish: 10-6, 1st Place
Houston Texans
The Texans overcame one of the league's most unstable quarterback situations a year ago to win the division, but the erratic play of Brian Hoyer cost them in their first-round playoff loss to the Chiefs.
Hoyer is now gone, and the team handed out a big deal to Brock Osweiler, who made a handful of decent starts for the Denver Broncos on their way to a Super Bowl title. Osweiler has much more upside than Hoyer, but could just as easily be a disappointment. He was simply serviceable in his time with Denver, and played his way out of the job towards the end of the season.
Osweiler had good weapons in Denver, and he'll also have them in Houston. DeAndre Hopkins has become one of the game's top receivers, and the team signed former Miami Dolphin Lamar Miller to upgrade their running game. Miller is a great fit for head coach Bill O'Brien's offense, and he has the potential to put up numbers similar to what the Texans got from Arian Foster in the past.
Defensively, the team starts the season with J.J. Watt working his way back from an injury. When on the field, Watt is one of the game's top defensive players. Former top pick Jadeveon Clowney has been a disappointment, but Whitney Mercilus broke through with a double-digit sack effort last season. The secondary is anchored by aging Jonathan Joseph, and could be a bit more exposed if the pass rush suffers from Watt's absence.
Last year, the Texans rode their defense to a post season appearance. This year, the offense is going to have to step up and carry the load. Osweiler and company may very well be capable of doing that, but ultimately this team may take a step back and miss the playoffs in 2016.
Projected Finish: 9-7, 2nd Place
Indianapolis Colts
The Colts have had a baffling offseason.
Chuck Pagano seemed like a lock to be fired after the team's underachieving 2015 season, but he'll survive and start the season as head coach.
Even more baffling was the team's failure to improve the talent around franchise quarterback Andrew Luck. The team just didn't do enough to get better. The offensive line has been an issue, and should be improved with rookie Ryan Kelly, but the team is still trotting out aging running back Frank Gore as their featured runner, and returned many of the same starters from a defense that was ranked towards the bottom five.
The Colts will go as far as Andrew Luck is able to take them. But as good as the star quarterback is, he can't do it on his own. The other teams in this division have been improving considerably while the Colts remain stuck in neutral.
Projected Finish: 8-8, 3rd Place
Tennessee Titans
At the bottom of the division, the Titans are still very much in rebuilding mode.
The club has tried to improve the talent around quarterback Marcus Mariota, adding DeMarco Murray and Derrick Henry to the backfield, and veteran wideouts Rishard Matthews and Andre Johnson to the wide receivers.
The big question is whether or not Mariota will be able to stay healthy. Most mobile quarterbacks usually struggle to stay on the field given the amount of contact that they expose themselves to, and Mariota was no exception, missing four games as a rookie.
The Titans' defense was serviceable last season, but didn't generate enough turnovers. That may not change this season, as they didn't invest any high draft choices on the defensive side of the ball. They lost safety Michael Griffin, but replaced him with Rashad Johnson from the Arizona Cardinals.
It's another rebuilding year for the Titans. If Mariota can take steps forward in his development and stay healthy, the 2016 season will be a success for this group.
Projected Finish: 4-12, 4th Place