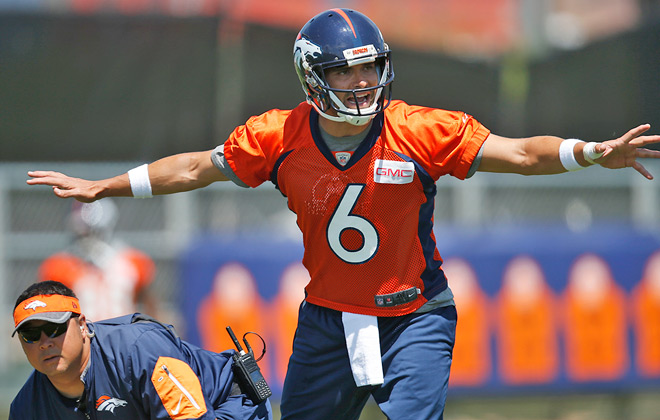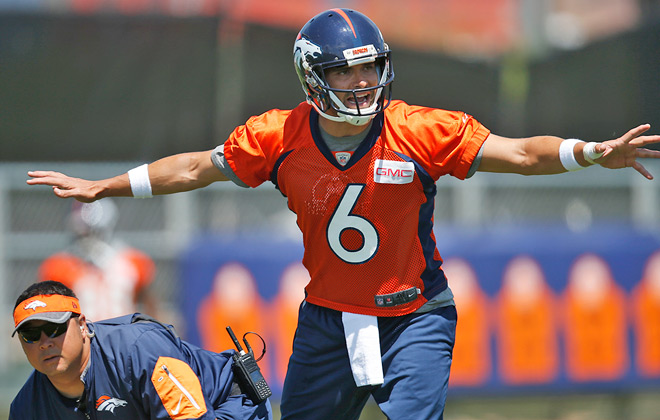 Denver Broncos
How would you like to go from having Hall-Of-Famer Peyton Manning and young prospect Brock Osweiler as your starting quarterback tandem one year, to Mark Sanchez the next?
This is the bizarre reality that faces the Denver Broncos.
Following Manning's retirement, and Osweiler's defection to Houston, the Broncos swung a trade for Sanchez, and are prepared to enter the season with him as their starting quarterback.
Sanchez now faces a situation very similar to what he had earlier in his career with the Jets. The Broncos are a team that is built around defense, and surrounds him with an array of talented weapons. C.J. Anderson and Ronnie Hillman make an effective running back tandem, Demaryious Thomas is a top-five talent at wide receiver with Emmanuel Sanders serving as a perfect compliment, and the team upgraded the offensive line by signing free agent tackles Russell Okung and Donald Stephenson.
Sanchez likely enters the season as the starter, but if he falters, either Trevor Siemian or first-round pick Paxton Lynch will be there to replace him.
The Denver defense is still elite. Von Miller agreed to a new long-term deal with the franchise, teaming with veteran DeMarcus Ware to give the team a powerful pass rush combo. Last year's first-rounder Shane Ray showed flashes of brilliance, and should mix into the rotation more this season.
The Denver secondary only forced 13 turnovers a year ago, but made up for that by holding opponents to an average of under 200 passing yards per week. Aqib Talib and Chris Harris are a pair of Pro-Bowl corners, while T.J. Ward and Darrien Stewart are excellent, instinctive safeties. Nickel corner Bradley Roby is good enough to start for a lot of teams.
The Broncos overcame poor quarterback play all of last season, and rode their defense to a title. They can potentially do the same this year.
Projected Finish: 11-5, 1st Place
Oakland Raiders
The Oakland Raiders are finally out of their dark age, and are a young team on the rise.
The team made a number of key offseason acquisitions, including guard Kelechi Osemele to beef up the offensive line, they landed two major pieces for their secondary in safety Reggie Nelson and corner Sean Smith, and signed pass rusher Bruce Irvin away from Seattle.
Derek Carr has thrown 53 touchdowns in his first 32 games, providing long-needed stability at the quarterback position. Carr has two very talented young targets in Amari Cooper and Michael Crabtree, and the passing game should only improve as these players develop.
In addition to the signings of Nelson and Smith, the club also spent their first-round pick on safety Karl Joseph. Linebacker Khalil Mack is one of the premier young defensive talents, and is coming off a season in which he had 15 sacks. The Raiders' defense was ranked 22nd in total defense a year ago, but this is a talented young group that should be much improved.
The Raiders have closed the gap in talent within the division. At minimum, they're the second best team among the four, but they have the potential to seriously challenge Denver for the title.
Projected Finish: 10-6, 2nd Place
Kansas City Chiefs
After a 1-5 start, Andy Reid did a great job keeping the Chiefs together and running off 10 straight victories to return to the playoffs.
However, the Chiefs have endured a tough offseason, losing several key starters, including Sean Smith (who defected to division rival Oakland), starting offensive guards Jeff Allen and Ben Grubbs, and didn't do enough to upgrade the roster's talent.
The hits on the offensive line could really hamper the team's offense. Running back Jamaal Charles is already a concern, coming off of a torn ACL and having already logged a ton of wear and tear on his body.
Alex Smith remains an unimpressive game manager. He doesn't make mistakes, facilitates an offense, but is ultimately limited in what he can do. If the Chiefs fall behind by more than two scores, Smith is incapable of engineering a comebacks of those deficits.
Kansas City's strength remains in their defense, but with the loss of Sean Smith in the secondary, and Justin Houston recovering from an ACL surgery, the unit will not be as dominate as its been during Reid's first three seasons.
Kansas City will be a tough out for a lot of teams, but with the defense taking a step back, and the offense remaining unimpressive, this team probably doesn't make a playoff return in 2016.
Projected Finish: 8-8, 3rd Place
San Diego Chargers
The Chargers are the one team in this division that really doesn't factor into the playoff picture at all.
Since a promising start in 2013, Mike McCoy's program has gone backwards.
Quarterback Philip Rivers is still producing at a high level, and threw for nearly 4,800 yards and 29 touchdowns, but he's had very little to work with. Keenan Allen was on his way to a great season before it was cut short by injury. The team hopes he'll be able to pick up where left off. Travis Benjamin was a nice signing from the Cleveland Browns, which will give Rivers a deep option to target.
Running back Melvin Gordon was a disappointment as a rookie, but the Chargers don't have the offensive line talent to properly support a running attack. The club didn't invest in the line in either free agency or the draft, leaving little optimism for them to improve.
The Chargers spent the third overall pick on defensive end Joey Bosa, but the team and Bosa have been have been involved in a lengthy holdout into training camp, stunting the impact that the top pick will have on a defense that was already very mediocre.
The Chargers are an average team across the board in a deep division where all three opponents are clearly a cut above them. Another mediocre season is on the way, and so is the end of the McCoy era.
Projected Finish: 5-11, 4th Place