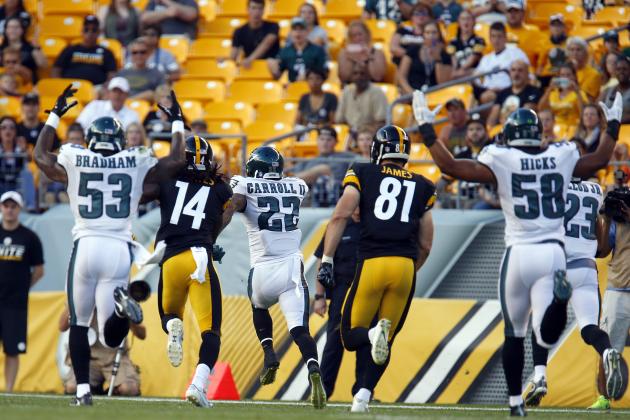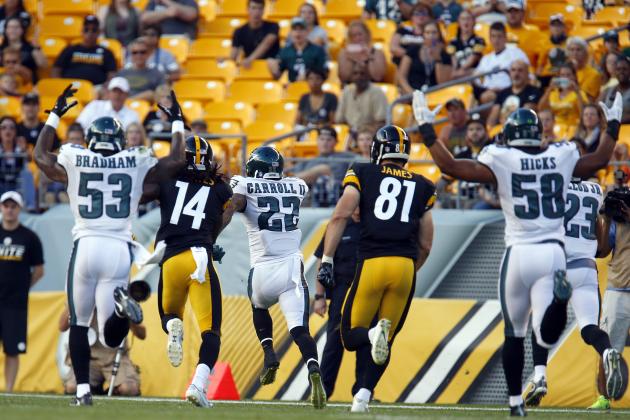 Carroll Highlights Strong Defensive Showing
The first-team defense turned in a great performance during Thursday night's game against the Steelers.
Although Ben Roethlisberger, Le'Veon Bell, and Antonio Brown weren't in uniform, Jim Schwartz's starters showed a lot of positives in the situations they were put in against the Pittsburgh offense.
Cornerbacks Nolan Carroll and Leodis McKelvin were very impressive, and produced some of the biggest highlights from the night.
Carroll was tested early and often, and held up marvelously. Landry Jones took a deep shot on Carroll on the team's first drive, and Carroll (matched up in single coverage on Darius Heyward-Bey) stayed right with the speedy receiver, and timed his jump well to break up a pass.
On the next drive, Carroll jumped a route, fought for an interception, and ran it back for the only touchdown of the first half.
Later in the first quarter, Jones took another deep shot at Carroll, and Carroll was able to draw an offensive pass interference penalty.
McKelvin played with a nice physical edge, making ball carriers pay for any yards they gained. He also made a scrappy play defending a pass in the endzone, tying up the opposing receiver and batting the ball to safety Malcolm Jenkins, who came down with an interception.
Offense Struggles To Sustain Drives
On the other side of the ball, Doug Pederson's offense really had trouble sustaining and finishing drives throughout the night.
This offense is going to struggle to stay on the field and convert on third downs. Any third down situation longer than seven or eight yards could be a death sentence for a lot of drives this year.
The worst moments came towards end of the half, where penalties from Zach Ertz and Isaac Seumalo helped kill the one drive of which the Birds had any kind of momentum.
There were some positives to take away, however.
I thought the patchwork offensive line did a pretty good job protecting Bradford throughout the night. Alan Barbre looked good at the right tackle spot, and aside from the holding penalty, Seumalo seemed to hold up well at left guard.
A couple of the wide receivers finally showed some signs of life in wake of the Dorial Green-Beckham trade.
Nelson Agholor had a couple of flashes, including an impressive 22-yard grab to extend a drive on a ball that was thrown over his head. Rueben Randle also made a couple of grabs on the team's final drive before the half to help get the Eagles in field goal range.
Quick Thoughts
Offense
Paul Turner has got to make this team over Josh Huff. Turner has been standout at training camp, and made a key 17-yard grab before the half to help set up Cody Parkey's field goal.
Turner also made a spectacular one-handed grab in the second half.
Speaking of Huff, once again mental mistakes plague his game. Sam Bradford delivered a pass to him on the money, but Huff allowed the ball to bounce right off of his hands.
Chris Givens was completely MIA for the second straight week.
Dorial Green-Beckham got in for a couple plays, and Chase Daniel underthrew him on a fade route.
I haven't been a big fan of Kenjon Barner, but I have to admit that he's impressed me this year. He has good elusiveness, and made some nice plays tonight, including a 14-yard run to help get the team out of a first-and-long situation.
Barner averaged 6.8 yards per carry on the night.
Wendell Smallwood sat out again, which was a disappointment.
Byron Marshall had some nice moments, including an 11-yard reception to pick up a first down.
Chase Daniel looked better this week, but the holes in his game are apparent. The guy has no arm strength to speak of.
Defense
The defense finished with four interceptions on Landry Jones tonight.
Jaylen Watkins has had an excellent preseason. He should be a near-lock to make it as the third safety at this point. The team made an excellent move to make him a permanent safety.
Aaron Grymes made a great catch on his interception in the second quarter. I'm not sure that the Eagles have enough roster space for him, but Grymes could be a practice squad candidate.
Marcus Smith continues to be outplayed by Steven Means. Smith picked up a sack tonight, but Means was a much more consistent force.
Final Thoughts
It was disappointing that the Steelers didn't play any of their top players.
But give the Eagles' defense credit for coming out and performing well against the opponents in front of them. I know the first team defense gave up a couple of long drives, but they were able to come up with some huge plays, and I attribute part of the reason that they were on the field as long as they were to the flow of the game. The offense had two short drives early, and the pick six from Carroll forced the defense right back on the field without a good amount of rest, possibly impacting their effectiveness.