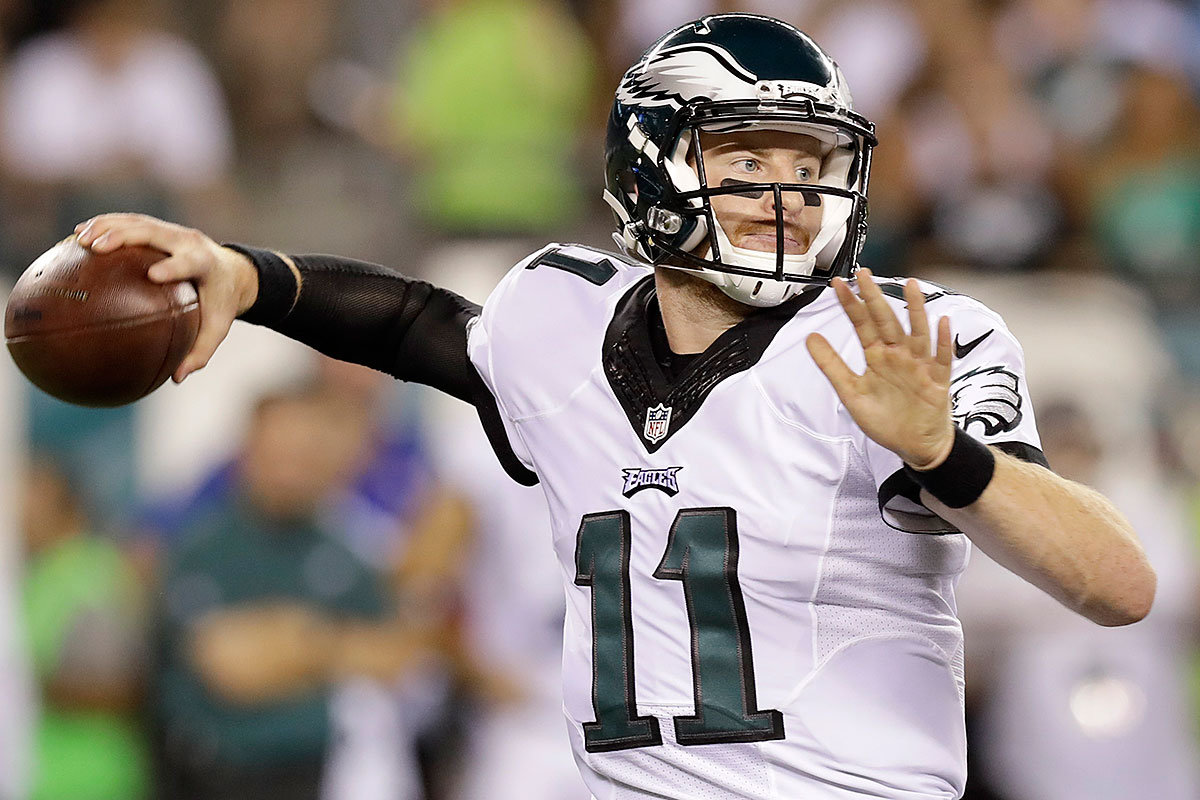 Washington Redskins
As dysfunctional as the Redskins have typically been, it was surprising to see them emerge as the last year's division champion. Even more shocking was seeing Jay Gruden pull the plug on Robert Griffin completely, committing to Kirk Cousins as the starting quarterback.
Cousins responded to the opportunity, throwing for over 4,000 yards with 29 touchdowns and only 11 interceptions. He's got a strong core of receivers to work with, and the club made that group even deeper through the addition of of Josh Doctson in the first round.
The team hopes to get a better effort from DeSean Jackson, who enters a contract year. Jordan Reed broke out at the tight end position last year, posting over 900 yards and 11 touchdowns, becoming Cousins' go-to guy in the redzone. Pierre Garcon remains a reliable target, and Jamison Crowder is effective out of the slot.
The Redskins had All-Pro corner Josh Norman fall into their laps after the Carolina Panthers chose to rescind the franchise tag. He adds a shutdown corner to a secondary that previously didn't have such a presence.
Ryan Kerrigan was the team's leading pass rusher with 9.5 sacks. Last year's second-round pick Preston Smith had eight, finishing the season strong. He'll be counted on to take a big step forward in his second season.
I know that few people out there want to take the Redskins seriously.
And I get it. This is a franchise that has traditionally been run so poorly by meddling owner Daniel Synder.
But the club has finally started to develop a little continuity and direction under Jay Gruden. In a weak NFC East, the Redskins should absolutely be a factor again.
Projected Finish: 10-6, 1st Place
New York Giants
After 12 seasons, New York has finally turned the page on the Tom Coughlin era.
Ben McAdoo is now in command, and hopes to clean up a lot of the sloppiness that has plagued the Giants.
The passing attack won't be an issue. Eli Manning has shown no signs of slowing down after 13 years, and Odell Beckham has become one of the most dynamic playmakers in the entire league. The Giants tried to make their aerial attack even more dynamic by selecting Sterling Sheppard in the second round, who should be an immediate upgrade over Rueben Randle.
The offensive line remains a problem, but the club hopes last year's first-rounder Ereck Flowers will be much more stable and consistent in his second year.
The team's most significant improvements have come on defense, where the team was ranked dead last a year ago. The team signed Damon Harrison and Olivier Vernon to the upgrade the run defense and pass rush on the defensive line. They also signed playmaking corner Janoris Jenkins away from the Rams, and drafted Eli Apple in the first round.
The Giants may be the biggest wild card in this division. The defense has the potential to make a dramatic leap from what its been the last few years, and the offensive scheme should be more sound under McAdoo. But problems on the offensive line and the running game could hold New York back from making a run at the division for at least one more year.
Projected Finish: 8-8, 2nd Place
Dallas Cowboys
The 2015 campaign was a lost season for Dallas.
Early injuries to Tony Romo and Dez Bryant crippled an offense that had already failed to replace their top running back DeMarco Murray, resulting in a team that just couldn't compete with many other teams in the league.
With a clean bill of health for Romo and Bryant, and the addition of top running back prospect Ezekial Elliot, the Cowboys hope to pick right up where they left off two years ago; a team that was one questionable call away from going to the NFC Championship game.
Romo's health is the most serious concern. He appeared in just four games last season, and at age 36, it will be more and more difficult for him to stay healthy. Sure enough, Romo has already gone down with a back injury. The team may be better-prepared to handle a Romo injury this season now that the team has invested a fourth-round pick in Dak Prescott. Prescott has looked strong in the team's preseason games, giving the team some hope for life after Romo.
The Dallas offensive line remains the best in the league, and helped veteran Darren McFadden rush for over 1,000 yards despite starting only 10 games. Elliot has the potential to be a lethal force behind this line.
The Cowboys' defense is still a mess. DeMarcus Lawerence and Sean Lee are the only bright spots, with Lee playing at a Pro-Bowl level, and Lawerence picked up eight sacks.
Beyond that, there are all kinds of problems. Randy Gregory and Roland McClain are dealing with off-field problems and suspensions. Starting corner Brandon Carr hasn't had an interception since 2013. Only one Cowboy had more than one interception a year ago.
The Dallas offense has the potential to be a top-10 unit, easily. But the defense could just as soon be in bottom five.
Projected Finish: 7-9, 3rd Place
Philadelphia Eagles
In the wake of devastation following Chip Kelly and his philosophies getting completely exposed during the 2015 season, the Eagles are returning to more conventional approaches as they start over and rebuild under Doug Pederson.
The Eagles are building things from the ground up, and they decided to make their first priority to obtain a top quarterback talent to develop and build around. While Kelly preferred to attempt to revive the careers of failed first-round picks from other cities (Michael Vick, Mark Sanchez, Sam Bradford), Doug Pederson has chosen to invest a high draft pick in a quarterback with the selection of Carson Wentz.
With all that the Birds have invested in Wentz, they're going to bring him along slowly. He's going to sit most of the first season, while Bradford serves as a placeholder that the team hopes will perform well enough to evolve into a trade chip that can help bring back some lost draft picks next year.
Bradford's ceiling is low. Bradford has played a full 16 games only once since the 2011 season. He's never thrown for 4,000 yards. He's only topped the 20 touchdown mark once. He's not a horrendous starter, but he's mediocre, plain and simple.
The team also has some questions at the skill positions. Nelson Agholor appears to be a bust, Jordan Matthews is a good complimentary receiver on a good team, and newly acquired Dorial Green-Beckham has talent but is very raw.
I loved a lot of the things that the Eagles did over the offseason. I truly believe the franchise is heading in the right direction for the first time since the end of the McNabb era.
Getting rid of Chip Kelly was a tremendous step in the right direction on its own. Hiring Jim Schwartz gives the team easily its most qualified defensive coordinator since Jim Johnson. Having sound defensive schemes is going to help this enormously.
Most of all, identifying a franchise quarterback to commit to and build around in Carson Wentz gives the organization the most direction its had since the early days of the Reid-McNabb era.
I think the Eagles are going to be better than they were a year ago, but that doesn't necessarily mean that it will result in more wins.
The team has a lot of work to do to climb out of the hole that Chip Kelly dug them into, and they are likely looking at at least one more difficult season.
Projected Finish: 6-10, 4th Place