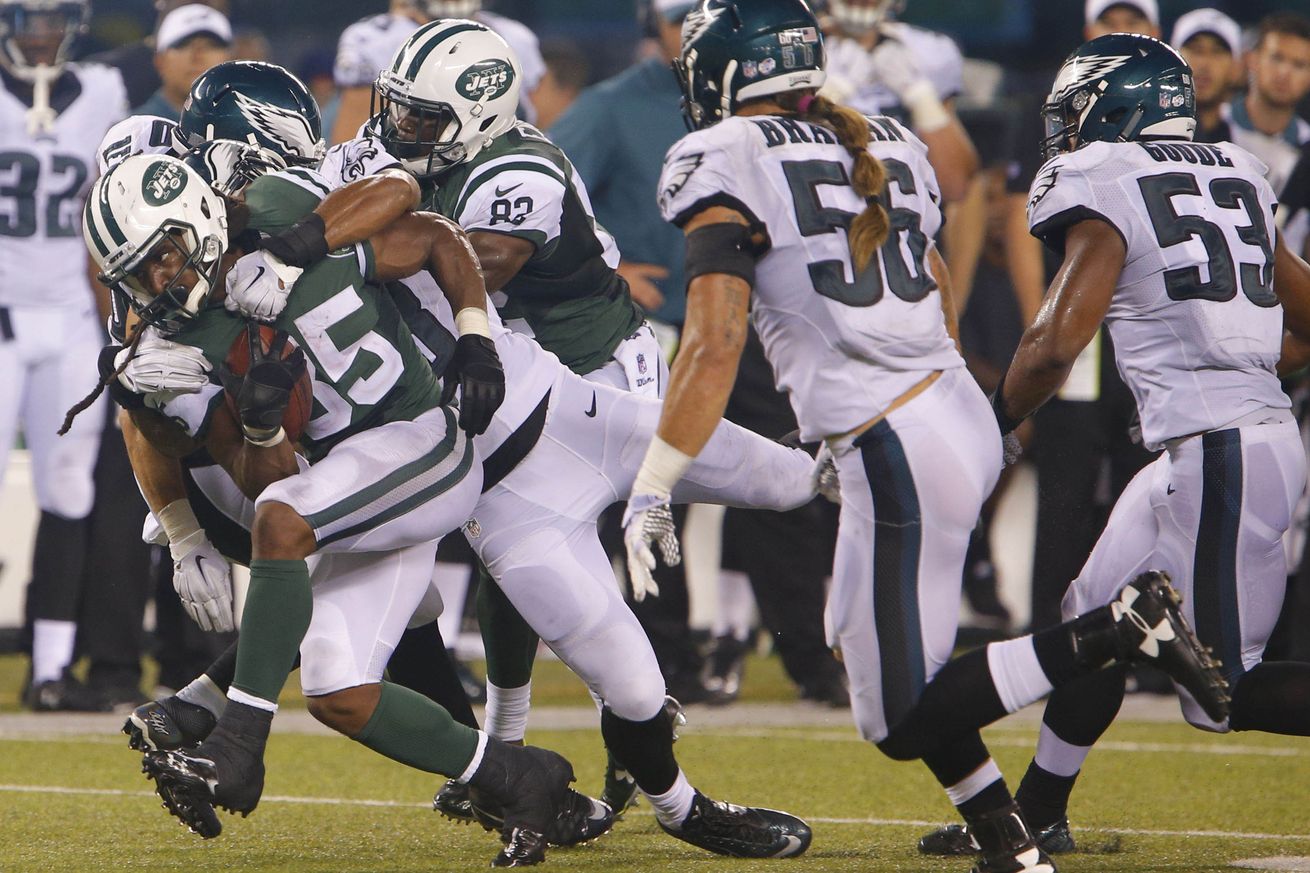 Eagles Have A Lot Of Tough Decisions To Make
The final cuts that will take place over the weekend are going to be very interesting.
Doug Pederson and the Philadelphia Eagles have a lot of tough decisions to make over the next day, with a number of young players turning in strong performances in the preseason finale against the New York Jets.
Guys like Paul Turner, Byron Marshall, Steven Means, Quintin Guase, C.J. Smith, Ed Reynolds, Marcus Smith,  and Cayleb Jones all flashed throughout tonight's game, and have given the coaching staff a great deal to consider.
These aren't going to be easy cuts to make, and a couple of deserving guys are going to be let go.
Turner has been tremendous throughout the preseason. He hasn't looked overmatched at any point in time, and he's caught every ball thrown in his direction. He's shown a willingness to make tough catches over the middle, and on a team that's desperate for wide receiver help, he's done all he can to make a convincing case for the final spot.
Steven Means and Marcus Smith have both played exceptionally well in the later stages of the preseason, and both defensive ends capped their exhibition seasons with solid performances tonight. They may force the Eagles to find a way to keep both of them.
A guy like Quintin Guase might have won himself the sixth linebacker position with a couple of standout plays on defense and special teams.
Guys like Ed Reynolds and Cayleb Jones made some impressive plays, but are going to be caught in a numbers game at their positions.
Quick Thoughts
Offense
Dorial Green-Beckham made two receptions, picking up two first downs. He continues to look like a strong addition to this offense, and I think Doug Pederson is going to want to get him involved early and often during the regular season.
Chase Daniel had an up-and-down performance, making some nice throws at times, but also tossing two pretty bad interceptions.
Byron Marshall is an ideal practice squad candidate. He's had nice moments throughout August, but there's just no room for him at running back.
Ditto for Cayleb Jones, who had a couple of really impressive catches.
I think the Eagles really wanted Chris Pantale to make the team as a fourth tight end, but he had three really bad drops tonight. It's going to be tough to keep him if he's only going to be able to serve as the fullback. But at the same time, he seems to be their only real option as a fullback, which they've used plenty throughout the preseason. There was talk of Trey Burton playing that role, but to this point we haven't seen that at all.
Really tough night for Cedric O'Neal, who fumbled the ball three times.
Defense
Eric Rowe is a really frustrating guy to watch. His coverage techniques are bizzare and awkward, and the Eagles are really in no-man's land with him right now. He's been disappointing, but doesn't quite seem like a lost cause yet. Perhaps a year working with a guy like Jim Schwartz instead of a clown like Billy Davis can help him in his development, but right now he's a very inconsistent player that has been outplayed by an undrafted rookie in C.J. Smith.
Ed Reynolds played a superb game tonight, making some physical plays, coming down with a pick-six, and nearly intercepting a second pass later in the night. However, I just don't see how the Eagles can find room for him. Jaylen Watkins has been ahead of him all preseason, and Chris Maragos is going to make it for special teams purposes.
Bryan Braman quietly played very well out of the defensive end spot, generating a pressure that led to Reynolds' interception.
Special Teams
Caleb Sturgis didn't play, leaving Cody Parkey to showcase himself for the rest of the league.
Paul Turner got a long look as a return man tonight, providing mixed, but promising results. Turner ran back a punt for a 71-yard touchdown, but made some mistakes in judgement, trying to figure out when to catch a punt and when to let it go. These are things that can be easily improved through coaching.
Final Thoughts
The fact that the Eagles are going to have so many difficult decisions to make is a very encouraging thing on a lot of levels.
This shows that the team's talent evaluation has been much better than its been in recent years. Its been some time since we've seen a preseason with this much competition throughout the roster.
It's going to be exciting to see how the final roster shakes out, but it will be even more exciting to see what this team can do in about a week and a half when the regular season gets underway.