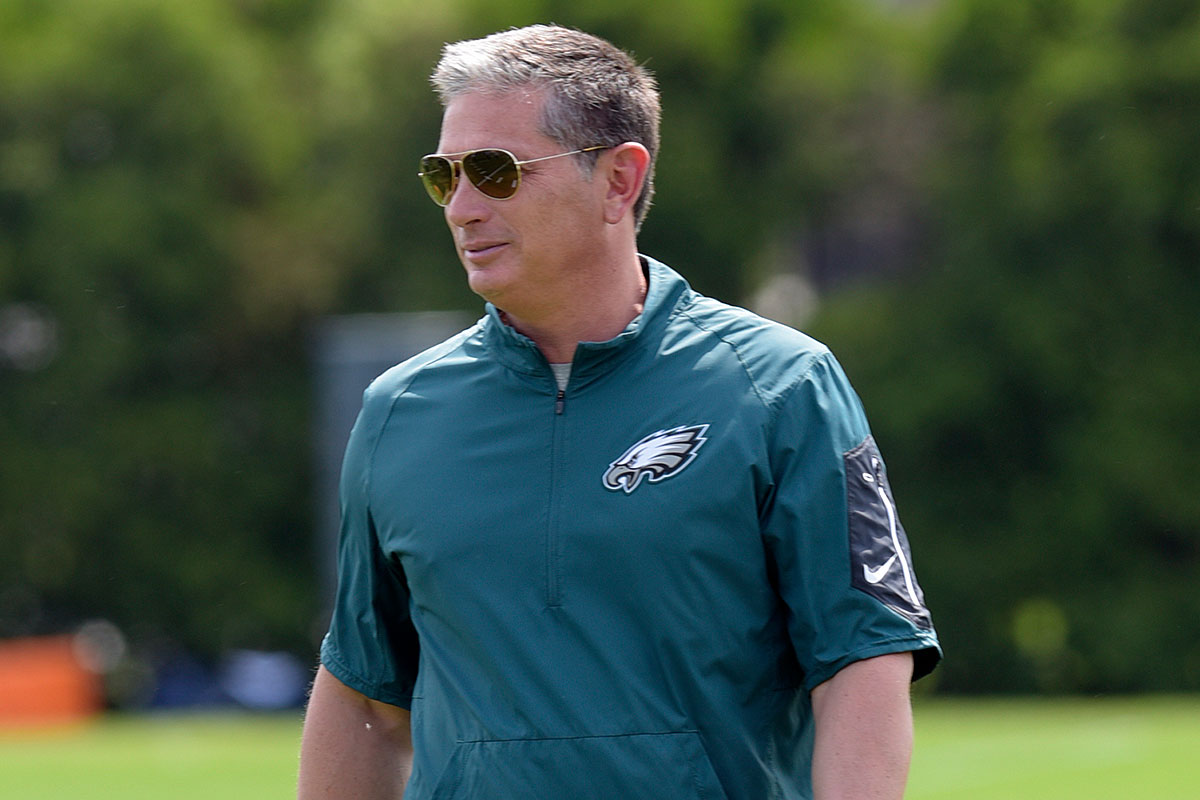 Howie Roseman had a tremendous offseason in 2016, undoing a lot of the damage that former incompetent head coach/general manager Chip Kelly had done in his horrible season of full control.
However, one move that has come under a fair amount of scrutiny has been the decision to give up on cornerback Eric Rowe, and trade him to the New England Patriots for a fourth round pick that could escalate to a third. Rowe has become a key member of the Super Bowl-bound Patriot defense, while the Eagles remain in dire need of help at the cornerback position.
The common criticism is that Roseman made a mistake by giving up on Rowe too soon. However, Howie isn't the one that should receive blame in this situation. The one at fault for the way the Rowe situation was handled falls on the shoulders of defensive coordinator Jim Schwartz.
Schwartz almost instantly buried Rowe on the depth chart. He had no interest in trying to work with the former second-round pick, opting to give first-team opportunities in the preseason to rookie seventh-rounder Jalen Mills instead.
At the end of August, there was talk of Rowe not even making the team. Schwartz had him in the doghouse from Day 1, and wasn't willing to give him a second look. Had Rowe remained on the roster, he more than likely would have been among the team's inactives most weeks.
Knowing where Schwartz and his defensive staff stood on Rowe, this put Roseman in a position where it was in the team's best interest to pursue a trade and try to return some value. And considering the circumstances, I think Howie did indeed get something decent in return. To get a fourth-round pick that could still become a third for a second-round pick that the team was ready to move on from is actually a pretty good haul. By comparison, the Tennessee Titans, who were ready to move on from their former second-rounder Dorial Green-Beckham after just one year, were only able to net a backup offensive lineman in Dennis Kelly in return.
Rowe has gone on to be successful in New England, and many are assigning the blame to Howie. But it was really Schwartz and his unwillingness to work with the young player that wound up costing the team.
Schwartz is doing the team a similar disservice with how he's handled Mychal Kendricks. Kendricks was once considered to be a player on the rise on this defense, but barely saw the field this year, and Schwartz made it clear as day that he wanted as little to do with Kendricks as possible. It won't be surprising to me at all if Kendricks is traded for a fifth-round pick in the offseason, and goes on to be a solid contributor for another defense.