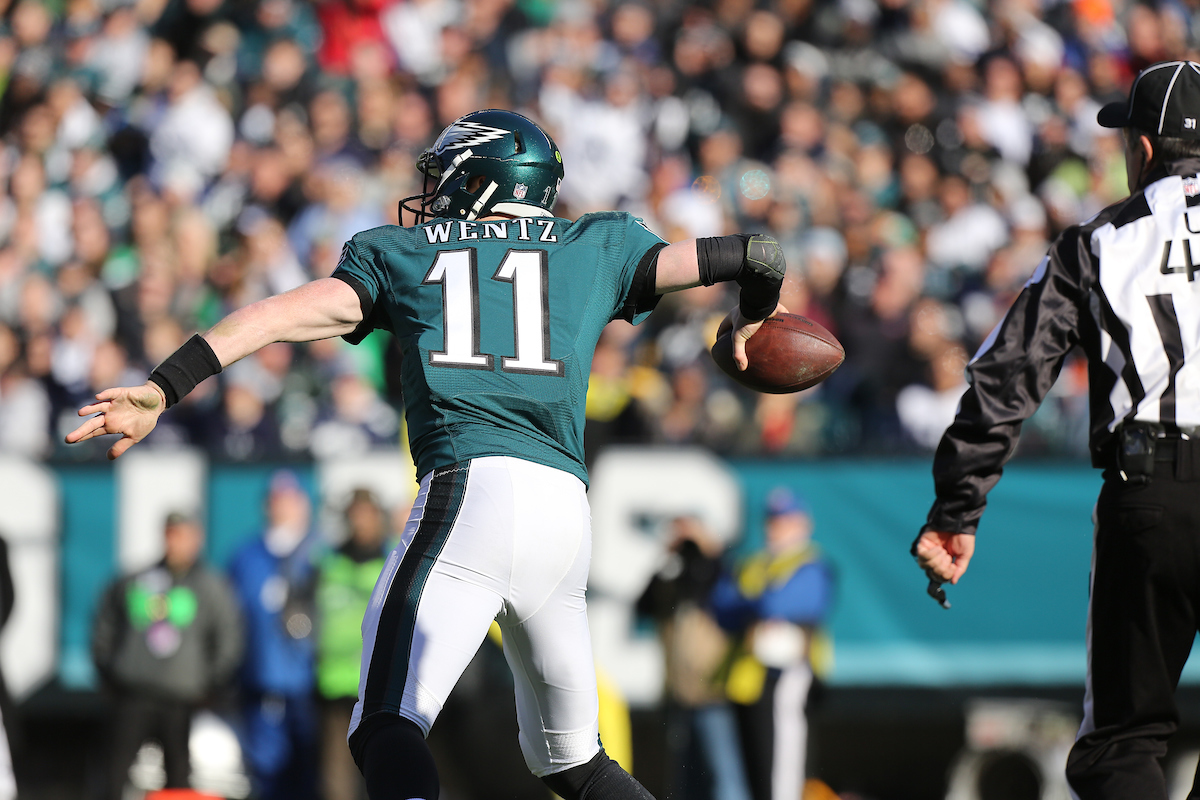 Imagine what it must have felt like when Eagles owner Jeffrey Lurie saw Chip Kelly ship LeSean McCoy, one of the best running backs in the National Football League, out of Philadelphia for an injured Buffalo Bills linebacker, Kiko Alonso.  Could you imagine what was going through Lurie's mind when Kelly released Pro Bowl wide receiver DeSean Jackson and saw division rival Washington Redskins sign him with the Eagles getting no compensation?
The owner of this franchise, which is valued at $2.4 billion dollars, sat by as Kelly, who was fired for the second year in a row, gave away one of the best deep threats in the game and one of the best running backs currently in the league.  Add to that, Kelly failed to sign free agent Pro Bowl wide receiver Jeremy Maclin and he let Pro Bowl guard Evan Mathis walk.  I'm not saying the Eagles would have been in the playoffs this year, if these four players were still with the team, but I can confidently say that this franchise would have some offensive playmakers if those moves had been stopped.
Lurie probably had trouble getting sleep on those nights, but he didn't interfere because much of the football world at that time thought Kelly was a genius.   The former Oregon coach clearly had developed some methods of moving the football offensively, the up tempo style and the read option concept, that were ingenious, but he was a novice at managing a NFL roster. Player personnel people throughout the league were shocked about the moves he was making, but Lurie bit his tongue.  He doesn't plan on doing that again, especially when you're talking about franchise-changing decisions.
This is why the Eagles owner stepped in when the Jets wanted to interview the team's quarterback coach, John DeFilippo, for their open offensive coordinator's position.  He didn't want to see one of the coaches most involved in the development of the franchise's most important player, quarterback Carson Wentz, leave at this time with Wentz going into only his second season.  I think this was the correct move because the 2017-18 season could prove to the be the most important year of the young quarterback's career.
There's no time for relaxing because the clock is ticking on Wentz and the Eagles franchise to progress quickly.   They've got to tighten-up his throwing mechanics and put the right people around this young man, right now.  Wentz and this franchise must show improvement immediately and be knocking at the door of the playoffs in the 2017-18 season and they must be in the playoffs after the 2018-19 season.
Wentz showed us that he's close to where he needs to be as a quarterback with his leadership abilities and his understanding of the game, but he must prove to us that he can throw the ball accurate darts over the middle on intermediate routes on a consistent basis.  He's also got to show us that he can throw the deep ball accurately and consistently.
DeFilippo, along with Doug Pederson and Frank Reich, and most importantly the team's receivers and offensive line, must create an environment both on the field and off that allows this young man to show this growth in the 2017-18 season.  If we don't see it next year, then the questions will get louder and you know Philadelphia is a LOUD CITY!!!  We don't do a good job of keeping things to ourselves around here.
If you haven't noticed, the clock has been sped up around the National Football League.  Everything is two to three years now. Coaches may sign five year deals, but they've got two or three years to show that they have the ship going in the right direction or they're in danger of being fired.   The same is true of general managers.   Franchise quarterbacks are in similar situations because their play greatly affects the job security of the head coaches and general managers.
I know Kyle Shanahan and John Lynch may be getting six-year deals, but they have two to three years to show proof that they have that wayward ship going in the right direction or they may be handed pink slips.
The bottomline is that Eagles owner Jeffrey Lurie did the right thing in his move to protect the environment around his young quarterback.  DeFilippo needs to stay here and finish the job he started.  He's got to tighten-up the throwing mechanics on Wentz, so that his throwing technique doesn't start coming apart throughout an entire season.  The coaching staff did a good job of shortening his throwing motion early in the season, but things got out of sync in the middle of season and his passes over the middle started to sail again like they were doing during the mini-camps in the off season.  His delivery became much too long because he seemed to be starting his throwing motion much too low. This caused his throwing arm to be coming through late.
That malfunction in his passing motion caused him to throw "HOSPITAL BALLS" for much of the season.  "HOSPITAL BALLS" are passes across the middle that hang up in the air and let receivers get knocked out or maimed.  Those balls cause the receiver to be put on a stretcher and taken to the hospital.  I wouldn't have wanted to be an Eagles wide receiver running a "Dig" or "Trail" route with Wentz throwing me the ball in the middle of the season.  If you're playing Earl Thomas of the Seattle Seahawks and you hear a crossing route called in the huddle.  You might feel like getting amnesia while walking up to the line of scrimmage.
Wentz is aware of this problem and that's why he is already scheduled to work with quarterback coach Adam Dedeaux this off season.  Dedeaux owns 3DQB, the company previously owned by quarterback guru Tom House, who has schooled some of the game's best quarterbacks such as Tom Brady, Matt Ryan, Drew Brees, Andy Dalton and Eli Manning.   Both House and Dedeaux have a background of pitching in professional baseball.  There are many consistencies between throwing a baseball and throwing a football.   Hopefully Dedeaux can help Wentz to get his throwing motion corrected.
I love the fact that the young signal caller didn't wait for the coaching staff to correct this problem, he immediately jumped on it on his own.