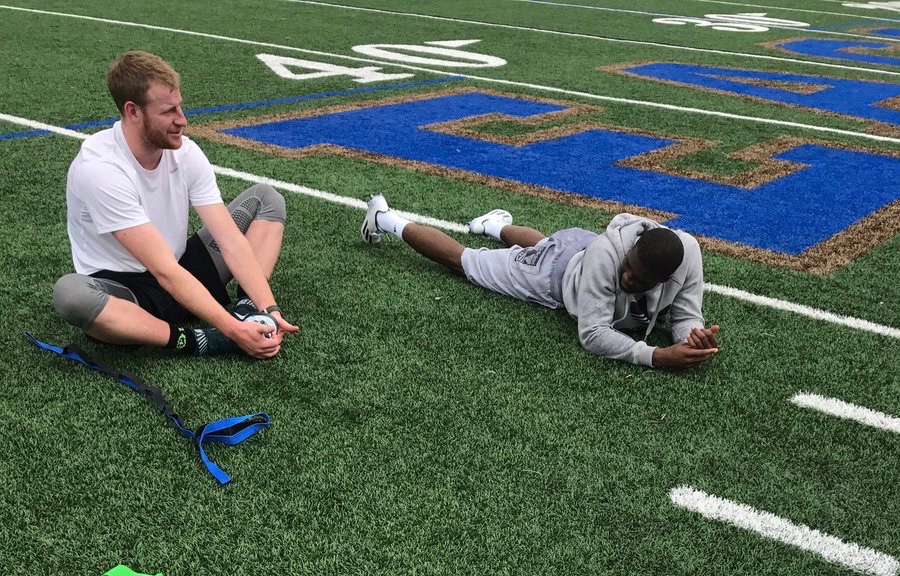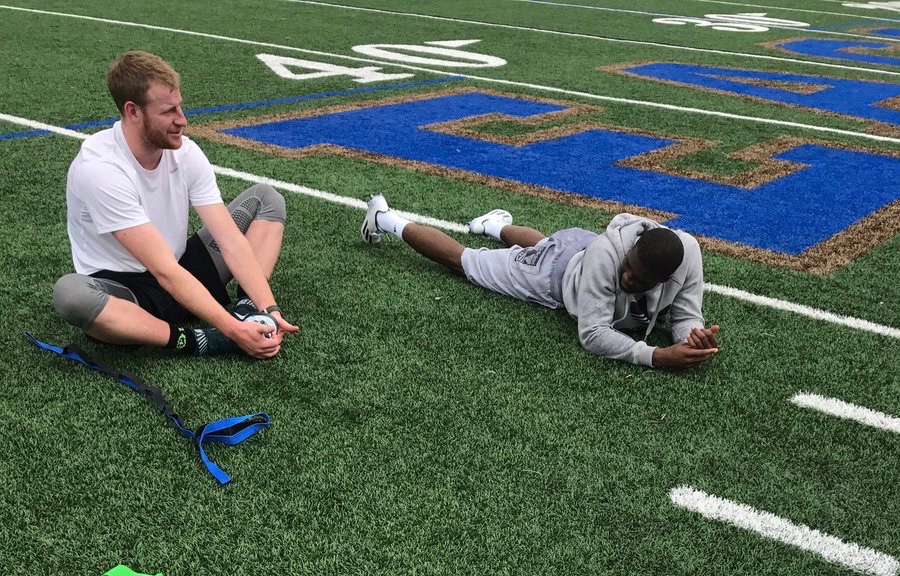 There's no question that during his rookie season, Eagles quarterback Carson Wentz displayed many of the qualities that you look for in a franchise quarterback.
The first inner quality about Wentz that jumps out at you is his competitive spirit. He showed this aspect of his personality numerous times throughout his rookie season. You could see it when he pulled the ball down and scrambled for the last-second touchdown against the Ravens to give the Eagles a chance at victory; or when he ducked under the Giants pass rushers and ran for a first down to lead the Birds to victory against one of the best defenses in the NFL. Add to that, the block he threw at a defender on a misdirection play in the final game of the season against the Cowboys, after he had went through the concussion protocol.   Put these three incidents together and you get clear picture of just how competitive Carson Wentz is.
A quarterback showing his toughness in this way isn't always the wisest thing to do, but his passion to compete inspired his teammates and will continue to motivate them, which qualifies him as the guy to hopefully lead us to that Lombardi Trophy.
Wentz is very bright, with an amazing work ethic. He is also a tremendous athlete with great size, good foot speed and a strong arm. The rookie has all the qualities you want in your quarterback, but he'll need to fine-tune his game as he prepares for the 2017-18 season.
The young signal caller must become consistently accurate with his throws. Too many of his passes over the middle were sailing high. When a NFL quarterback misses high over the middle, the ball is usually picked off or his receivers get hammered.
Wentz had a problem with his passes sailing in the numerous mini-camps that were held after last year's draft. After being drilled consistently on the proper throwing motion and footwork, by a combination of head coach Doug Pederson, offensive coordinator Frank Reich and quarterback coach John DeFilippo, Wentz shortened his delivery and was doing a much better job of throwing with his feet properly balanced.  He kept the short compact delivery through the first quarter of the season.
For this period of the season, he overcame his tendency to stride too long and start with the ball too low, so that his throwing motion becomes too long. The great quarterbacks have short deliveries. They throw darts, like Aaron Rodgers and Tom Brady.
As the season wore on, the young quarterback's mechanics fell apart, which is understandable for a rookie.  He improved at times as the season wound down, but there was no question that his delivery and accuracy were not consistent for most of the season.
The most encouraging and promising thing I have seen this off-season is the fact that Wentz, without pushing by his coaches, made improvement in these areas his number one offseason goal.
Immediately after the season, he sought out the assistance of the same quarterback gurus who worked with Brady, Matt Ryan, Carson Palmer and Drew Brees.  Making this move, means Wentz is willing to do what it takes to be a great quarterback.  He means he can take constructive criticism and coaching.  It's another display of his leadership abilities.  It's a loud message to his teammates.
He's currently working with that same quarterback skills company, Train3DQB, which was founded by former MLB pitcher Tom House.  The company, which is located in Southern California and has helped many of the game's best quarterbacks greatly improve their throwing mechanics.  Here's what Brady had to say about his work with the company.
"Over the years, I was a little inefficient and I learned how to get away with it. I've been working with Tom House on what's called ground-force production… Kinetic sequencing, getting the power from the ground, which translates from the ground to your legs, to your hips, to the shoulder, and all the energy is going toward the target. I've always had confidence throwing the football, but you have to stay on top of it. That's going to be a never-ending quest for me. But right now, I am more confident than ever."
I'm sure they're emphasizing to Carson, the importance of shortening and improving his entire throwing delivery as well as his footwork.  He's got to throw the football correctly, thousands and thousands of times this off season, so that he gets it locked into his muscle memory.  Wentz wants to get the point where he could be awakened in the middle of the night, then walk out into a snowy blizzard and drop back from center, then step up and throw the football in the same flawless motion to hit a target 30 or 40 yards away.  This work should greatly improve his accuracy and consistency.
The offseason is the time for quarterbacks to work on these techniques because you don't want a young quarterback thinking about that during the season and during games.   The throwing mechanics must be programmed deep into his mind, so that he doesn't have to think about them.
Wentz will also need to do a better job of throwing the deep ball and his work with the throwing experts will help him greatly in that aspect.  He's got the arm to be a great deep ball thrower, but his mechanics must be flawless and he needs to get to know the speed of his receivers.   I know he's already been working with Nelson Agholor, but he can't be sure at this point, who his wide receivers will be in the 2017-18 season.
Later this off season, Wentz will experience countless hours to his "go to guys inside", Zach Ertz and Jordan Matthews.  Wentz will be looking to Ertz and Matthews in many crucial situations, such as third downs and in the red zone.  These three have got to get to the point where "they can read each other minds".
Finally, Wentz must continue to grow in reading defenses and looking off defenders. He's well ahead of his years in these areas, but there's always room for improvement.  I'm confident he will get better in these areas with time and experience.
By doing this work this offseason, Wentz is setting the bar high for all the other players on the team.  Wentz having the initiative to focus on improving his game means he can step in the face of each of his teammates and demand that they do the same. If a player isn't willing to show the same commitment, Wentz could pressure the Eagles to let the guy go.  The young quarterback will have more power to step into a leadership role with the team because he's going into his second season.
He's no longer a rookie.  What he says and feels carries weight in the organization.
If the Eagles put the right people around this youngster and I believe it's just a matter of time until they'll be knocking on that Championship Door.