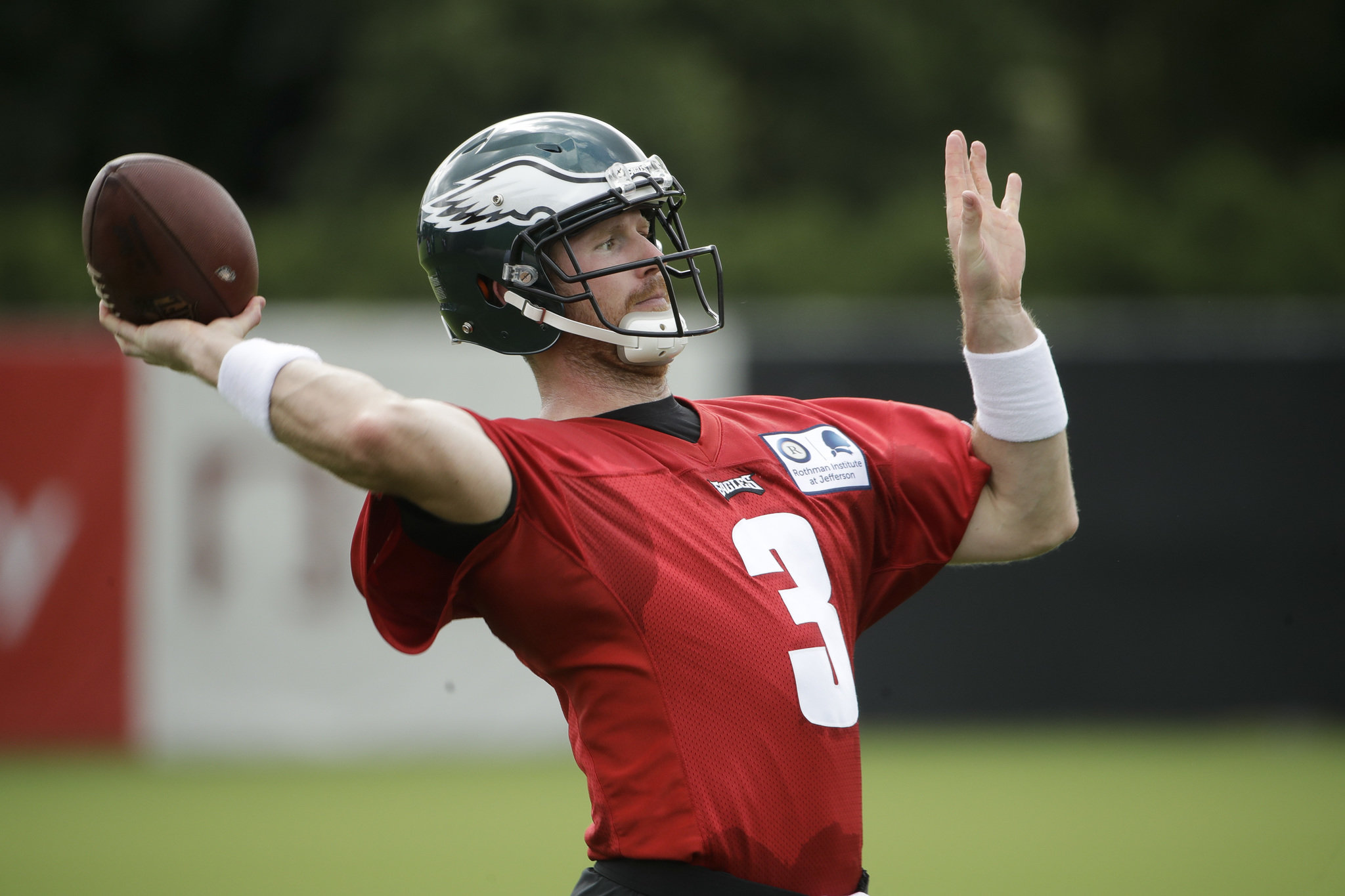 The Summer Of McGloin Mercifully Comes To An End
Rejoice Eagles fans, we've seen the last of rag-arm quarterback Matt McGloin in an Eagles uniform.
McGloin, who was brought into Training Camp with the idea of potentially sticking around as a third-string quarterback, has proven to be nothing more than the textbook definition of a camp body.
The former Raider was here simply to occupy space, take the August bullets, and now that the fourth and final preseason game has come and gone, it won't be long until the team gives him his walking papers with no meaningful role remaining for him in Philadelphia.
I can't say enough about how bad this guy has been. He saw extended action in all four preseason games, and brought absolutely nothing to the table. He telegraphs the majority of his throws, his weak arm rarely threw beyond the first down marker, and every pass had no zip on it, just floating softly through the air.
McGloin has been so bad, that it's probably been harder for the Eagles to get a decent evaluation of the second and third stringers that are playing with him.
Roster Bubble: Winners and Losers
Winners
Donnel Pumphrey: Pumphrey was a near lock to make the roster all along, but cemented his position by showing some good burst on special teams. Pumphrey came very close to breaking through on several returns. He's going to be inactive most of this season, but he's going to be on this team.
Jaylen Watkins: Now a full-time cornerback, Watkins made several nice plays in this game, including a great read on a pass he should have returned the other way for six points in the first half.
Kamu Gruiger-Hill: Nobody really talks about KGH, but he's quietly had a really nice preseason. He's on the roster for his special teams abilities, but he's also made a lot of plays with the second-team defense, during those times he's shown good aggressiveness, and seems to be around the ball a lot.
Bryce Treggs: I don't know that Treggs will make the final roster, but he's been solid all August, catching almost everything that's come his way. No one thought much of Treggs coming into to camp, and he's at least gotten himself into the conversation for a spot.
Dexter McDougle: Howie Roseman's latest roster acquisition had one game to make an impression on the coaching staff, but did his best to make a strong case for himself. McDougle showed good speed with some scrappy, feisty play. This are good traits for a guy angling to play in the nickel package. He's going to need time to learn the defense, but I think he's got a decent chance to steal a roster spot from someone.
Losers
Marcus Johnson: One the training camp darlings, Johnson had just about locked up his roster spot coming into tonight's game, but he did not perform particularly well in this one. Yes, he came away with the team's lone touchdown, but earlier in the game he really struggled to get himself open against some of New York's better corners.
Byron Marshall: Not for lack of trying, but there's just no room at the inn for Marshall, who looked good on a number of runs in the second half.
Paul Turner: Remember him? Can't make the club in the tub. Turner has been absent all preseason, and its only a matter of time before he's an ex-Eagle.
Dillon Gordon: He'll still make the team, but this wasn't a good showing for the backup left tackle, who was beaten several times in the second half.
Final Thoughts
He won't make the 53, but I'd like to see the Eagles keep Dane Evans around on the practice squad. He has a good arm, and I'd like to see what he can do after a year of development.
Alex McAlister has had a nice preseason. I don't think the Eagles can keep six defensive ends, but hopefully they can stash him on injured reserve for another year.
Another preseason has come and gone. Final cuts are up next, and then its on to the real thing!