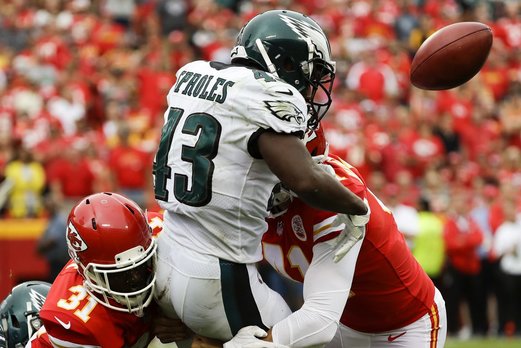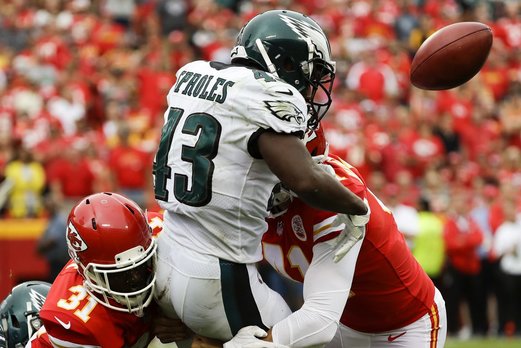 Wentz Strong, But Turnovers The Difference In Eagles' First Loss
The Eagles gave the Kansas City Chiefs a strong challenge on Sunday afternoon, but in a defensive battle, the young Birds caved first to the playoff-tested Chiefs team.
The difference in the game? 10 points off of turnovers for Kansas City.
Darren Sproles uncharacteristically fumbled away a punt right before the half, which gave Chiefs a short field and a field goal opportunity. The Eagles themselves blew an opportunity to tie the game before the half when rookie kicker Jake Elliot missed a 28-yard attempt as time expired in the second quarter. This was a six-point swing in the Chiefs' favor.
In the second half, with the team down a touchdown, Carson Wentz had another batted ball intercepted, which gave the Chiefs another opportunity in Eagles' territory that they converted into a touchdown.
These shifts in momentum gave Kansas City the energy they needed to close out the game.
It spoiled a fine showing from Carson Wentz, who did all he could to get the team to a victory.
Wentz finished 25/46 for 333 yards with two touchdowns and the interception. The second-year quarterback also added 55 rushing yards on four carries to lead the team in that category as well.
Wentz made strong throws throughout the game. He led the team on several big drives, and spread the ball around to nine different receivers. He's still a little off on some of his deep shots, but I thought they were a little better than what he did against Washington.
I was very impressed with the poise of Wentz. Going on the road to Arrowhead, and being put in a position where he had next to no running game to speak of against a great defense, for Wentz to come out and perform the way he did was remarkable.
Wentz connected with his number one-wideout Alshon Jeffery much more frequently in this game, with Jeffery posting seven receptions for 92 yards and a touchdown, his first as an Eagle. I thought it was a major positive that the Eagles were able to get Jeffrey involved early after he disappeared for long stretches the Redskins game.
Doug Abandons The Run
Other than the turnovers, the biggest point of concern from this game had to be to complete and utter lack of a run attack.
Doug Pederson called just 13 running plays as opposed to over 50 passing plays.
Darren Sproles took 10 carries for 48 yards. Wendell Smallwood took three for four yards. LeGarrette Blount was phased out of the offense this week, failing to take a single carry.
This can't continue. There are several alarming traits here. First is that Pederson is putting the entire offense in Wentz's hands. While Wentz has been up to the task so far, he'd be much more effective if had a run game to keep the defense honest.
In this game, it was clear by the second half that the Eagles had no interest in establishing the run. By the end of the game, the Chiefs were able to tee off on Wentz at will, with the majority of their sacks coming in the last quarter and a half.
The other issue is that Pederson may be returning to his approach last year of running Darren Sproles into the ground. Sproles was on the field for all but a handful of plays today, and his effectiveness is going to go crashing off of a cliff if this continues.
Pederson did say back in August that Blount's involvement was going to depend on the gameplan, so I'm willing to give him a pass for going Sproles-heavy this week. But this can't be the case moving forward.
Quick Thoughts
Offense
Although they gave up some sacks in the second half, I thought the offensive line was much better this week than last week.
Wendell Smallwood looks useless to me. Bottom line is that he just isn't good enough in pass protection to trust out there.
Nelson Agholor followed up his big game from Week 1 with a goose egg until coming down with a garbage time touchdown.
Great to see Mack Hollins get an opportunity to shine on offense. Hollins caught three passes for 32 yards, picking up several first downs. Looking forward to seeing more of him moving forward.
Five catches for 97 yards for Zach Ertz. Maybe the breakout year is really happening.
Torrey Smith had four catches for 66 yards, but dropped two more catchable passes, including a potential touchdown in the first half that forced the Eagles to settle for three.
Thrilled that Doug dumped the backwards passes to Agholor from the playbook.
Defense
The defense suffered several tough breaks early in the game. Rodney McLeod and Jaylen Watkins left the game with injuries, forcing rookie Rasul Douglas into action.
Douglas seemed to hold up pretty well. He wasn't beat for any long gains, and made several tackles.
The game was out of reach when Jalen Mills gave up a big completion deep in Eagle territory to Chris Conely.
Vinny Curry made a couple of nice plays today, but also failed to wrap up Alex Smith for a sack that would have forced a long field goal attempt, and instead gave the Chiefs a touchdown opportunity.
You have to love what Mychal Kendricks is doing right now. Kendricks came up with a sack, and made several great plays, including a tackle for a loss on Kareem Hunt. Sometimes the best moves are the ones you don't make, and right now the decision not to trade Kendricks is paying off, as Jim Schwartz has given him a much larger role in this year's defense.
Brandon Graham and Timmy Jernigan combined on a sack.
I haven't been a big fan of Graham, but he's playing some great football through two games.
Chris Long registered his first sack of the season, a key play in a third down in the second half that forced a Kansas City punt.
I'm concerned if the Eagles are forced to play without Rodney McLeod for an extended period of time. Corey Graham doesn't do much of anything to inspire confidence.
Tyreek Hill was held to just 43 yards on four catches. Not bad a for a defense that was not only missing starter Ronald Darby, but his replacement Jaylen Watkins.
Special Teams
Rookie kicker Jake Elliot really hurt the team's momentum when he missed a 28-yard kick before the half, but he converted two other field goals, and also an onside kick late in the game.
Final Thoughts
This wasn't a game that many people expected the Eagles to win, and they gave a playoff-caliber team a very strong challenge on their home field.
The experienced team won the war, but the Birds still flashed a lot of positives to build on moving forward.
Next up, the team finally returns home for a date with the struggling Giants.