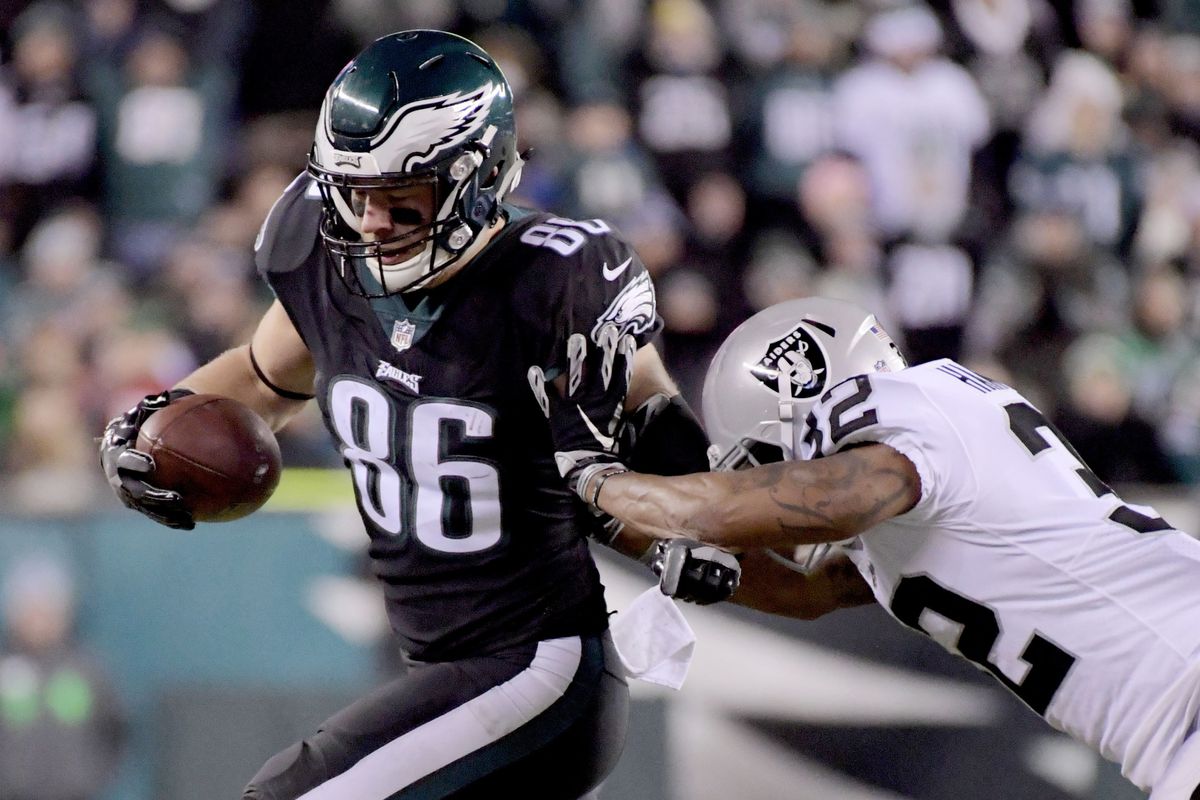 Foles' Ineffectiveness Cause For Concern?
If you watched Nick Foles quarterback the Philadelphia Eagles tonight, you'd never believe that this was a guy that once threw for seven touchdowns against the Oakland Raiders.
Foles looked lost tonight. He connected on just 19 of 38 pass attempts for 163 yards with one touchdown and one interception.
Foles was never in any kind of rhythm. I do believe that the weather conditions had an impact on the game. Both the Eagles and Raiders struggled to get their passing games going, but Foles wasn't at all sharp, and made things worse by making mistakes.
Foles got away with a ball that should have been a pick-six to Oakland safety Reggie Nelson in the first half. It was a pass intended for Zach Ertz that just never had a chance, with Foles missing his mark considerably.
In the second half, Foles couldn't get any kind of offensive momentum going. He seemed to get worse as the game went on. Six of the Eagles' eight second half drives resulted in three-and-outs. Foles took a terrible sack late in the game that pinned Donnie Jones back deep in his own territory with just over a minute to go in the game.
Defense Rises To Occasion
Fortunately for Foles and the offense, the defensive unit bounced back in a big way after getting humiliated by the New York Giants last weekend.
Jim Schwartz's group held Oakland to just 10 points, and also forced five turnovers, several of which coming at crucial points in the game.
Patrick Robinson picked off Derek Carr in the third quarter, setting up the offense in Oakland territory. Jay Ajayi would fumble the ball away on the next play, but Vinny Curry responded by forcing a fumble on Marshawn Lynch, setting up the Eagles with a short field, enabling them to tie the game with a field goal.
In the fourth quarter, the Raiders were building momentum, having moved the ball deep into Eagle territory, but Malcolm Jenkins ripped the ball away from Jalen Richard, saving the team at least three points.
With just over a minute to go, cornerback Ronald Darby made the biggest play of the game, intercepting Carr close to midfield, setting up the offense for the go-ahead field goal.
It was an effort that this defense badly needed after struggling so heavily over the last month.
Quick Thoughts
Offense
Stefen Wisniewski missed a second straight game with an ankle injury, giving the Eagles another full game of Chance Warmack. Warmack got off to a decent start, throwing a key block on Jay Ajayi's touchdown, but committed a holding penalty later in the game that helped kill a drive, and also was responsible for forcing Ajayi's fumble in the second half by launching himself into Ajayi in an effort to push him over the first-down marker.
Lane Johnson shutout Khalil Mack, but also was flagged for three big penalties.
Jay Ajayi led the team in rushing with 52 yards, but most of that came in the first half. The Raiders were really able to clamp down on the running game in the second half once it became apparent that Nick Foles wasn't going to do much throwing the ball.
Just 12 yards on five carries for LeGarrette Blount. Blount has been such a non-factor on offense ever since Ajayi came into the picture, and its fair to wonder if he's reaching the end of the line.
Alshon Jeffery was taken out of the game, with no receptions on two targets. Jeffery had a chance to catch a ball down by the redzone, but let it slip off of his hands.
Zach Ertz led the team with eight grabs for 81 yards. He was Foles' safety valve, making most of his production off of checkdowns.
Nelson Agholor was the only receiver that Foles had any luck connecting with, catching four passes for 31 yards. Torrey Smith was the only other wideout to register a catch.
Defense
Chris Long was very active, registering a sack and generating consistent pressure on Carr. Long was given an uptick in snaps once Brandon Graham went down with an ankle injury.
Linebacker Dannelle Ellerbe was given a heavy workload in this game, playing most of the snaps at middle linebacker. Ellerbe was in on four tackles, and led the way on one play that stopped Marshawn Lynch for a loss.
Ronald Darby played a strong game in this one. In addition to his big interception, Darby kept Oakland's top wideout Michael Crabtree off of the stat sheet.
Tough night for Jalen Mills, who was burned by Amari Cooper for a 63-yard touchdown in the second quarter.
Special Teams
Jake Elliot missed a chip shot field goal before the end of the first half, but more than made up for it by drilling his two second half kicks.
I know the weather was an issue for the kickers tonight, but I think Donnie Jones has lost something. He just hasn't been as effective as he's been throughout his Eagles' career.
Final Thoughts
One of the things that really made Carson Wentz great was his ability convert on third down. Under Wentz the Eagles had the top third-down offense in the league.
Under Nick Foles, the Eagles converted just one of 14 attempts last night.
I'm not trying to bury Foles after one bad game, but there's reason to be concerned here.
The NFC is loaded with quality playoff teams. Each playoff hopeful team has a potent offense, and a quality, if not serviceable, defense. If this were a playoff game, the Eagles would have been run off of their homefield.
Foles hasn't had a lot of game action over the last two years, and this was just his second start, but the Eagles don't have the luxury of giving him half a season to get in sync with his teammates.
However, the Eagles were still able to find their way to an ugly win, and bought themselves the luxury of homefield advantage, and essentially two bye weeks.
Doug Pederson and the coaching staff have to make the most of that time to get Foles and the offense up to a much higher level than what we saw on Christmas night.