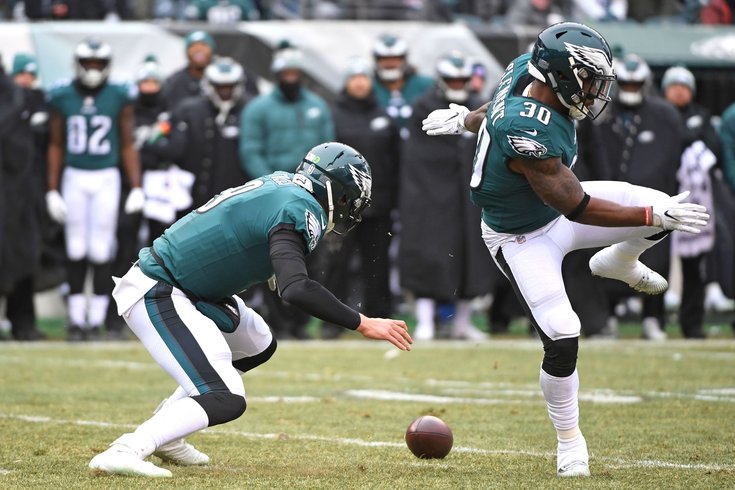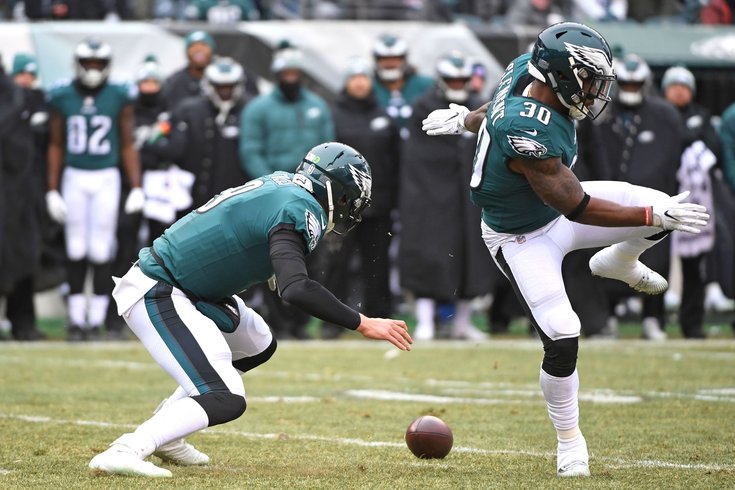 Poor Showing For Foles In Limited Action
Nick Foles only played one quarter of football, and he didn't do anything to give the Eagle faithful much confidence going into the playoffs.
Foles completed just four of 11 passes for 39 yards with an interception in his final tune-up for the playoffs.
The Eagles' starters did move the ball on several drives, but stalled without points. Foles' worst moment came on a terrible pass to Alshon Jeffery that was intercepted. The pass had no chance to get to Jeffery, and was an easy turnover for Dallas.
Quick Thoughts
Offense
Howie Roseman has gotten so many things right in the last two years, but Isaac Seumalo isn't one of them. Seumalo got a lot of work at center today, and showered Nate Sudfeld with a handful of high snaps that nearly went over his head. Seumalo was a questionable selection in the third round last year when the pick was made, and since then, all he's done is lose both the starting role (and a backup role to Chance Warmack) and he's looked unimpressive in every chance he's gotten to play.
Will Beatty made his debut on the offensive line, and gave up a sack almost immediately. The Eagles are in some real trouble if they have to turn either Seumalo or Beatty in the playoffs.
Wendell Smallwood got an opportunity to play after being inactive since the bye week, and gained just 6 yards on four carries on the ground, and three grabs for 24 yards.
Nate Sudfeld was about what you would expect from a third-string quarterback. He completed 18 of 22 passes for 128 yards, and didn't turn the ball over. He showed a bit mobility, picking up a 22-yard gain on a rush in the second half. Really hard to judge him considering he was playing against the Dallas starters with a bunch of backups, but he looked OK.
Torrey Smith treated the fans to another big drop in his limited action, which helped kill a drive. Smith just doesn't like physical contact. We won't miss Smith next year when the Eagles don't pick up his option.
Defense
Give credit to the Eagle reserves on the defensive side of the ball. They held the Dallas starters to just six points on the day.
Sidney Jones made his NFL debut, and looked pretty raw. Jones struggled to catch up to Ezekial Elliot on a run early in the game, but seemed to hold up well in coverage.
Steven Means is a guy that always seems to produce whenever he's allowed on the field. Means picked up a sack, playing his only significant action of the season. The Eagles are extremely deep at defensive end between Brandon Graham, Vinny Curry, Chris Long, and Derek Barnett, but Means looks like a guy who deserves an opportunity to carve out a role for himself at some point in the future.
Linebacker Nate Gerry flashed in his extended action. Gerry's best moment came when he blew up Lael Collins, forcing his way through to stop Elliot short of a first down. Gerry, a fifth-round pick who spent most of the season on the practice squad, could be a guy to watch next summer.
Special Teams
Kenjon Barner has been sloppy the last two games. After nearly muffing a kick away against the Raiders, Barner nearly did the same this week, with Dallas narrowly missing a chance for a short field in the second half.
Final Thoughts
Well, the Eagles enter the playoffs on the low of getting shutout by the Cowboys in a game that had less meaning than a preseason finale.
There's going to be a lot of concern about the quarterback position over the next two weeks, with Nick Foles' back-to-back poor showings planting a lot of doubt in the minds of many.
Let's look at Foles' whole body of work for the season.
We have a limited sampling against the Cowboys in a glorified scrimmage. We have a concerning effort against a weak Oakland Raider defense, where Foles never got into a rhythm, and turned the ball over.
But we also have a solid relief effort against a tough Rams defense, where Foles came into the game ice-cold after having sat on the bench for the entire season. Foles came in and guided the team on two scoring drives to get a key come-from-behind win that helped the Eagles secure homefield.
We also have a four-touchdown effort against the New York Giants, where Foles ran the offense efficiently for the majority of the game.
I'm not telling you there's no reason for concern, but its far from the hopeless situation that some will make it out to be.
Fortunately, the Eagles have a bye week in front of them that they can use to really clean a lot of things up without having to focus on putting in a specific gameplan for the upcoming weekend.
For the last three years, the Week 17 articles have essentially served as obituaries for lost seasons. But we aren't done yet.
The Eagles are headed to the playoffs for the first time since 2013. They have a first-round bye for the first time in nearly 13 years. There's still a lot to be excited about here folks.