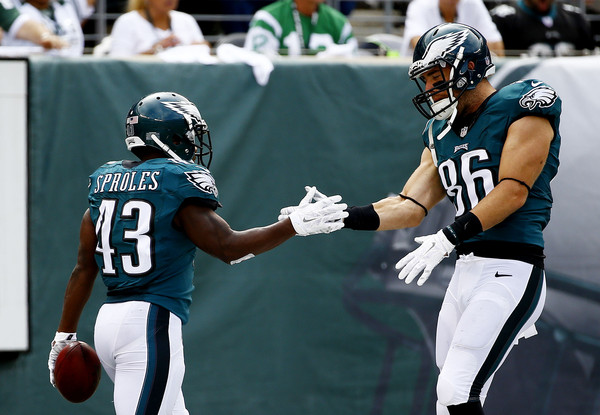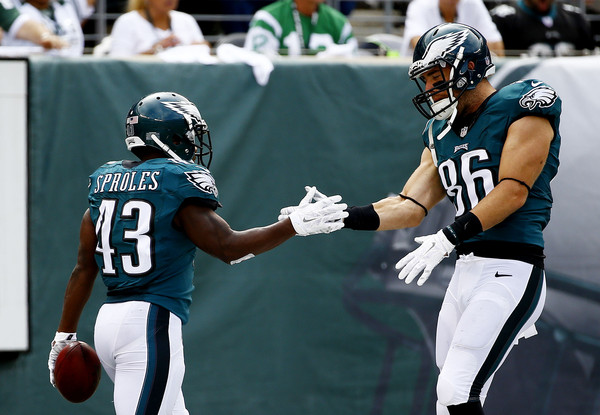 I expect head coach Doug Pederson, offensive coordinator Mike Groh, and assistant head coach Duce Staley and the rest of the offensive staff to feature the running backs and tight ends in the passing game on Thursday night. Foles hasn't had the chance to throw the ball a lot to the wide receivers because of the fact that Alyson Jeffery and Nelson Agholor have been out of action with injuries. Mike Wallace is new and he and Foles haven't had a lot of work together.  I also don't think Foles has developed great confidence in him because Wallace has been dropping balls all through the training camp.  Yes he can get deep, but I don't expect him to get a chance to catch a lot of underneath throws.
One of the keys in a successful passing game is a quarterback confidently knowing where his receivers are going be at each split second in the play.  Wentz and Foles developed that rapport a year ago with their wide receivers, but it hasn't been established for the 2018 season.  It's something that will need to be developed going forward.  Many times a quarterback has to let the ball go before the wide receiver comes out of his break.  He's only going to make that type of throw to a receiver, whom he trusts confidently.
I think it's a given that the Eagles are going to feature Pro Bowl tight end Zach Ertz, future Hall of Farmer running back Darrin Sproles, second-year running back Corey Clement, and rookie tight end Dallas Goedert in their passing attack.  The only wide receiver I expect to be amongst the top targets is Agholor. He does a great job of staying in the faces of the team's quarterbacks making sure they're on the same page with each route.  He has the confidence of Foles but Wallace hasn't build up that confidence yet.
I expect to see a good amount of 12 personnel with two-tight ends because Pederson, Groh, Foles and Wentz have confidence in the young tight end Goedert.  The Falcons are going to try to focus on stopping Ertz when they see 12 personnel, so this would be a good time to show the NFL that Goedert can beat a linebacker on a pass route every day of the week.
Maybe even more importantly in the 12 personnel formations, the Eagles are going to utilize Goedert's ability to block on the edge against defensive linemen and linebackers to get their running game going. I expect 12 personnel with one back and two tight ends to be a key formation early in the game as the Birds establish their running games.
It's very important that the Birds get their running game going because that will take pressure off of Foles.  The Falcons pass rushers can't be getting off the ball and flying upfield, if the Eagles establish a serious run threat.  Once they get Jay Ajayi and Clement going in the running game, they can start throwing the ball downfield more and maybe take a shot deep to Wallace.
Early in the game you're going to see the Eagles feature their short passing game and their running attack