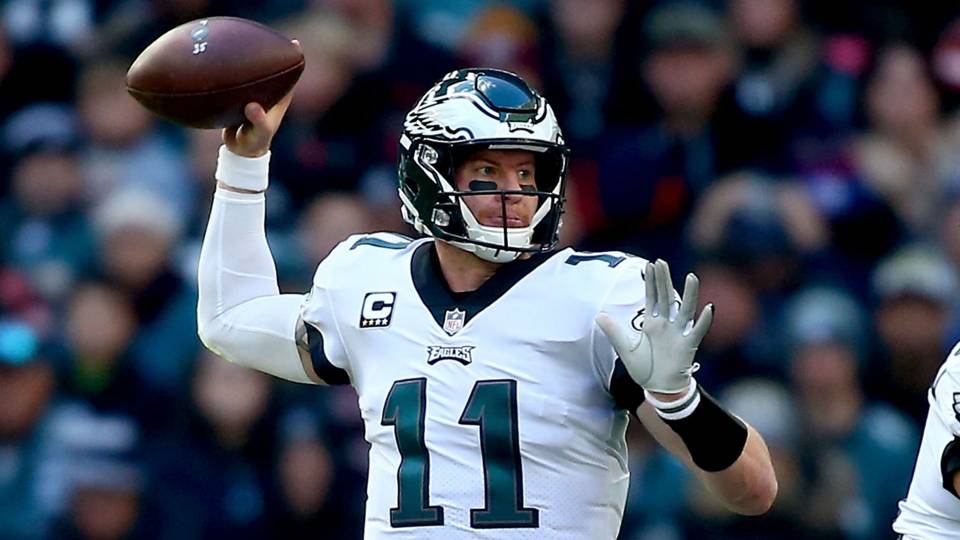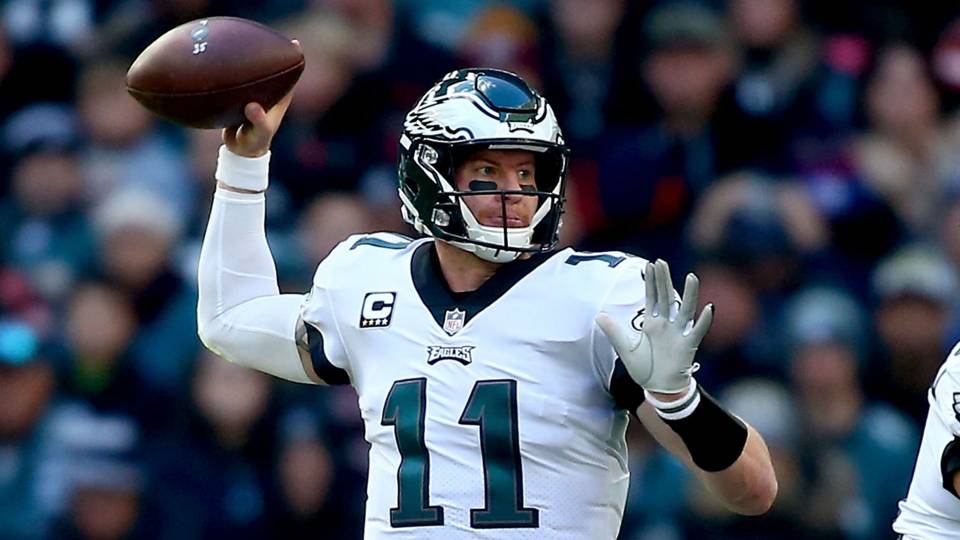 Eagles Survive Injuries, Mistakes In Battle With Jags
It wasn't pretty, but the Philadelphia Eagles survived a trip across the Atlantic Ocean to get to 4-4 with a critical win over the Jacksonville Jaguars.
After a slow start filled with turnovers by Carson Wentz, and injuries littered throughout the roster, the Eagles were able to find a way to make plays against a great defense, and close out the game with a 24-18 victory.
Playing against the tough Jaguars defense, Carson Wentz put up 286 yards and three touchdowns. It wasn't always pretty for Wentz (more on that below), but he got stronger as the game went on.
Defensively, Jim Schwartz's group did a lot of bending, but not a lot of breaking, holding the Jaguars to just one touchdown and four field goal attempts on the day.
Carson Wentz Needs To Get His Turnover Problem Under Control
Carson Wentz has done a horrendous job at protecting the football in 2018.
"[A problem with the] Eagles' offense… is that they're very fixated on generating big plays. However, this leads to Wentz holding on to the ball too long."
And on Sunday, two more terrible turnovers plagued the young quarterback. Wentz fumbled on the opening drive, setting up a Jaguars field goal, and threw a terrible interception in the endzone on the team's second drive to wipe away an opportunity for points.
The interception to Jalen Ramsey was particularly awful, Wentz tried to force a pass to third-string tight end Josh Perkins that was never open, with Ramsey jumping the route for the easy pick.
A problem with Wentz, and the Eagles' offense in general, is that they're very fixated on generating big plays. However, this leads to Wentz holding on to the ball too long. On the play where Lane Johnson was injured, the injury might have been avoided if the quarterback had gotten the ball out quicker.
Wentz has now lost five fumbles and thrown two interceptions in his six starts, averaging over a turnover per game. That's just not acceptable. The Eagles were able to overcome it today, but those are valuable points left on the field that will cost a team a win more often than not. Wentz is better than that. It's time he starts playing like it.
Quick Thoughts
Offense
Absolute disaster to lose Lane Johnson early in the game to what is likely a season-ending injury.
Halapoulivaati Vaitai did a decent job filling in for Johnson, but gave up a critical sack in the fourth quarter.
It's pretty clear that Corey Clement isn't anywhere close to 100% healthy. Wendell Smallwood continues to take most of the snaps as the team's lead running back, while Josh Adams was mixed in quite a bit as well. Clement was used very sparingly.
Adams had a strong showing, finishing with 69 yards on nine carries to lead the team in rushing. Adams nearly lost a fumble in the fourth quarter, but he showed enough to today to warrant more of a role moving forward.
Great catch and run by Dallas Goedert to end the second half with a touchdown to put the Eagles ahead by four points at the half.
Jordan Matthews might have played his best game as an Eagle today, including the time in his first stint with the team. Matthews hauled in four of his five targets for 93 yards, making some absolutely critical grabs, including a 36-yard strike that set up a touchdown in the second half.
The Jaguars did their best to take Zach Ertz away today, but the tight end still managed to find his way into the endzone in the second half.
Defense
Avonte Maddox blew up Carlos Hyde on a third and short on Jacksonville's opening possession to force a field goal attempt.
Maddox came back to deliver a big hit on Keelan Cole before the end of the first half to force a fumble, and set the offense up with a good chance for points.
A Chris Long sighting! Long sacked Blake Bortles on third down to end the Jags' second series.
Terrible call by Jim Schwartz to allow the Jaguars to get into field goal range on their third possession on a third and 27, the defense gave up enough to yards to T.J. Yeldon on a screen to set Josh Lambo up for a 57-yard attempt, which he converted.
Rasul Douglas broke up a pass on a two-point conversion attempt in the third quarter, and made an absolutely critical play in the fourth quarter, breaking up a third and pass to T.J. Yeldon.
Another rough game for Dexter McDougle, who gave up a chunk play in the first half, and missed a tackle on a swing pass to T.J. Yeldon in the third. McDougle then slipped in the fourth quarter and nearly took Nigel Bradham out of a play which could have cost the team a touchdown if Bradham had not recovered.
Jordan Hicks was a tackling machine today, racking up 12 stops and 1.5 sacks.
Josh Sweat had a couple of nice pressures, the rookie picked up additional playing time with Derek Barnett lost for the season.
Special Teams
Silly unnecessary roughness penalty from D.J. Alexander before the half. Signed before the season to be an asset to special teams, I can't think of anything positive that Alexander has contributed through the first half of the year.
Little nod to Jalen Mills who tried to pull two teammates away from getting into a scrum with the Jaguars before the half, avoiding another silly penalty. Shows a little growth from Mills, who may have learned from his moment a couple weeks ago in the Vikings game where Fletcher Cox had to pull him away from a similar situation.
Final Thoughts
The bye week couldn't come at a better time for this Eagles team.
They've been knocked around physically and mentally through the first half of the season. They're fortunate to be 4-4 right now, given all that's gone against them in the first half.
But to get to the bye on a high note was huge. With two weeks off to refresh and get ready for Dallas, the Eagles can get themselves in position to get healthy, get right, and make a run towards taking over the division in the second half of the year.