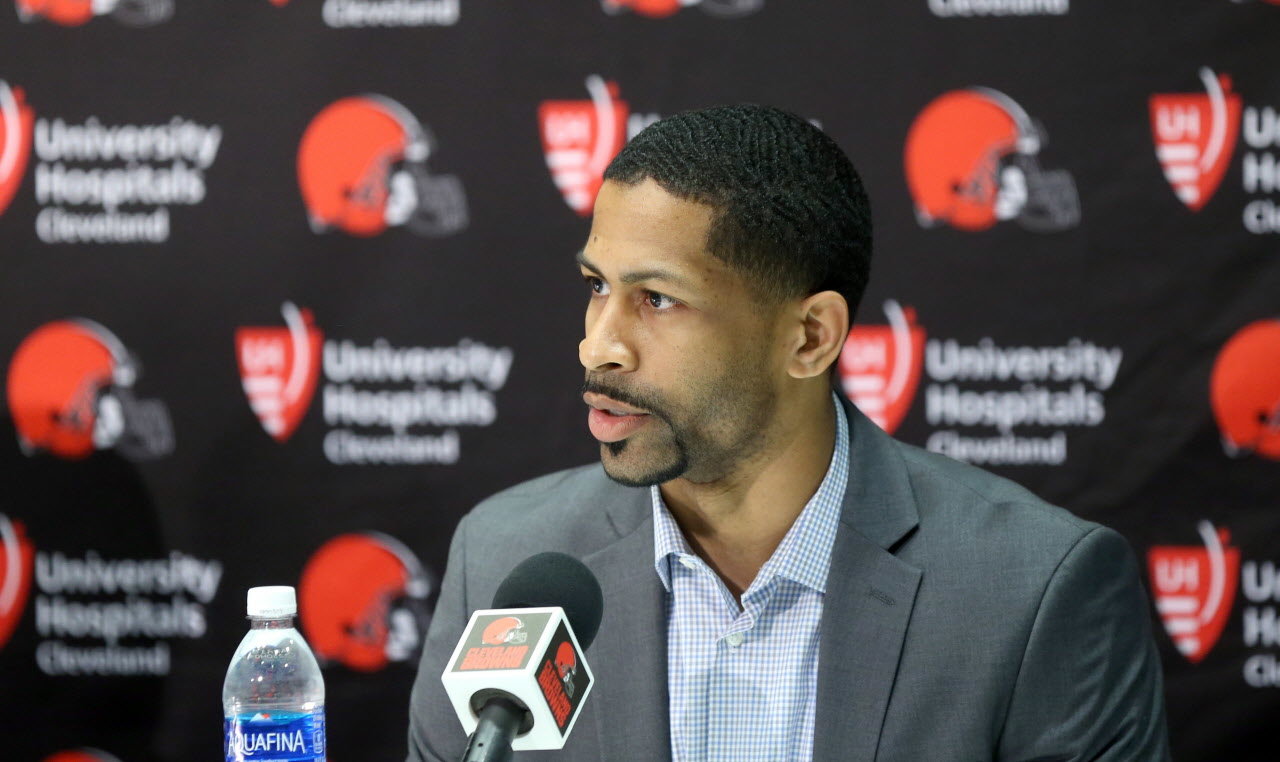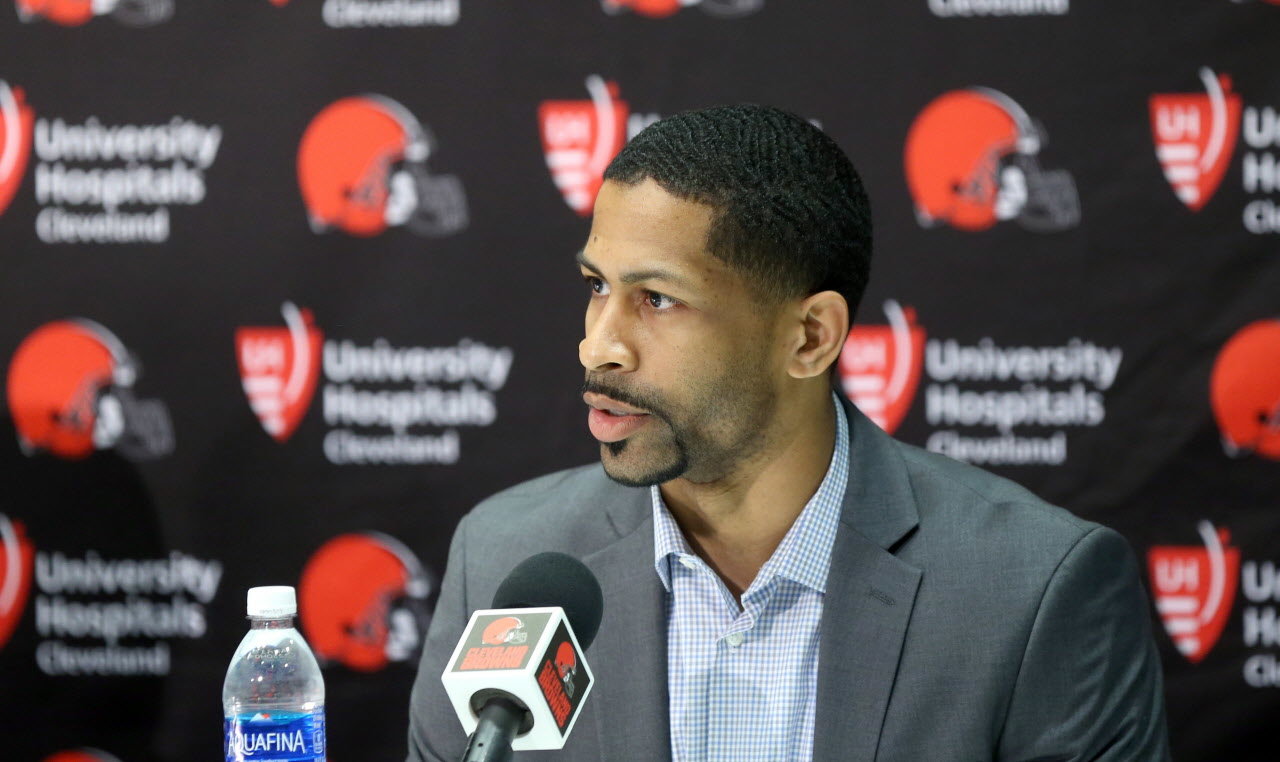 The Eagles have made a number of changes in the front office and coaching staff in preparation for the upcoming NFL Combine, which will take place this week in Indianapolis, Indiana.  The coaching staff in conjunction with the scouting department will evaluate the talent at the Combine.  Many of the assistant coaches will get the chance to question top prospects, who play the specific position which they coach.
The Eagles Executive V.P. of Football Operations Howie Roseman has hired former Cleveland Browns V.P. of Player Personnel, Andrew Berry.  This was a major decision because the Eagles who are ahead of most of the teams in the league, when it comes to the use of analytics in the evaluation of player personnel, are bringing in a young man who is expected to take them to another level in the area of evaluating players with the aid of the computer and numbers.
From what I have heard, Berry is a dynamic 31-year old, who will bring analytics to the Eagles player personnel evaluation in a major way.  Berry is a graduate of Harvard University with a bachelor's degree in economics and a master's degree in computer science.  Berry was an All-Ivy League cornerback in three of the four years he played for the Crimson, but a "herniated disc" ended his on field football career.  His on the field football background, makes Berry a "football guy" and not just a nerd.  You know his football background, gives the Eagles the confidence that he can apply analytics to football in a higher way because of his history as a player.  I agree with them.  He will be working under the title of Vice President of Football Operations for the Eagles, which is a promotion from the V.P. of Player Personnel title he had with the Browns.
He had been a scouting assistant and pro scout with the Colts during their five trips to the playoffs and a Super Bowl title.  He's also credited with making some outstanding player personnel moves to help the progress of the improving Cleveland Browns.  He was the V.P. of Player Personnel with the Browns the last three years and you can see that they are headed in the right direction.  I expect him to working side-by-side withJoe Douglas, Executive V.P. of Player Personnel and Andy Weidl, Director of Player Personnel in putting together a plan to improve the team's personnel.  A key part of that plan will be executed this week in Indianapolis, when they start evaluating this year's draft.
Eagles head coach Doug Pederson made a surprising decision when the Eagles season ended.  He fired defensive line coach Chris Wilson, despite the fact that the Birds defensive line had a good year in the 2018 season. I haven't heard the reason why the decision was made.  Wilson had overseen some good times for the Birds defensive line and he was a college coach of the Eagles best defensive lineman, Fletcher Cox, while they were both at Mississippi State.
The firing of Wilson opened the door for the promotion of the team's assistant defensive line coach Phillip Daniels. Daniels, who played 15 years in the NFL and is as big or bigger than any of the team's defensive linemen, will be taking over as the team's new defensive line coach.  It's a very important coaching position because Birds defensive coordinator Jim Schwartz doesn't like to blitz.   In fact, he hates blitzing and many times he flat out refuses to blitz. Therefore, the Eagles pass rush pressure is nearly totally dependent on their defensive line.
Daniels is going to have his work cut out for him because there could be some change in personnel.  Yes, veterans Cox, Michael Bennett and Chris Long will likely continue to lead this group, but veteran defensive end Brandon Graham might go elsewhere via free agency.
Third-year defensive end Derek Barnett will be trying to return from shoulder surgery and starting defensive tackle Tim Jernigan continues to struggle with his health.   Daniels will need to develop and get production out of last year's fourth round pick Josh Sweat.  He's a talented young player, but he didn't see much action last year.
It's supposed to be an especially strong draft this year for the defensive line.  Daniels will have the extremely important job of developing the young talent.   Roseman almost guaranteed that they will be drafting one or two defensive linemen.  You know he's telling the truth when you see the age of Bennett and Long, who are both turning 34 this year. The young guys on the defensive line, Barnett, Jernigan, and Sweat are all coming back from injuries. Graham may or may not be here.
Pederson has also promoted coach Carson Walch to the top wide receiver coaching position. He will be taking over from Gunter Brewer, who coached the position last year. This wide receiver coaching position has been a problem for the Birds other than during the Super Bowl year, when Mike Groh had the position and oversaw tremendous improvement in Nelson Agholor and outstanding production from Alshon Jeffery. With Groh moving to the offensive coordinator position, the wide receivers struggled a year ago, so Brewer was shown the door.  Walch will be expected to develop two of their young receivers Mack Hollins and Shelton Gibson.  Veteran wide receiver Golden Tate is a free agent and he may not return.
In another surprising move, the Eagles have hired former backup tight end and long snapper Mike Bartrum.  He will be an assistant tight ends coach and I wouldn't be shocked if he works with the long snapper, as well.
Another former Eagles player, quarterback C.J. Kinne will oversee special projects.  In all likelihood, he will be looking at a lot of video and studying the tendencies of opposing defenses.   He will be given projects for first down and ten, third downs, third and long, as well as third and shorts, short yardage and of course red zone.  An experienced quarterback like Kinne will probably do a good job of studying and pointing out those different tendencies.
Here are all the changes that were made.
Coaching Changes:
• Phillip Daniels promoted to defensive line coach
• Carson Walch promoted to wide receivers coach
• Mike Bartrum hired as assistant tight ends coach
T.J. Paganetti named assistant running backs coach
• Matthew Harper named assistant wide receivers coach
• Roy Istvan hired as assistant offensive line coach
• Luke Thompson hired as assistant special teams coach
• Matt Burke hired as defensive special assistant
• G.J. Kinne hired as offensive special projects
• Joe Pannunzio hired as director of team development
Front Office Changes:
• Andrew Berry was hired to vice president of player personnel.
• Greg Delimitros was promoted to vice president of equipment operations.
• Patrick Dolan was promoted to vice president of football technology.
• Jon Ferrari was promoted to vice president of football operations and compliance.
• Jeremiah Washburn was hired as advanced projects coordinator.