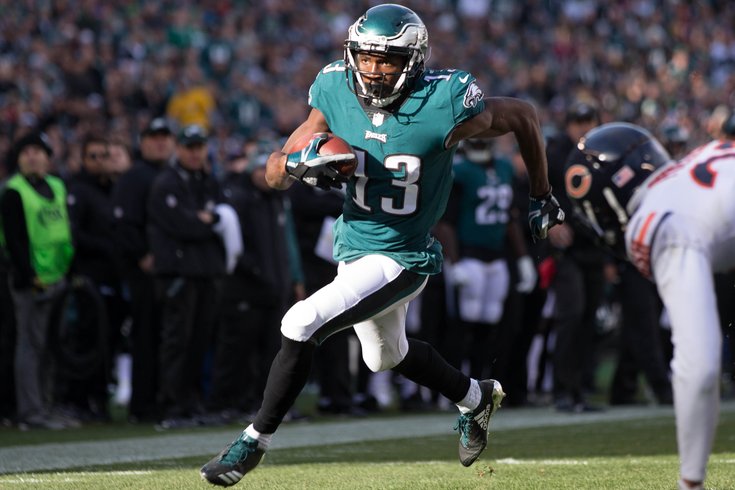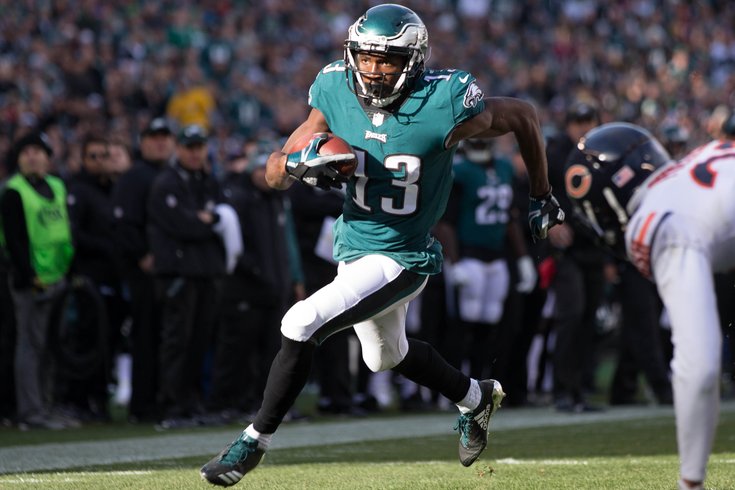 You better believe that Eagles slot receiver Nelson Aguilar was doing some major dancing when 4 o'clock passed on Wednesday afternoon because at 4:01pm Agholor was guaranteed to make $9.4 million in the upcoming NFL season.  The Eagles could have called him before that time and let him know that they were going to let him become a free agent.  Instead the Birds informed him with their silence that they wanted him to remain on the roster at $9.4 million a year.
Most of the local sports reporters thought Eagles head coach Doug Peterson was just praising Agholor to make him more attractive to other teams when he talked about him at the NFL Combine.  Here's what Pederson had to say about Agholor.
"Nelson? Oh, yeah, man, love this guy", Pederson began. "He's the first one in, last one out. Can't say enough good things about Nelson Agholor and what he's brought on the table and what he will continue to bring. I think last year, you look at the amount of guys we had, and of course we added Golden [Tate] midseason. Listen, I'm not going to stand up here and say it didn't affect Nelson, because I think it did. The question was asked earlier about trying to get everyone the ball, and it's a challenge when you break down a game. Nelson didn't complain, he came to work every single day, he put in the time, he put in the work, and it was a huge part of what we did, and getting us into the Divisional Round this year. I'm excited, I love working with him and I think there's great things ahead."
Agholor's agent couldn't have said it any better.  Pederson was letting Agholor know and other Eagles players know that if you do the right thing, they will take care of you.  The head coach made it very clear about how the team felt about the way Agholor played last season.  Pederson spoke honestly, when he said that the acquisition of veteran slot receiver Golden Tate hurt Agholor's production in the 2018 season.  I happen to agree with him whole-heartedly.  How could you argue against it?
Agholor and Tate play the same position, which is slot receiver.  When they took Agholor off the field and put Tate in there at the slot receiver position they were taking catches and yards from the former Southern California star.  On weekly basis both Pederson and offensive coordinator Mike Groh were fielding questions about when and how they were going to get the ball to Tate.  As the weeks went on, you could see the Birds going out of their way to find plays to run in order to get the football in Tate's hands. This was at the expense of Agholor.
It would have very easy for Agholor, who had helped the Birds win a Super Bowl the previous year to blow up, at them bringing in a receiver at his position, then going out of their way to get him the football.  Pederson made a big point, when he said Agholor didn't complain about it or stop working, he continued to practice and play as hard as he could possibly do.  That's the attitude that helped the Birds win the Super Bowl.  That unselfish team first attitude is what Agholor displayed.  The head coach made sure he expressed his appreciation of Agholor's attitude because the young slot receiver had plenty of reasons to be angry about the situation.
If you were to add up  Aguilar's 64 catches and 736 yards to Tate's 30 catches and 278 yards, you would wind up with 94 catches for 1,014 yards, which would be a considered a very good year for a slot receiver.  Agholor will be 26 in May, so Pederson believes there's plenty of production up the road. The acquisition of DeSean Jackson will help give Agholor more room to operate and more chances to make plays.   Plus they like the fact that Agholor is a willing blocker and talented ball carrier on reverses. Add to that his punt return ability and you can understand why they decided to let him play at the $9.4 million a year salary.
To put this in perspective, the New York Jets just signed former Washington Redskins slot receiver Jamison Crowder to a three-year deal, worth a total of $28.5 million dollars.  Last year Crowder played in only nine games.  He caught 29 passes for 388 yards with two touchdowns, but the Jets acquired him at a salary averaging $9.5 million dollars a year.
Agholor was much more productive than Crowder in the 2018 season, so he at least deserved that same level of salary, if not more.  Remember also that Agholor was a key weapon in the Birds Super Bowl year.  How many Super Bowls has Crowder helped his team win?
I expect Howie Roseman to sign Agholor to a healthy extension during the upcoming season, if everything goes as planned.