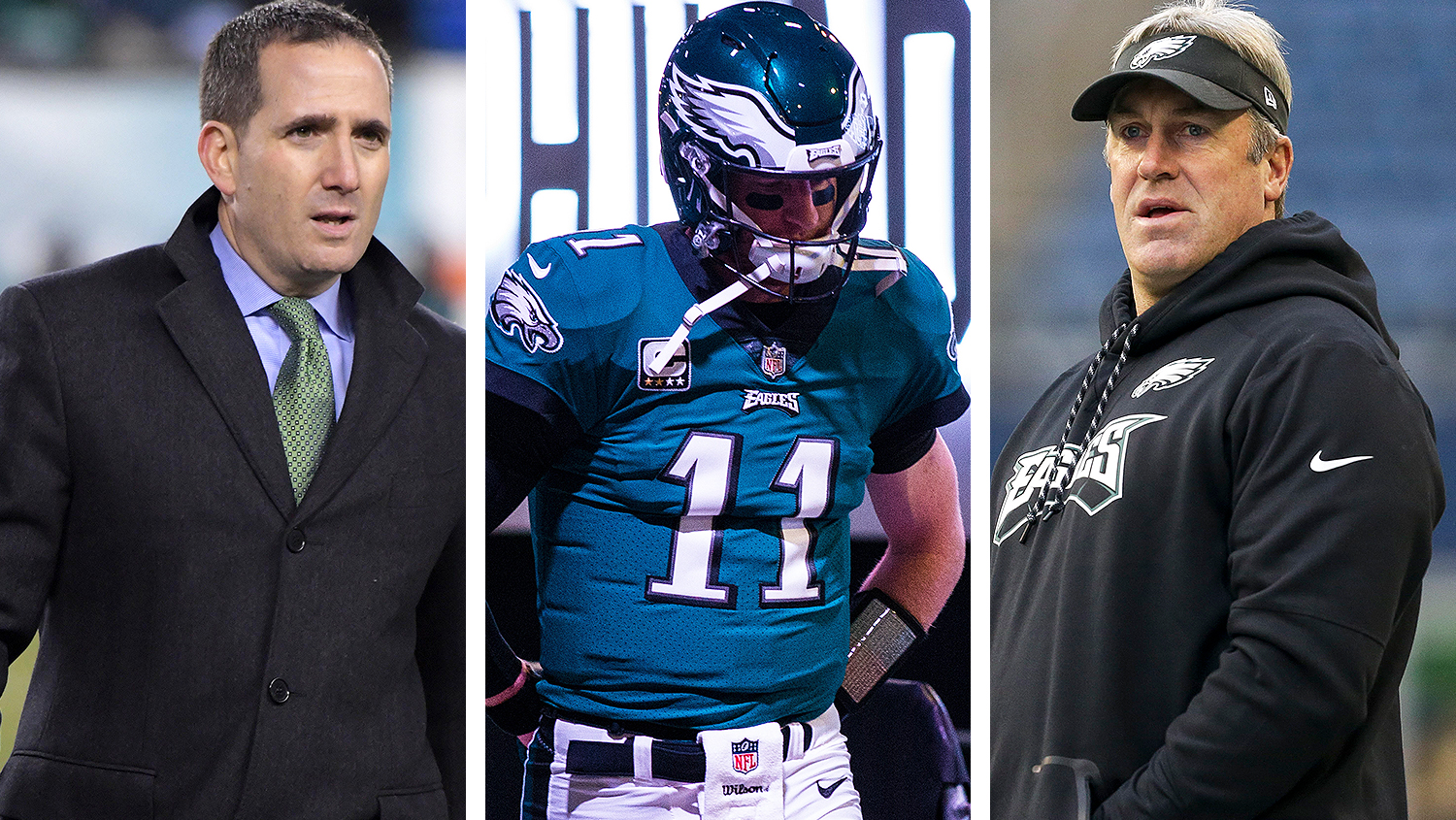 Roughly four weeks ago, Carson Wentz, Doug Pederson, and the Philadelphia Eagles seemed like they righted the ship. Fresh off an impressive 34-27 Thursday night win over the Green Bay Packers, the Eagles were now 2-2 with a daunting road ahead of them. 6 of their next 7 games, including three straight on the road, would be the ultimate measuring stick for this team. They kicked the Jets around like everyone expected, it just didn't go the way we'd thought. That was the easy game out of their next 7. 
Up next, the Minnesota Vikings, Dallas Cowboys, and Buffalo Bills all on the road. After getting embarrassed in Minnesota, in which Stefon Diggs and Kirk Cousins connected for three touchdowns, a date in Dallas with the Cowboys seemed to be the perfect time for this team to come together and start playing solid consistent football. 
Last Monday, Doug Pederson guaranteed the Eagles would go to Dallas and win. Well after three turnovers, lack luster offensive line play, and poor play calling, the Eagles were embarrassed again, this time on Sunday Night. The 37-10 beat down at the hand of the Cowboys was a culmination of the Eagles inability to draft and the inability to part ways with past success. 
The Eagles have missed on too many draft picks in the past and have tried to fill all those holes in free agency. Compound those mistakes with the questionable resigning of Brandon Graham, Darren Sproles, and allowing Jason Peters and Nelson Agholor to come back, has left this team heading in a downward spiral. 
With the trade deadline a little over a week away, the Eagles are in a tough spot. They're just one game behind the Cowboys for the division and have to decide whether to go all in for a playoff berth or punt on the season in hopes of retooling for next year. Depending on the route they take depends on whether they want to part with draft picks or acquire them. 
Players they should target:
Cincinnati Bengals DB William Jackson, WR AJ Green
Atlanta Falcons DE Vic Beasley, WR Mohamed Sanu
Denver Broncos DB Chris Harris, WR Emmanuel Sanders
Miami Dolphins DB Xavien Howard
Los Angeles Chargers RB Melvin Gordon
Tampa Bay Buccaneers WR Mike Evans
Miami Dolphins: Xavien Howard
There is no hiding from the fact that our secondary is struggling to stop just about any wide receiving core. With Jalen Mills and Ronald Darby returning from injury, the Eagles may be more likely to rely on them to fix the issue and address needs elsewhere. Acquiring a top pass rusher and offensive weapons should be the two things Howie needs to focus on. The Cincinnati Bengals and Miami Dolphins are both winless and are most likely looking to move players for draft picks. Miami Dolphins cornerback Xavien Howard is a four year pro that is regarded as one of the best in the game. In 2018, he played in 12 games and recorded 7 interceptions. His type of playmaking ability in the secondary is just what Jim Schwartz and the Eagles need. The asking price is likely going to be a first round pick and possibly a third.  
Potential Trade: Xavien Howard for 2019 1st round pick, 2020 3rd round pick, Nelson Agholor
Cincinnati Bengals: AJ Green and William Jackson
The Bengals not only have a DB for the birds, but also a WR that could really help this offense. William Jackson, the 24th overall pick in 2016, is another young corner Howie should look into. Jackson has 1 interception this year through 6 games and is the teams' top corner. Like Miami, the Bengals are winless and in search of draft picks and young talent. Getting a young player of this caliber from a young rebuilding team is going to be tough and will most likely cost the same if not more than Xavien Howard. 
In addition to Jackson, the Bengals have a stud WR, AJ Green, that could provide significant help to the Eagles offense. Green has been out all year recovering from offseason foot surgery but is nearing a return. Although he is a  free agent at the end of the year, Green still will carry a hefty price tag. A combination of Green and Jackson will probably cost a 1st, 4th, and probably a young player like Rasul Douglas. If the Eagles can acquire both Jackson and Green, not only does the defense get a big boost, but so does Carson and the offense.
Potential Trade: AJ Green and William Jackson for 2019 1st round pick, 2019 4th round pick, Rasul Douglas
Atlanta Falcons: Vic Beasley and Mohamed Sanu
The Eagles pass rush has been very disappointing this year. They are tied for 16th in the league in sacks at 17. The problem is 10 of those 17 came against the New York Jets. Consistent pass rush has alluded this team over the first 7 games this year. The Atlanta Falcons had playoff aspirations this year but sit at 1-6 and should be looking to sell off potential free agents that could help contenders. DE Vic Beasley could be a massive help to the Eagles. One of the fastest DE's in the league, Beasley is the explosive defensive line playmaker they're looking for. He has 31 career sacks in 69 career games and his presence would take attention and pressure off Derek Barnett and Fletcher Cox. 
The Falcons also have a WR that could be on a nice addition to the birds. Mohamed Sanu is a bigger bodied receiver who has some speed. He would be an immediate upgrade on the outside and once DeSean Jackson comes back, both would take turns in the slot. Sanu alone wouldn't cost the Eagles much at all, likely a mid to late round pick. Beasley could cost a 2nd and a player. A deal I could see the Eagles exploring for both would be Beasley and Sanu for Agholor, Douglas, and a 2nd round pick. 
Potential Trade: Vic Beasley and Mohamed Sanu for 2019 2nd round pick, Rasul Douglas, and Nelson Agholor
Denver Broncos:Chris Harris and Emmanuel Sanders
The Broncos offseason acquisition of Joe Flacco hasn't exactly worked out. With the team now 2-5 there are rumors swirling that the Broncos are going to field calls on WR Emmanuel Sanders and DB Chris Harris. Harris was an undrafted free agent corner that has worked his way into a solid corner. According to Pro Football Focus, Harris has graded out as the 19th best corner this year. He is due to be a free agent at the end of the season and would be a cheaper option that the other two corners mentioned before. I could see a third or fourth round pick for Harris.
Emmanuel Sanders is a veteran receiver who step in and be the Eagles best WR on the roster. He still has good speed and is an exceptional route runner. He is best used as a slot receiver and has performed well for a struggling Broncos offense. His role has the number one option has been overtaken by second year player Courtland Sutton. Sanders has had injury problems in the recent past as he tore his Achilles in December last year and also has had nagging knee injuries this season. Sanders alone would be similar to the Golden Tate trade asking price from a year ago, but if he's paired with Chris Harris it will cost a few picks and a player. 
Potential trade: Chris Harris and Emmanuel Sanders for a 2019 3rd, 2020 fourth, and Rasul Douglas or Sidney Jones
Los Angeles Chargers: Melvin Gordon
This is going to be slightly trickier for the Eagles. The Eagles traded for Jordan Howard in the offseason and drafted Miles Sanders in the second round out of Penn State. Trading for another running back probably isn't at the top of their priority list but it shouldn't be too far down. In the beginning of September, Albert Breer of the NFL Network and MMQB, reported that the Eagles placed some calls regarding the availability of Melvin Gordon who was in the midst of a contract holdout. Breer reports that the trade would have been "Jordan Howard and a swap of mid round picks". My scenario would be different. The Los Angeles Chargers are going all in with Veteran QB Phillip Rivers and have placed a nice array of weapons around him. However, they have once again neglected the Offensive Line and have been hampered by injuries. With Andre Dillard and Lane Johnson ticketed as the tackles of the future, trading Halapoulivaati Vaitai and a mid round pick would help both teams both this year and in the future.
With Austin Ekeler producing well for the Chargers and Gordon most likely leaving at the end of the year, the Chargers would be smart to try to improve the team at his expense. Adding Gordon would give the Eagles four solid options in the backfield and allow them to use Sproles and Sanders how New England uses James White, in the slot. Gordon and Howard are both free agents at the end of the year and the Eagles would get a comp pick if both left, however, I'd expect at least one of the two to return next season. 
Potential Trade: Melvin Gordon for Halapoulivaati Vaitai and a 4th round pick 
Tampa Bay Buccaneers: Mike Evans
While this is highly unlikely, the NFL has never ceased to surprise me. Tampa Bay, mathematically, is still in the playoff race. They're third in the NFC South and if they make the playoffs, it will be as a wild card team. TB Quarterback Jameis Winston has all but bought his ticket out of Tampa with his poor play, and will need to address that position in the offseason. If the season ended today, they would pick 11th and most likely would miss out out on top prospects Justin Hubert, Tua Tagovailoa, and possibly Joe Burrows depending which teams are ahead of them. 
Mike Evans is 26, just signed a big 5 year $82.5 million dollar deal, and is an elite WR. If the Bucs didn't have Chris Godwin, an emerging young Wide Receiver, the chances of this deal would be slim to none. With Godwin and TE OJ Howard, turning Mike Evans into a potential franchise QB and more could help Bruce Arians right the ship in Tampa Bay. While the cost is going to be high, giving Carson Wentz a young, explosive, talented WR such as Evans to grow together in their primes could have a huge pay off. Moving on from Nelson Agholor would help all three sides. For the Eagles they would finally move on from a player that can't seem to find his footing in Philadelphia. For Tampa, they would get a first round talent WR, that would compliment Chris Godwin very well. And for Nelson, he would get to go back home to where he grew up in Florida and would take a ton of pressure off of him. 
Potential Trade: Mike Evans for 2019 1st, 2019 3rd, 2020 3rd, Nelson Agholor, Sidney Jones 
I expect Howie to make a move whether to add and push for the playoffs or potentially sell off a player or two to get more draft capital.