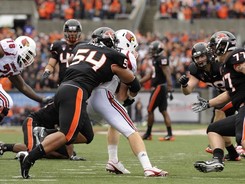 There are numerous reports coming out of the Senior Bowl practices in Mobile, Alabama that Oregon State defensive tackle Stephen Paea suffered a knee injury that is feared to be a tear of his lateral meniscus.   He hurt the knee on Monday and is undergoing an MRI examination today.
Paea was the Defensive Player of the Year in the Pac-10 and expected to be a number one draft pick.  Most draft experts had him pegged to go late in the first round or early in the second.  Paea has great quickness and strength, but he's not a huge defensive tackle.
In all likelihood Paea won't be ready to play football again until late in the summer, but he is expected to be ready to play football during his first year in the NFL.  This is a major setback for this young man, but he will be drafted but no nearly as high as he would been, if hadn't been injured.
Injuries are part of the game of football.  It's not a matter of if they are going to happen.  They are going to happen, it's just a matter of whether they're going to happen and how severe are they when they happen.