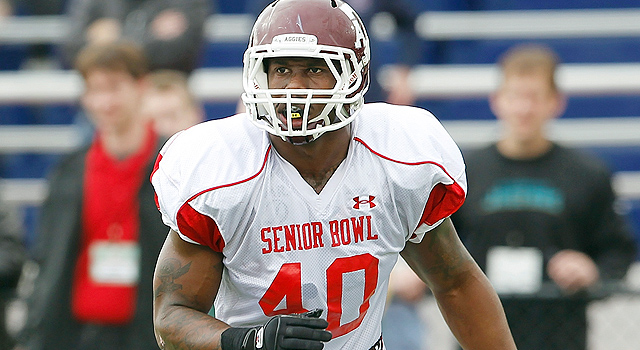 One of the cornerbacks at the Senior Bowl, who the Eagles probably have their eyes on is USC's Shareece Wright.  He turned heads in the first couple of days and did the same thing today. Wright loves to walk into the face of wide receivers and beat up on them at the line of scrimmage.
Wright has the toughness, He is a physical cornerback who has the ability to both back off of wide receivers, back pedal on the snap of the ball and break on the ball when it's thrown.   He's got good speed but I don't think he has blazing speed.
I'll be very interested in how he plays in the Senior Bowl game this Saturday, but he has made himself some money at the workouts this weekend. He's a name to remember as we approach the combine and draft day.
Another cornerback Rashard Carmichael of Virginia Tech showed well on day one but he sprained his ankle and hasn't been able to go in the last couple of days.  Carmichael had showed some standout playmaking ability on that first day.
There are a line of player personnel people who have been raving about Texas A&M linebacker Von Miller.  There's a reason he led the nation in sacks a year ago with 17.5.  He's been running around the tackles like they're standing still.
He's likely to go very high in the first round especially if he does a good job against the run.  He has to show he can play three downs to a be a high first round pick.  I wasn't wowed by what I saw of him during the Senior Bowl team drills.
Cameron Jordan of Cal will get a lot of attention from 3-4 teams because he can do it all.  He may wind up being the best defensive player in this game.  He's quicker and stronger than anybody he faced in Mobile.
If he goes to the right team and has some help, he could be a great NFL defensive lineman.
NFL Network's Mike Mayock has come my way concerning Alabama offensive tackle James Carpenter.  Yesterday, Mayock was talking about him as if he were a sixth and seventh round pick, but I got a look at him yesterday during their workout in Mobile and I saw a player who might be the best one of the best tackles i"ve seen during all these workouts.
Joe Schad speaks highly of Missouri quarterback Blaine Gabbert.  He's got great size, a tremendously strong arm.  Still the best quarterback that I have seen at the Senior Bowl workouts is Colin Kaepernick of Nevada.
First of all he's a great athlete who happens to play the quarterback position.  He's got a strong arm with great speed and size.  Of course he's got a lot to learn but the success of other athletic quarterbacks has to help him when team consider him in the draft.
Washington's Jake Locker is still a mystery.  He's got great raw skills but his accuracy still is wanting.  Locker doesn't look comfortable in the pocket.
TCU quarterback Andy Dalton has been anything but special.  His arm isn't strong and he hasn't been accurate at the Senior Bowl workouts.  He needs to play well in the game on Saturday and hopefully make up for what has been a mediocre work week.
I'm not worked up about Vincent Brown of San Diego State.  Yes he did catch the football at the Senior Bowl workouts, but he's got no speed.  He will play in the NFL and be a good player for the right team, but he's not a game changer or difference maker.
Wide receiver Titus Young of Boise State has had a big week even though he's a little guy.  Young has game breaking speed and the quickness to make plays on offense and in the special team battle.
Another wide out Leonard Hankerson of Miami has had a very good week.  He's got good size and good speed, but not great speed or quickness.  Hankerson ran crisp routes, caught the football consistently and made plays in the last three days of workouts.