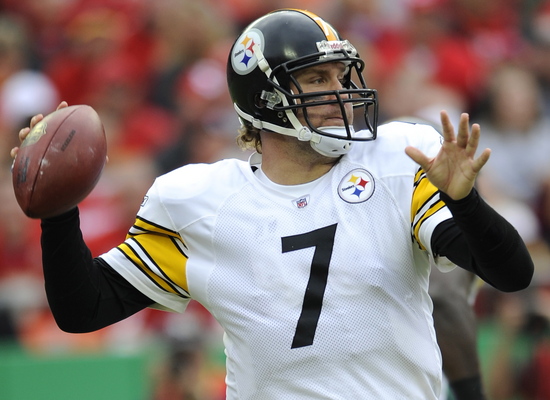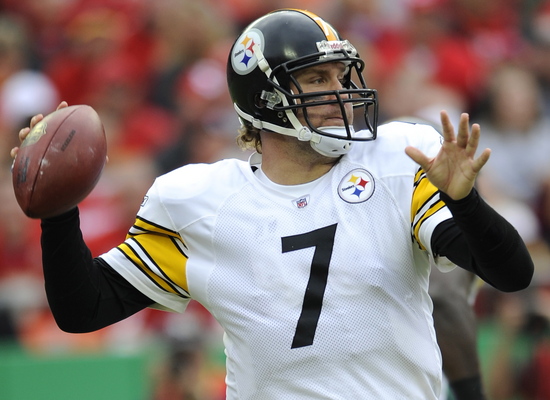 With Tom Brady having lost his last three playoff games, Pittsburgh's Ben Roethlisberger is currently the best big game quarterback in the NFL. He doesn't do it in the manner of Brady or Peyton Manning, but he finds ways to win.  Big Ben will be trying to win the third Super Bowl of his career.
Roethlsiberger fits his team because his offensive line is amongst the bottom half of the league.  They'll miss blocks and allow pass rushers to get to him, but Big Ben never panics.  He'll stand there with the ball in his hands despite the fact that there are defensive linemen and linebackers coming free.
The big fella is probably the strongest quarterback in NFL history.  He's got a great arm and is the best last second big play quarterback in the league.
He'll fight off the blockers with his left hand and keep the ball in his right hand until he gets free of the pass rush.  Roethlisberger has this unique ability to duck under pass rushers, straight arm them, or fake like he's throwing the ball in order to get them to jump.  Many times he looks like he's trapped, then finds his way out so he can make a big play.
What he's lacking in X's and O's, he makes up for in his knowledge of the nuances of the game.  We saw how he looked for a crossing receivers on that third down when he made the throw to Antonio Brown versus the Jets.  Big Ben and the Steelers wide receivers do a great job of adjusting when he fighting off blockers and extending the play.
Roethlisberger won't check out of plays like Rodgers and he won't make the great timing throw over the middle but he will generate offense in situations that only he can.   I mentioned his ability to extend plays.  He will also take a shot downfield on any play.
Roethlisberger doesn't fear the moment, so he will play to win the game and not be playing not to lose.  He's brought his team back so many times, he and the Steelers believe they can do it again.  The pressure won't hurt him, in anything the pressure will help him.  He will be aggressive at all times and make no apologies for it.
I think the Packers will outscore the Steelers, but they'd better put the game away when they have the chance because Roethlisberger will bring the Steelers back to win it all if Green Bay gives him the opportunity.