There's no other way to say it, Ben Roethlisberger was terrible last night.  He made costly mistakes which became turnovers and he missed open receivers, who were in position to make big plays.
He took too long to get rid of the ball on the pass which was picked off and returned for a touchdown by Packers Pro Bowl safety Nick Collins.  Roethlisberger made the mistake of pumping the ball to the side of the field which he ended up throwing the ball to.  The fake pulled Collins into the area and he was in position to make the play, when Packers defensive tackle Howard Green hit Roethlisberger's arm it caused the ball to float in the air.
Collins was patting his glove like he was playing centerfield for a baseball team.  He caught the football then wound through a bunch of slow offensive linemen and dove into the end zone.
On the interception by Jared Bush, Roethlsberger stared down wide receiver Mike Wallace all the way from his left outside position in the formation. Bush from free in the middle waiting on him, so he simply came up and picked the ball of when "Big Ben" let  the throw go.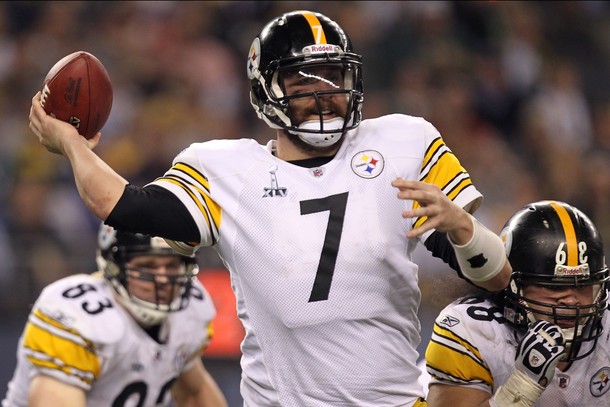 The Pittsburgh signal caller also missed Wallace when he ran a deep crossing route in the fourth quarter.  Wallace who might be the fastest player in the NFL was blazing across the field toward the opposite flag.  It could have been a touchdown, but Roethlisberger threw the ball too deep in the end zone.
Steelers tight end Heath Miller shouldn't have had anything to say to Roethlisberger after the game.  He missed him a number of times.  On the first drive he threw the ball high to him.  He was open in the fourth quarter and his knee gave out and he threw the ball into the ground.
He was terrible on the last drive.  The last throw to Wallace was high and very difficult to catch.  Ben shouldn't have been throwing the ball to Wallace on that last throw any way.  He should have been going to veteran wide receiver Hines Ward who is sure handed and very adept at getting open on inside routes, but instead he went to the relatively inexperienced Wallace.
Many will say that Ben didn't play well because of the Piano Bar he went to earlier in the week, but I don't think that had anything to do with it.