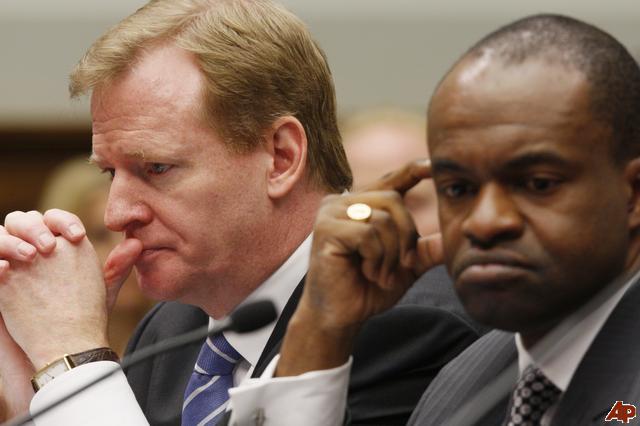 It looks like we're headed for a NFL work stoppage, which will begin on March 4th, if something isn't done quickly.  I could see it costing the league and the fans quite a few games next season and maybe even all of them.  It's fairly simple what the problem is going forward.  The owners think that the agreement which they signed in 2006 was far too favorable for the players.
A number of owners have told ESPN's Chris Mortenson that they're willing to sacrifice the season in order to get a better deal.  That's some very,
strong talk when you realize that owners will be paid $4 billion dollars by the television networks whether they play in the fall or not.
NFL Commissioner Roger Goodell has promised to have his $11 million dollar yearly salary reduced to a $1 if they don't work out a deal by the deadline which is March 4th. Not to be outdone DeMaurice Smith has agreed to have his salary chopped to 68 cents if they don't get something done.
Representatives of the owners and players were supposed to be meeting today, but that meeting was abruptly canceled yesterday when the players presented a written proposal to the owners.  We're told that the representatives of the owners abruptly got up and walked out when they realized what the players were requesting in a proposal.
According to Chris Mortenson of ESPN, the NFLPA's proposal requested a 50% split by the players and owners of NFL revenues.  The previous CBA had allowed the players to get 60% of the revenues after allowing the owners to take a billion dollars for their expenses and stadium improvements. Now the owners want to be able to take two billion dollars for their expenses and stadium improvements.
Again, there has been talk by a number of the owners that they want desperately to let this current CBA expire.  One of the owners told Mortenson that they want to see the Collective Bargaining Agreement expire because they want to get the case out of the court of the Honorable David Doty,
U.S. District, District of Minnesota.
Doty decided the Reggie White case which created free agency in the NFL. The NFL wants to free themselves of Doty as soon as possible.  In fact they released the following statement.
"As we have said all along, a new CBA has to be hammered out at the negotiating table, not in the courtroom. If the union commits to invest as much time, energy and other resources in negotiations as it has in its litigation strategy, a new agreement could well be reached by March 4."
Hopefully you have plenty of NFL games on tape because that might be all the NFL action you have to watch during the fall of 2011.