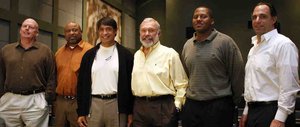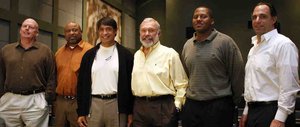 Normally new coaches come in and talk about how they thought it was such a great opportunity, but this new batch of Eagles defensive coaches didn't have a problem being totally honest about one of the main reasons they wanted to coach the Birds.
"The only other time I coached a team that could put points up like this ball club was in the 90's when I was coaching the Niners and Steve Young was our quarterback",  Eagles new defensive back coach Johnnie Lynn told me yesterday.
"Vick and those wide receivers can score from anywhere and it's good to be on the same side with them", said Lynn.
Lynn wasn't the only one who was attracted by Michael Vick and the Birds explosive offense.
"But it was really a no-brainer between the other teams and this place because it's got a quarterback", said new defensive line coach Jim Washburn in talking about Eagles quarterback situation. It's about that simple no matter what anybody tells you, it's got a quarterback. We've got two."
They both know they've a got a lot better chance to play well and win if they've got a lead.  Rushing the passer and covering receivers is easiest when you don't have to worry about the running game.  If your offense puts points on the board it make the job easier.
Of course, the Eagles are going to simplify what they do defensely.
"We're trying to cut some things back and make it easier for the guys to understand what we want them to do," said Lynn.  The new defensive line coach concurred, "It doesn't have to be complicated though. Sometimes I think we make it way too complicated – I don't think, I know. I think we want to let the players play."