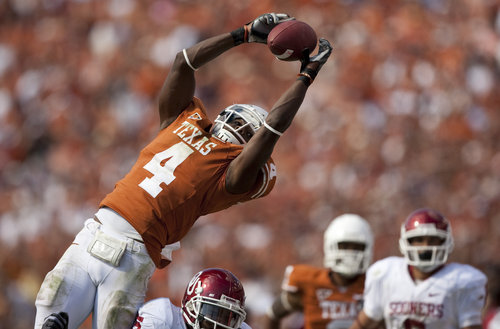 NFL Network draft expert Mike Mayock, who played a couple of years in the NFL as a safety with the New York Giants, conducted a conference call this afternoon with NFL reporters and he had a lot to say. I grabbed most of this information off of Twitter from five
or six reporters who were on the call.
Comments about the bevy of first-round defensive ends:
Mayock says this draft has 8 to 9 defensive with first-round grades. I agree with him wholeheartedly. It's too bad the Eagles couldn't have waited a year to go after defensive ends. This is a year when you could see loading up on defensive ends.
Da'Quan Bowers is rated as the best, but Mayock correctly points out that he was just another guy before the 2010 season when he blew up. You always want to keep an eye on those kinds of players. He may not have that drive to be great.
He compared Missouri DE Aldon Smith to Jason Pierre-Paul and Simeon Rice. He could throw Pierre-Paul's name in there, but there's
no way he should be throwing Rice's name in there.
Mayock also a fan of Cal's Cameron Jordan is a classic 3-4 defensive end. He's got the size, long arms and athleticism.
The abundance of defensive ends in the first round of the draft makes me think that the Eagles were a year too early when they were shopping for defensive ends last year. Mayock says the top of draft is deeper than in years past. First-round value in second round. I agree with him wholeheartedly.

Comments on the draft's first five picks:
Mayock:is suspicious of Clemson's Da"Quan Bowers whom he called a "one-year wonder". Alabama's Marcell Darius is more to his liking because you know you're going to get effort 100% of the time.
He has Da'Quan Bowers or Nick Fairley in the same line because they both exploded this year, but had never performed on this level previously. He says they have boom or bust potential. Any organization that's going to draft these guys in the first four or five picks had better do their homework.
Texas A&M linebacker Von Miller won Mayock over when dominated at the Senior Bowl. He quickness off the ball prevented any of the big tackles from being able to block him.
Mayock thinks LSU cornerback Patrick Peterson may wind up being a better safety because he sees tightness in his hips.

Comments on the draft's quarterback's:
The one quarterback that Mayock raved about was Missouri;s Blaine Gabbert whom he said reminds him of Matt Ryan and Sam Bradford. "I like Gabbert a lot", the former New York Giant said. "He can make all the throws."
Mayock put a big question mark on Heisman Trophy winner Cam Newton. He called him "an unbelievable athlete, but you have to have the football IQ to make it work".
Obviously he's questioning the intelligence and exposure to NFL offenses of Newton. I don't know the answer to those questions, but I think it all comes down to what team drafts Newton. If the right people draft him and tailor the offense to his strengths, look out.
He wasn't confident about Arkansas quarterback: Ryan Mallett, who has great size and great arm strength. Mayock didn't like the way
he looked when a team put good pass rush pressure on him. I agree. He looked clumsy and lost.
Mayock's top quarterback are Blaine Gabbert, Jake Locker, Cam Newton and Ryan Mallett. I don't see how he can be saying Locker's name in the same zip code as Gabbert and Newton because I watched Locker throw the ball all over the place for an entire week at the Senior Bowl. He couldn't hit the ball with the broad side of a barn.
He describes Colin Kaepernick as a guy on the rise. He saw him previously as a 4th rounder but now he's a second-round guy. : He's got to be kidding. Locker in the first round and Kaepernick in the second round is a joke. Locker can't shine Kaepernick's shoes. I'm really high on Kaepernick because he's a much better passer than they've given him credit for. He was the best quarterback at the Senior Bowl. I think the combination of his passing ability and speed makes him a first rounder to me.
Mayock sees Delaware quarterback Pat Devlin as a fourth or fifth rounder unless he blows somebody's hat off in the workouts.

Comments on the first round:
He's high on local guy and Villanova prospect Ben Ijalana, who I've heard a lot about from the Villanova coaching staff. I could see him moving into guard and Mayock thinks the same way. He pointed out that Ijaiana played his last games for Nova with double hernia.
Illinois defensive tackle Cory Liuget is growing on player personnel people and rising fast.
The Eagles don't need wide receiver help, but if they did it's available. Like everybody Mayock is high A.J. Green. The combination of size, speed and athleticism is off the charts. This guy has a million pictures of him stretching out and making great catches.
Mike identifies Titus Young as the best wide receiver at the Senior Bowl and I would agree with him. He's got great speed, but I don't think he's quite as fast as DeSean Jackson.
Comments on the second round:
Mayock says the second round is strong with centers and guards which could help the Eagles because they need help there. He says they're outstanding depth of interior offensive linemen in this draft.
If Mayock is right, Miami's Brandon Harris may be an Eagles because the draft analyst believes he's more of a second-round or third-round corner. He liked Texas cornerback Aaron Williams better and expects him to be selected at end of 1st round.
Mayock likes another local product, Temple defensive tackle Muhammad Wilkerson. He thinks he has first round talent.
Mayock singled out Pittsburgh huge wide receiver Jonathan Baldwin and amazing skills, but the reason he'll be going in the second round is his lack of serious drive and consistency.