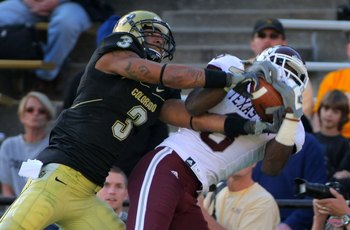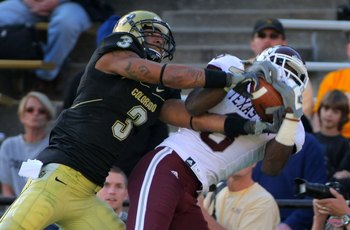 If Cam Newton puts on a great NFL Combine performance, he could vault up the boards, but he's not helping himself by telling people he considers himself an "entertainer and an icon". Still I hear that he's likely to blow the scouts away with his performance. I also hear that the Bills are leaning toward drafting him.
Marcell Dareus of Alabama is gaining more and more traction because he was consistently productive throughout his career at Alabama. Personnel people want to be able to go to sleep and know that somebody they draft at the top of the first round is going to always put forth their best effort.
Robert Quinn of North Carolina has been off everybody's minds because he didn't play this year because of a suspension for getting involved with an agent. He's capable of blowing the scouts away at the NFL Combine.
In this draft, I have the Eagles grabbing their big cornerback Jimmy Williams of Colorado. He would be the answer for all of the big talented wide receivers in the NFC East. They would need to him to start in his first season.
Here's the way I see things working out at this point.
1. Carolina Panthers – Nick Fairley, DT, Auburn
2. Denver Broncos – Marcell Dareus, DE, Alabama
3. Buffalo Bills – Cam Newton, QB, Auburn
4. Cincinnati Bengals – A.J. Green, WR, Georgia
5. Arizona Cardinals – Von Miller, OLB/DE, Texas A&M
6. Cleveland Browns – Robert Quinn, OLB/DE, North Carolina
7. San Francisco 49ers – Da'Quan Bowers, DE, Clemson
8. Tennessee Titans – Blaine Gabbert, QB, Missouri
9. Dallas Cowboys – Prince Amukamara, CB, Nebraska
10. Washington Redskins – Cameron Jordan, DE, California
11. Houston Texans – Patrick Peterson, CB, LSU
12. Minnesota Vikings – Corey Liuget, DT, Illinois
13. Detroit Lions – Tyron Smith, OT, USC
14. St. Louis Rams – Julio Jones, WR, Alabama
15. Miami Dolphins – Mark Ingram, RB, Alabama
16. Jacksonville Jaguars – J.J. Watt, DE, Wisconsin
17, New England Patriots – Adrian Clayborn, DE, Iowa
18. San Diego Chargers – Nate Solder, OT, Colorado
19. New York Giants – Anthony Castonzo, OT, Boston College
20. Tampa Bay Buccaneers – Ryan Kerrigan, DE, Purdue
21. Kansas City Chiefs – Gabe Carimi, OT, Wisconsin
22. Indianapolis Colts – Derek Sherrod, OT, Mississippi State
23. Philadelphia Eagles – Jimmy Smith, CB, Colorado
24. New Orleans Saints – Muhammad Wilkerson, NT, Temple
25. Seattle Seahawks – Ben Ijalana, OT, Villanova
26. Baltimore Ravens – Aaron Williams, CB, Texas
27. Atlanta Falcons – Allen Bailey, DE, Miami
28. New England Patriots – Cameron Heyward, DE, Ohio State
29. Chicago Bears – Mike Pouncey, G/C, Florida
30. New York Jets – Alton Smith, DE, Missouri
31. Pittsburgh Steelers – Brendan Harris, CB, Miami
32. Green Bay Packers – Rahim Moore, S, UCLA