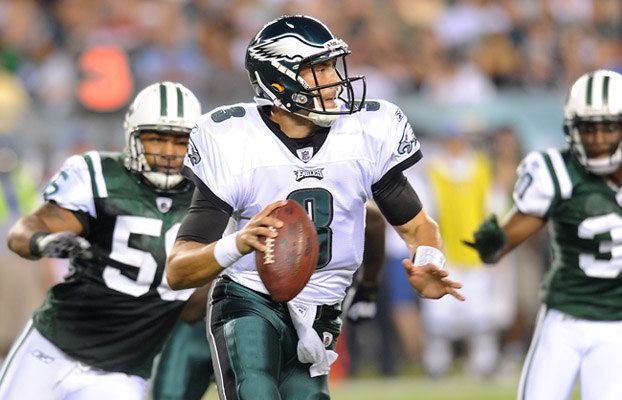 Eagles General Manager Howie Roseman talked about Eagles backup quarterback Mike Kafka. I was very interested in Roseman's assessment of Kafka because this could play a role in what they do with Kevin Kolb. If they get the CBA signed, the Birds will have to decide whether to move Kolb or not.
If Kafka were to come into the mini camps and show a much stronger are, the Birds might feel good enough of about him to trade Kolb. I still think they will get a veteran quarterback if they trade Kolb, but Kafka may be able to compete for the backup role if he shows more zip on the ball.
I think they already feel good about his grasp of the offense, which is remarkable for a young quarterback.
In Roseman's words, nobody in the NFL works harder than Kafka. The GM says this young man is always at the Nova Care complex studying the offense and trying to get better.
Roseman admits that the young man needs to get bigger and stronger in his lower and upper body in order to take the pounding which is heaped on an NFL quarterback and I would agree with him. The young man needs to put on some weight. They say he weighs 225 pounds but he doesn't look like it.
I was very impressed at training camp with the way he picked up the offense. This young man picked up Andy's offense quicker than any young quarterback that they have ever brought in here. He was running the two-minute drill and making pre-snap reads against the blitz, which was very impressive.
Kafka is a good athlete who has a good feel for the game, but his arm needs to get much stronger. He knows how to get rid of the
ball with anticipation, which is a must with his lack of arm strength.
Roseman said that he and the Eagles feel he's going to eventually be a starting quarterback in the NFL and develop into a very, good NFL quarterback.
Roseman recounted Andy Reid telling Kafka about Tom Brady's story and how Brady was a skinny, frail kid when he was drafted out of Michigan. But the rookie worked extremely hard when he got to New England. Brady worked so hard that he was won an award as the "Hardest Working New England Patriot" in his first NFL offseason.
Kafka was encouraged by Reid and the Birds coaching staff that he needs to follow Brady's example and outwork everybody else.