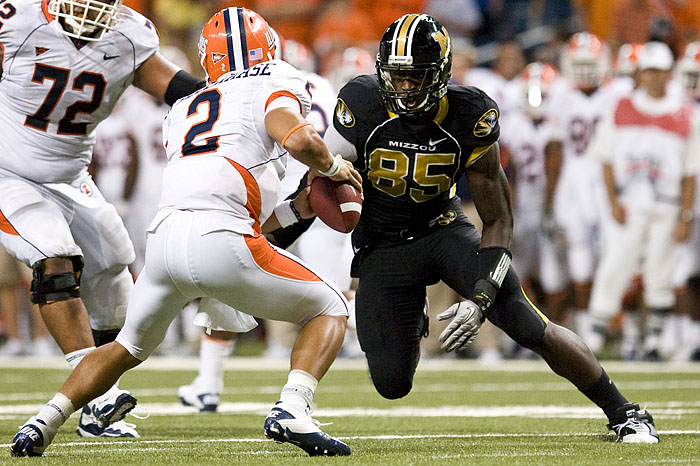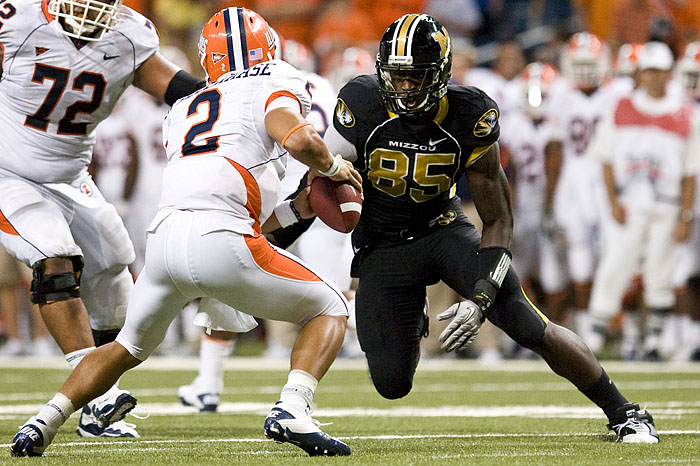 NatgThe offensive linemen and tight end ran the forty yard dash and worked out for the scouts today. Cam Newton and Ryan Mallett talked to the media today, so everybody kept busy.
Quarterbacks:
Media members are really down on Arkansas quarterback Ryan Mallett. He was described as being disagreeable and angry. This isn't going to help this young man in the draft. There were already questions about Mallett's character, now they're going to grow with the media punching holes in him.
Defensive Ends:
The defensive ends didn't workout today, but that didn't stop Alden Smith of Missouri from becoming a sizzling hot prospect. He's tall, quick and still developing. I think teams see him growing and developing into a monster. He has 28 interviews scheduled, so that means just about every team in the league is interested in him.
Tight Ends:
The guy who stood out the most in the first day of workouts at the NFL Combine was Nevada tight end Virgil Green. He ran a 4.6 forty yard dash. He shocked everybody with a 10'10" broad jump, 42.5″ vertical jump which is off the chart.
Green looked stiff in his upper body during the route-running part of the workout. He doesn't change direction well, which will hurt him down the road.
Offensive Tackles:
Colorado offensive tackle Nate Solder ran his forty-yard dash in 5.05 seconds, which was quite impressive when you consider the fact that he's 6'8″. He was outstanding in the drills with his quick feet and tremendous body control.
He's going to be challenged by pass rushers with a bull rush because they're going to think they can get underneath because of his height. He'll need to put on more muscle and get stronger. He's so tall it may take some time for him to play full time in the league.
Defensive Tackles:
Alabama's Marcell Dareus is bigger than the other top-rated defensive tackle, Nick Fairley. Dareus weighed in at 6'3″ 319, while Fairley weighed in at 6'3″ 291, which is two inches shorter and 7 lbs. lighter than he was listed. These guys won't be lining up against each other but you can believe that they realize they really will be competing against each other for that top rated defensive tackle spot in the draft.