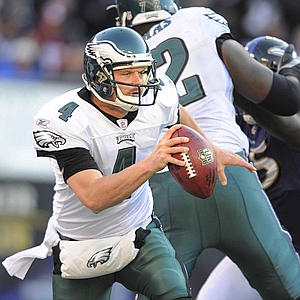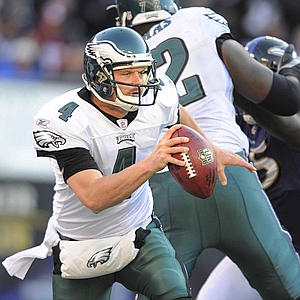 NFL Network analyst Brian Baldinger is on 97.5 The Fanatic this afternoon with Johnny Marks and he hasn't had much good to say about Eagles backup quarterback Kevin Kolb, who is one of the most talked about players in the league, right now.
Baldinger had been a big proponent of Kolb's last off season when the quarterback was named the starter, but the Eagles backup quarterback didn't impress him with the way he played a year ago.
He said he didn't like the way Kolb had played when put under pass rush pressure this past season. Baldinger pointed out that Kolb was sacked at a higher percentage than any other quarterback in the league. Number 4 was sacked 16 times this season while only throwing the ball 189 times. That's a huge percentage and not far from being sacked 10% of the time.
Most onlookers blamed poor offensive line play for the sacks which Kolb suffered, but the former Eagles offensive lineman said Kolb caused some of the sacks because he didn't stand strong in the pocket
Baldy pointed out that Kolb would try to escape from the pressure rather than stepping up and delivering the football.
The NFL analyst doesn't have confidence that Kolb will stay in the pocket when under pressure, take the hit and deliver the football. He stated time and time again that he didn't think Kolb was ready to be a starter in the league right now. That's very strong to say that a guy who the Eagles had named the starter a year ago isn't ready to be a starter in the NFL right now.
Baldinger doesn't think the Eagles can get a first round pick for Kolb. He took issue with Paul Domowitch's belief that the Birds will easily be able to acquire a first round pick for the backup signal-caller. With all of the teams who need a quarterback in the league, if Kolb can't fetch a first round pick now, he'll never be able to be worth one.
I hope none of the teams who were considering trading for Kolb hear what Baldy had to say because if they did, they might reconsider doing it.