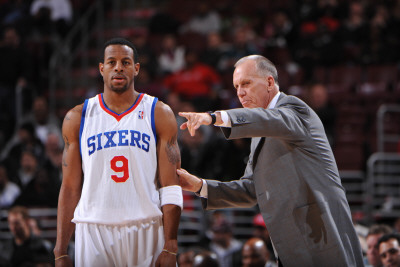 With out disrespecting San Antonino Spurs head coach Gregg Popovich, there is another guy that deserves to be named coach of the year. Philadelphia 76ers head coach Doug Collins should receive the prestigious award if his can keep his team playing at this level.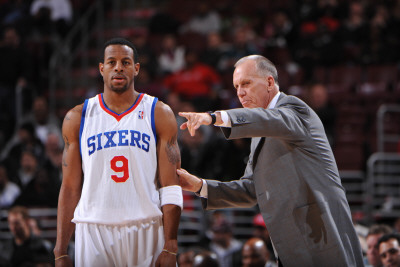 For Popovich, it's baffling why he has never won the award. In a year that his team has the best record in the NBA, he should be a shoe in to win it. Unfortunately Collins has the Sixers playing at a level that nobody even imaged they could.
Collins was hired to teach the young players on the Sixers how to play the "right way" and that it all starts with defense. Well the team has done way more than buy into his philosophy, they've taken it and and ran with it.
The Sixers have already won more games this season (30-29) than they did in the entire 2009-10 season(27-55). Although some thought they underachieved in 09-10, the fact of the matter is the team is over .500 for the first time since they were 3-2 in 09-10. WOW!
Besides swapping a horrific Eddie Jordan for Collins and adding the No. 2 overall pick Evan Turner, what else is different? Not much. Turner may be the second player selected in the draft but his contributions to the team haven't been enough to make you point the
finger at him being the reason for the teams success this season. So that leaves Collins as the main reason.
Any given game you can find Collins pulling the young guys to the side when the moment calls for it. Rather than yell at the players, like a lot of coaches tend to do, Collins uses those moments to teach the young guys and inform them what they're doing wrong. That strategy may not work with every team, however this group appears to be responding to Collins style of coaching.
According to basketball-reference.com, the Sixers are averaging more points per game this season (98.6 vs. 97.7 in 09-10) and are surrendering less to their opponents per game this year (96.7 vs. 101.6 in 09-10).
Collins has the Sixers on pace to finish the season over .500 for the first time since the 04-05 (43-39). That year the team lost in the first round of the playoffs to the Detroit Pistons 4-1.
Again fully understanding that Popovich and the Spurs are on pace to win over 60 games, the magic that Collins has performed with the Sixers is tremendous. If they continue to play at this level and finish the season over .500, Collins should be named coach of the year when it's all said and done with out a doubt.