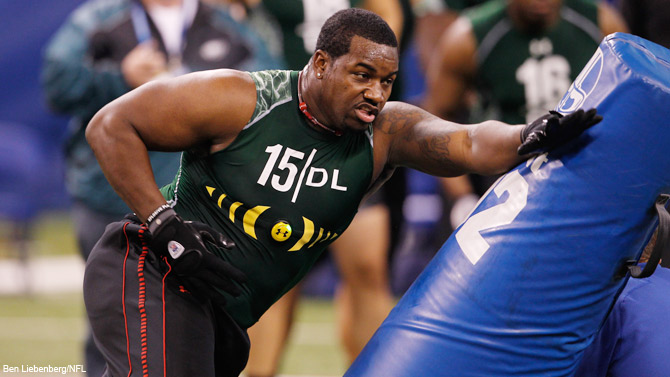 The Eagles have urgency issues at the offensive line and cornerback positions but they may not be able to resist the incredible depth in this draft at the defensive end and tackle position. The Birds act like they're happy with their defensive ends and defensive tackles but you and I know that many times they can't get to the quarterback without blitzing.
Right now the first of the two groups of defensive tackles and defensive ends are working out at the NFL Combine in Indianapolis and they turned some heads with the speed of their 40 yard dash times.
Nobody can have a bigger affect upon a defense than a dominant defensive tackle, who has to be double-teamed all the time but still finds a way to make plays. There are three defensive tackles who have stood out above the rest, so far in the workouts.
The first is Nick Fairley of Auburn who dominated offensive linemen as the Tigers marched to a National Championship. He's got extremely long arms and has exceptional quickness to be used as a pass rusher inside. There have been questions about his work ethic because he dominated all year in 2010, but wasn't nearly as dominant in previous years.
Fairley is a very good athlete and moved like a linebacker in the agility drills. The big guy dropped in a back pedal during the agility
drills and moved with ease before turning on his closing speed at the end of the drill. His speed in the first 10 yards of the forty yard dash was under 1.8 which is exceptional for a guy his size.
He's got the body structure to get stronger and put on more weight and he weighs over 300 pounds right now.
Marcell Dareus of Alabama was a more consistent playmaker throughout his career with Alabama as compared to Fairley. He's a big and talented 320 pounder, who showed great, speed and quickness in all the drills. Dareus is a bull inside who can push back the pocket in a quarterback's face or he can outquick a guard or center with his ability to get off the ball.
North Carolina defensive tackle Marvin Austin didn't play this past year because he was involved with an agent and suspended for the season, but he's a tremendous talent. His raw power and athleticism at 315 pounds is rare. He made plays all over the field in 2009 with the Tar Heels,so he's intent on getting some attention today.
He was probably the most athletic of the defensive tackles who worked out with the first group.
Cameron Jordan of California shined on the agility despite his size. He's got the long arms and big frame needed to play the defensive end position in the 3-4. His ability to anchor against the run and rush the passer again makes him an ideal defensive end for a 3-4 team.
Purdue's defensive end Ryan Kerrigan separated himself from the competition with his 40 yard dash time and his surprising agility. He's got great size with long arms and will likely be used as a pass rusher in a 4-3 defensive end, but the fact that he ran a 4.67 40 yard dash will make 3-4 teams consider using him as a pass rushing outside linebacker like the Cowboys DeMarcus Ware.
The advantage of having a linebacker the size of Ware or Kerrigan means that the offense can't use their running backs to pick up the linebackers. There isn't a running back in the league who can pick up Ware or Kerrigan.
Adrian Clayburn is capable of playing the defensive end position in the 3-4 or in the 4-3 because his combination of size and speed. He's got the long arms needed to play 3-4 defensive end, but he also has the speed to get around the corner on pass plays, if he was picked by a 4-3 team to play defensive end.
Clayburn is nearly 290 pounds but was able to run a 4.81, which is amazing.
Standouts On First Defensive Line Group
Marvin Austin – 1.63, 4.89
Adrian Clayborn – 1.66, 4.81
Marrell Dareus – 1.81, 4.92
Nick Fairley – 1.76, 4.82
Cameron Jordan – 1.69, 4.71
Ryan Kerrigan – 1.65, 4.67
Corey Liuget, DT – 1.71, 4.88