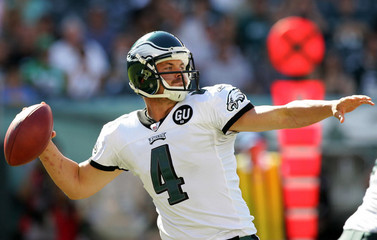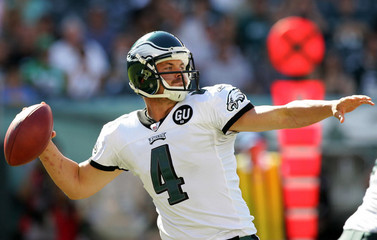 No team will lose more if the NFL Collective Bargaining Agreement doesn't get signed at least a week or two before the NFL draft, than the Eagles. If they get the chance to let teams barter for the services of Kevin Kolb, it could put the Eagles in position where they could acquire another first round pick and a second or a third as well.
They could vault from the 23rd pick to having two picks in the first round. I could see the Birds maneuvering with additional picks to draft four or five players in the first two rounds of the draft. They would able to address all of their needs on the offensive line, cornerback, linebacker and maybe another defensive end in this draft which is so deep in defensive ends.
If the CBA doesn't get signed and the Birds aren't able to work a back door deal, where they have a team draft the guys they want now, then trade them Kolb for that player or players later on, Kolb will be with the team for another year.
Carolina Panthers – Jimmy Clausen, Brian St. Pierre, Matt Moore
Ron Rivera is taking over the Panthers and he and his GM must decide whether Jimmy Clausen is the answer or he should make a move at the position. Clausen completed 52% of his passes in 2010, while throwing nine interceptions and throwing three touchdowns in 13 games. One of the reasons that John Fox won't be coaching the Panthers this year is because he trusted in Matt Moore, who played only six games and didn't play well in those contests before he got hurt. Rivera can't be sleeping well when he watches tapes of Clausen and Moore play a year ago.
Rivera is quoted on Philly.com by Paul Domowitch saying:
"Look around the league. Franchise quarterbacks are what's happening in this league in terms of it becoming a passing league. Teams that have those guys that can attack you vertically really, I think, are tough."
"I came from San Diego where we had Philip Rivers, a tremendous quarterback. We've got to find a situation like that here. Whether that guy is on our roster and we develop him or he's here in the draft, we have to get him."
Do you think he would encourage the organization to do a deal?
Arizona Cardinals – Derek Anderson, John Skelton,
The Arizona Cardinals go to camp with Derek Anderson as the starter, while completing only 52% of his throws with seven touchdowns and 10 interceptions. Anderson is bad but John Skelton, who is listed behind him is worse. Head coach Ken Whisenhunt is already in trouble and he might be taking a walk if he doesn't make the playoffs this season. He's already been warned by Pro Bowl wide receiver Larry Fitzgerald that he should trade for Kolb. The ownership has to be feeling the pressure from Fitzgerald because his contract is up after the 2011 season.
Whisenhunt doesn't want to let the Eagles rob him for draft picks, but he would be sleeping a lot better if he had Kolb on the roster.
San Francisco 49ers – Alex Smith, Troy Smith, David Carr
The San Francisco 49ers have a new coach, Jim Harbaugh and he's a former NFL quarterback. You can believe that Jim has talked to his brother John, who knows Kolb and got the chance to watch him up close while they were both with the Birds. Right now, Jim has been trying to convince former number one pick and current Niners starting quarterback, Alex Smith, to stay in San Francisco.
Smith is an outstanding athlete, who has been going from one offense to another as San Francisco has changed offensive systems and head coaches. Harbaugh has the same mentality as Andy Reid, who both feel they haven't met a quarterback that they can't improve. They also have former Heisman Trophy winner Troy Smith, but word is that he won't be returning to the Niners. You can believe that the Harbaugh's have talked about Troy Smith, since he had played for the Ravens before joining the Niners.
Seattle Seahawks – Matt Hasselbeck, Charlie Whitehurst, J.P. Losman
They're getting ready to sign 12-year veteran Matt Hasselbeck to an extension, but Pete Carroll knows he needs to upgrade at the quarterback position if he wants to win a title. Charlie Whitehurst did a good job in place of Hasselbeck last year and put the Seahawks in position to go the playoffs, but remember this team wasn't even over .500. I think Carroll realizes that he saw the best of Hasselbeck in that playoff win over the Saints, so the only question is when he make a move. Will it be in the draft or will he go after a free agent. won't see that level of play again.
Buffalo Bills – Ryan Fitzpatrick, Brian Brohm, Levin Brown
Bills head coach Chan Gailey is a quarterback coach, who must decide whether to stay with Ryan Fitzpatrick or look elsewhere. Fitzpatrick did a decent job by completing 58% of his passes while throwing 23 touchdowns and 15 interceptions in 2010. Word is that the Bills might pull the trigger with Cam Newton because Gailey likes a quarterback who can make plays with his legs, plus owner Ralph Wilson needs a big name to help sell tickets and increase the interest in the Bills. They do have pieces in place on both the offensive and defensive sides of the ball.
Tennesee Titans – Kerry Collins, Rusty Smith, Chris Simms, Vince Young
Mike Munchak knows he can't depend on veteran quarterback Kerry Collins to get the job done over the long haul. Collins can play a game here and a game there, but Munchak has got to do something about his quarterback position with a draft pick, via free agency or with a trade of some type. Munchak believes in the running game and he has Chris Johnson to carry the ball, but they can't live by running alone. They need a quarterback who can take care of the football, and also get it to wide receiver Kenny Britt, when teams gang up against their running game.
Cincinnati Bengals – Carson Palmer, Jordan Palmer, Dan LeFeVour
Carson Palmer wants to get out of town and says he will sit out the season if his desires aren't satisfied. They know his brother Jordan isn't a legitimate option, so they must do something. Somehow Marvin Lewis got an extension of his contract after winning only four games in the year after going to the playoffs. Mike Brown insists he won't let Carson bully him, so we'll have to wait and see what happens.
Washington Redskins – Rex Grossmann, John Beck, Donovan McNabb,
Right now Rex Grossman is the starter in D.C. Mike Shanahan will play around with McNabb in hopes that somebody will make him an offer but everybody knows that the Skins are going to dump McNabb before they have to give $10 million dollars. They're going to be forced to release both McNabb and Albert Haynesworth without getting anything for them.
Grossman has been a turnover machine in the past and the Redskins don't have a running game to take the pressure off of him, so his tendency to turn it over will show up again.
Shanahan isn't under the gun right now after his first season, but Skins fans will be calling from his departure once the team sinks into the cellar again next season. feels fairly confident that he can continue lose, yet avoid getting fired but he's got to be looking at drafting a young quarterback or making a move on free agency.
Minnesota Vikings – Tavaris Jackson, Joe Webb, Patrick Ramsey, Rhett Bomar
Leslie Frazier knows this Vikings team has the running game, wide receivers and defense to win a Super Bowl right now. All they need is a quarterback who can take care of the football and make the plays with everything on the line to get the job done. Tavaris Jackson hasn't shown the ability to do that nor have any of the other quarterbacks on the roster. Frazier and Vikings have to be one of the teams most willing to make a trade or some other move to get them a quality veteran quarterback.
I think Kevin Kolb will succeed in a place where they have all the pieces in place. They run the offense he knows, which is the west coast offense.
Domowitch quoted Frazier saying the following this weekend at the NFL Combine:
"You look at the playoff teams last year, I don't think there was one that had a question mark at quarterback. You've got to get that right. And this is the time to do it."
He knows he has a team that's ready to win now if they had a quarterback.
Miami Dolphins – Chad Henne, Chad Pennington, Tyler Thigpen, Tom Brandstater
Prior to the season last year, the Dolphins pulled the trigger on a big time trade to acquire big talented wide receiver Brandon Marshall from the Broncos. It was a good move, but there are questions about whether they have a quarterback on the roster to get the ball to him. Chad Henne did a decent job for them, but they're not sure that he's the guy who can take them all the way. Tony Sparano knows that the ownership isn't thrilled with him, so he might be interested in a change at the quarterback position.
Cleveland Browns – Colt McCoy, Jake Delhomme, Seneca Wallace
New Brown head coach Pat Shurmur says that Colt McCoy is his guy, but we'll have wait and see how he feels once they start playing games. Other than the Eagles no other team knows Kevin Kolb better than the Browns. Their GM, Tom Heckert, drafted him and their head coach, Shumur, developed him. Could their statements about believing in McCoy be a way of putting themselves in better negotiating position by swearing allegiance to McCoy?
Denver Broncos – Kyle Orton, Tim Tebow,
Kyle Orton started last year with Tim Tebow clipping on his heals and starting the last game, but now they have a new coach in John Fox, who says Orton is again the starter. Orton threw for more than 3600 yards with 20 touchdowns and nine interceptions, but there are question marks about his arm strength and ability to win. Tebow has the intangibles but nobody knows whether he's ever going to be a franchise quarterback.
Fox will take care of the defense, but getting a legitimate quarterback could be in the cards.T