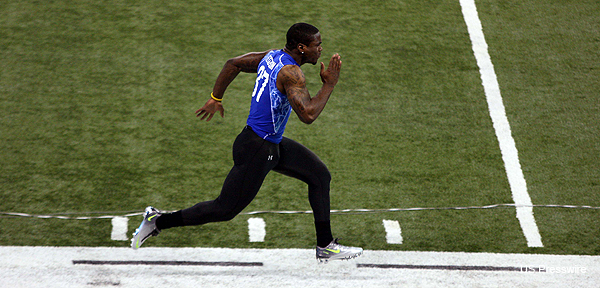 This year's defensive backs worked out yesterday and there weren't many surprises in the results. Patrick Peterson of LSU is the best cornerback in this draft. He's an amazing combination of speed, strength and quickness. On top of that Peterson may be the best punt returner in the nation.
Peterson ran a 4.34 in the forty yard dash despite weighing 219 pounds. He's a shutdown corner in the mold of Deion Sanders and Darrelle Revis
The defensive back posted unofficial times of 4.32 and 4.37, which are amazing timings for a cornerback of his size.
Peterson (6-0, 219) figures to be selected in the top-10, perhaps the top-five selections overall, in the 2011 NFL Draft.
CB Prince Amukamara: Nebraska – There were questions about Amukamara's speed, but those questions have been put to bed. He'll likely be the second cornerback taken off the board on draft day.
Cornerback Brandon Harris: Miami – Harris passed his test for speed and quickness and will likely be the third or fourth cornerback
selected in the upcoming draft. The Hurricanes cornerback has great size and played well on tape, so the speed factor was the only question remaining.
Cornerback Jimmy Smith Colorado is similar to Harris in that he's got great size. Smith also ran well. His performance in the drills wasn't as sparkling, so he's not listed quite as high as Harris. Still he could go late in the first round.
Another Miami cornerback DeMarcus Van Dyke ran the best forty-yard dash time of the cornerbacks, but his coverage and change of direction skills are suspect. He wasn't a standout cornerback during the season, so he probably won't be drafted in the early rounds, but he'll be selected by a team which doesn't have urgent cornerback needs and is willing to take the time to develop his skills.
Virginia's Ras-I Dowling ran a 4.46 despite straining his hamstring and pulling up about five yards before the end of the sprint. He showed elite speed but the hamstring is another injury problem to add on to what has been a long list of injury problems for Dowling. His injury history will likely hurt him in late April.
1. DeMarcus Van Dyke, Miami: 4.28
2. Patrick Peterson, LSU: 4.34
3t. Chimdi Chekwa, Ohio State: 4.40
3t. Chris Culliver, South Carolina: 4.40
4t. Prince Amukamara, Nebraska: 4.43
4t. Joseph Lefeged, Rutgers: 4.43
5t. Ras-I Dowling, Virginia: 4.46
5t. Curtis Marsh, Utah State: 4.46
5t. Byron Maxwell, Clemson: 4.46
5t. Jimmy Smith, Colorado: 4.46
5t. Shareece Wright, USC: 4.46