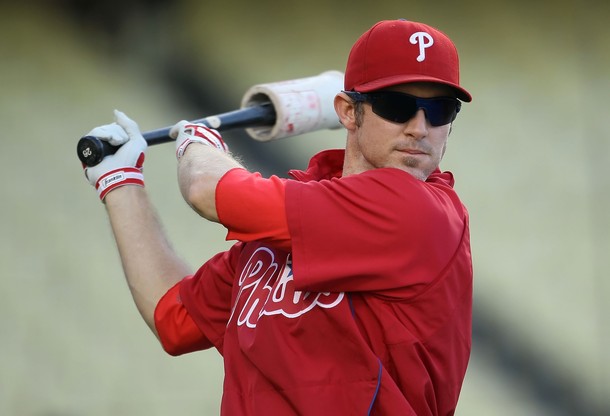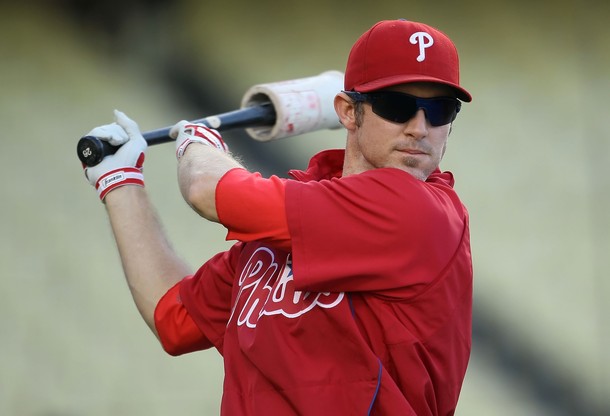 You know how a good movie has to have to some problems for the good guys in order for it to be a good movie, well now our good guys, the Phillies, seem to have a major problem.
I don't know anything definite about Chase Utley's knee but the more I listen the more I think that there's definitely reason to be concerned.
Remember when they made inquiries about Michael Young of the Rangers and nobody knew why? Now we know why. Add the following comments to the interest in Young.
Todd Zoleki, who covers the Phillies for MLB.com, tweeted the following comment about twenty-minutes ago, "Utley had an injection in knee yesterday. Knee hadn't progressed like the Phillies had hoped. Hope to see improvement B4 the end of weekend."
A few minutes later he tweeted, "Amaro, on Utley's knee being more than patellar tendinitis: "Perhaps. Right now that's what we have."
Matt Gelb, who covers the Phillies for the Philadelphia Inquirer tweeted, "Utley was given a cortisone shot. Phillies think it could be worse than patellar tendinitis"
That "Perhaps" comment from Phillies General Manager Ruben Amaro Jr. means the door is clearly open to something worse and we don't want to imagine him having to be cut on. We know now that the Phillies were hoping that it was only tendinitis, and I emphasize the word "HOPING." Usually rest reduces tendinitis, but Utley hasn't improved at all. That's reason for serious concern.
You didn't think this was going to be a cake walk without any problems.
Here's today's lineup versus the Pirates in Clearwater at Bright House Field.
1. Jimmy Rollins 6
2. Shane Victorino 8
3. Raul Ibanez 7
4. Ryan Howard 3
5. Placido Polanco 5
6. Ben Francisco 0
7. Domonic Brown 9
8. Delwyn Young 4
9. Brian Schneider 2