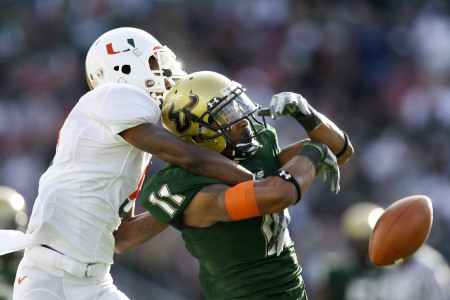 The NFL draft is a little under two months away, but with the combine in the rearview mirror, its time for teams to start having individual workouts with players.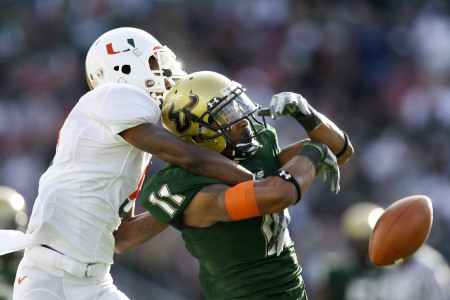 The Eagles have begun that process, and the first player they have decided to take a look at is Miami cornerback DeMarcus Van Dyke. The team will work him out in Miami on the 14th of this month. Van Dyke recorded 6 tackles, 2 interceptions and a forced fumble last season.
Van Dyke caught the eyes of scouts, and it looks like the Eagles, when he ran the fastest 40 at the combine. His 40 time clocked in at 4.28. By comparison, Chris Johnson of the Titans has the fastest 40 time ever recorded at 4.24.
Another thing Van Dyke has going for him is his size. He measured in at nearly 6'1, which would instantly make him the tallest cornerback on the Eagles roster. His combination of size and speed is definitely intriguing for an Eagles team that has to face receivers like Hakeem Nicks and Dez Bryant twice a year.
Van Dyke better hope that a team takes a flyer on him due to his athleticism, because scouting reports are not kind to the Miami
product. ESPN has him ranked as the 30th best cornerback in the draft, and puts him as a late round pick at best. They cite his lack of natural instincts as a major problem going to the next level.
Van Dyke disagreed with this assessment, saying that he is "good at reading the quarterbacks eyes and breaking on the ball."
Another issue for the Van Dyke is his tendency to give his receiver too much of a cushion at the line- which should make him fit right in with this current group of Eagles defensive backs.
Scouts also were not impressed with his ability to stop the run, siting his inability to shed tackles and lack of physical play.
The Eagles have 2 picks in the 6th round and one in the 7th, so they could use a late round pick on Van Dyke. The Cleveland Browns have also shown interest, and will work him out on the 17th of this month.
While by all accounts Van Dyke is no where near a polished prospect, it would be refreshing to see the Eagles put a tall, athletic play maker in the secondary.