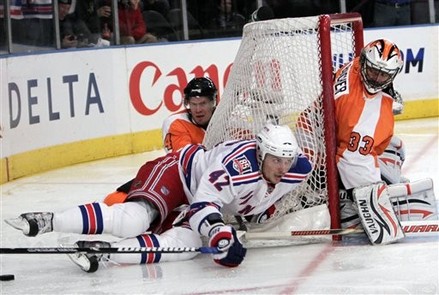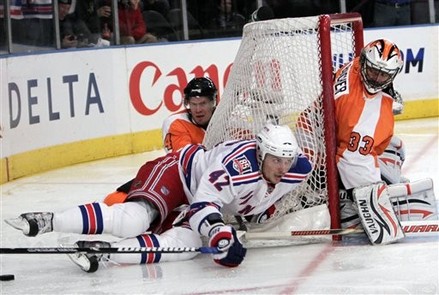 I'm not going to spend any time breaking down how ugly today's 7-0 loss to the New York Rangers on national television was. I have to hope that this is the point in the season where the team bottoms out and they find a way to build back their confidence to where it needs to be.
Sometimes it's as simple as finding a goaltender that gets you that first win back from mediocrity. Last season, it was Michael Leighton who came to the rescue when the team was spiraling out of control and in 14th place in the Eastern Conference. Leighton is currently playing with the Adirondack Phantoms.
Talking to the players, there's ample appreciation for both Sergei Bobrovsky and Brian Boucher. Both goalies have been alternating since the second half of the season, with neither performing above average enough to claim the starting position.
Yesterday, Timonen commented that nobody blamed Bob for the loss to the Sabres, as they shouldn't have. He played well considering the defense has imploded in front of him over the last few games. Even in today's loss, Boucher wasn't given much support throughout the game before being pulled in the second period.
After today's loss, I'd be surprised if Bobrovsky didn't see the majority of the games from here on out. "I'm sure they want him to be the #1 guy going into the playoffs, so I'm sure they're going to put him in different situations to see how he does," said Timonen. "Obviously, he can get better playing the puck. It's one of those things, he's going to learn and it's going to take time, but I think he's been playing pretty well."
At the expense of sounding like a nut, I wonder if the Flyers wouldn't benefit from recalling Leighton down the stretch to see if he can instill confidence back into the team. His demotion this season had more to do with the successful tandem of Boucher and Bobrovsky and salary cap issues than anything.
Yesterday's 5-2 loss to the Albany Devils was the first loss for Leighton since January 28, according to Tim McManus of the Post Star. He seems to be fully healthy and looks good, all things considered.
Post NHL trade deadline, teams are still constrained by the salary cap but are allowed to exceed the 23 man roster limit. They are also allowed four recalls unless there's an emergency. The Flyers currently have three left after recalling Ben Holmstrom on Thursday. I don't know if they could afford Leighton as a recall or if he would be subject to re-entry waivers.
In the end, I don't believe goaltending is really the issue for the Flyers as much as it is defense. The entire team has been missing coverage or pinching in without support, leading to odd man rushes. Their next game is on Tuesday versus the Edmonton Oilers, a team in last place in the NHL (again) and without one of their top forwards, Taylor Hall. It's a game they should be able to dominate if they keep things simple.