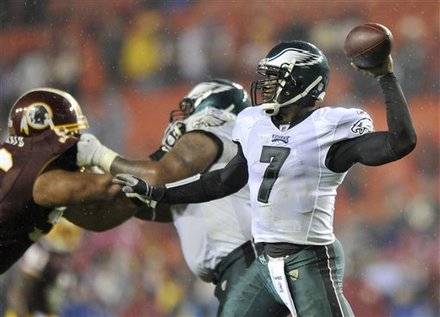 While the NFL owners and the players union continue to negotiate a new Collective Bargaining Agreement (CBA) behind closed doors, teams around the league are restructuring their rosters.
Some players are being retained via new contracts or restricted tenders. Others are being released.
In Philadelphia, the Eagles have made more moves with their coaching staff than anything else this off season. As usual, Andy Reid and Co keep their plans concealed and rightfully so.
Outside of a few players signed, the roster is the same as it was when the season ended. Quite a few players are schedule to be free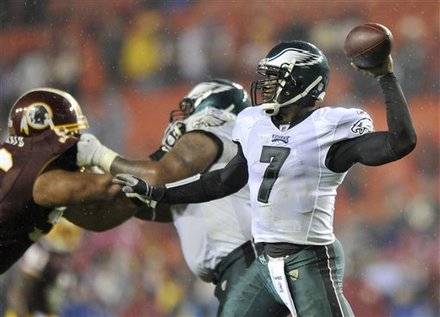 agents when that time begins, but nobody has been released as of yet.
There are bound to be changes of course when they are permissible. How will the Eagles address their roster? Starting with the quarterback position, this is a good time to take a closer look.
This time last year, everyone knew there would be changes to the Eagles QB lineup. I don't think anyone anticipate what took place in 2010.
The debate was should the Eagles continue with Donovan McNabb or move on to the Kevin Kolb era. The answer ended up being none of the above.
MICHAEL VICK
I'll be the first to admit when I'm wrong. When the Eagles first signed Vick to a two year contract, I thought there was no way he'd be in midnight green for the second season.
Not only did Vick stay on the roster, he took over for Kevin Kolb in the first game of the 2010 season and never looked back.
In addition to regaining the athletic ability he showcased as an Atlanta Falcon, Vick became an even more dangerous threat by working to be a better QB. In 12 games he posted career bests in passing yards, touchdowns and QB rating.
The result was a Comeback Player of the Year Award, contention for league MVP and the Eagles winning the NFC East division.
The Eagles knew they couldn't afford to lose Vick and wisely placed the franchise tag on him. A long term deal can't be offered until a
new CBA is in place. Once it is, look for Philly to keep Vick around for 3-4 more years.
KEVIN KOLB
2010 was supposed to be the beginning of the Kolb era. It was the moment he prepared for since childhood. Unfortunately, injuries are a huge part of football.
In the first half of the Eagles season opener against the Green Bay Packers, Kolb suffered a concussion. This moment ushered in Vick and the rest is history.
Before his injury, however, Kolb was obviously going through growing pains. He seemed very tentative and didn't show any trust in the offensive line (Can't blame him for that).
When Reid announced McNabb's trade and named Kolb the starter, I didn't expect the transition to be smooth. He still has to go through his bumps and bruise but I'm not ready to label him as a bum or career backup.
That said, Kolb can forget about being a full time starter in Philadelphia. No matter how good he gets, he's not going to be able to have the impact Vick has. That goes for every other QB in the league of course.
Kolb wants to start somewhere. Unfortunately, because players can't be traded with a CBA his future and happiness depends on the negotiations
MIKE KAFKA
Outside the NovaCare Complex, the Northwestern product is an unknown at this point. Eagles General Manager Howie Roseman has raved about Kafka's ability to learn the offense at such a quick rate.
The biggest question regarding Kafka at this point is do the Eagles view him as a No. 2 QB if Kolb were to be traded.
2011 Forecast
The CBA talks have a huge influence on the Eagles QB situation due to Kolb's currently high trade value.
If a deal is somehow reached before the NFL draft, Kolb is as good as gone. How comfortable Reid is with Kafka at this point will determine whether the Eagles will pursue a veteran backup or draft another QB in the later rounds.
Reid's confidence in developing QBs is sky high right now. Don't be surprised if he considers bringing in a former starter like Tavaris Jackson (Minnesota) or Alex Smith (San Francisco) to help them revive their careers.
If the draft takes place before a new CBA, the Eagles will enter the 2011 season with the three names listed above as their signal callers.