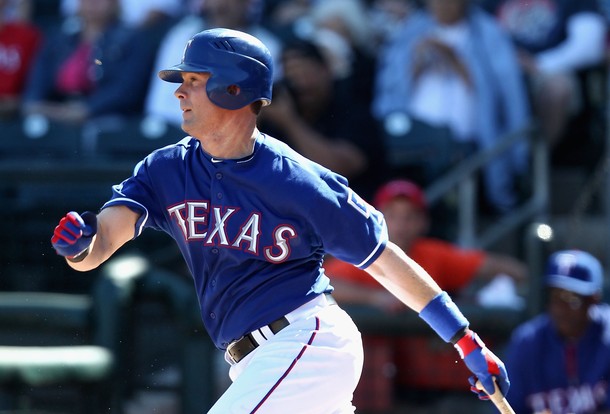 Ruben Amaro Jr. didn't become a popular general manager in this city by just going through the motions and doing nothing to contribute to the Phillies continued success post 2008.
He got on the fans "good side" by being an aggressive general manager, making block buster moves left and right every single year he has been in the position.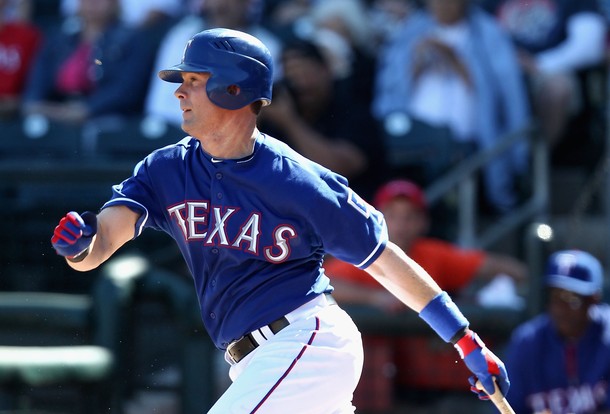 In 2009, he acquired Cliff Lee at the trade deadline. That ensuing off-season, he traded for Roy Halladay. His only "uh-oh moment" was dealing Lee at the same time in a different transaction to "replenish the farm system." He made up for the unpopular decision of trading Lee by getting Roy Oswalt at the 2010 trade deadline and signing Lee as a free agent this past December.
It's time for Amaro to once again make another big time deal and bring in Texas Rangers third baseman Michael Young.
A week ago, I alluded to trading for Young as an option just in case Chase Utley is not healthy for the start of the season. At the time, Utley's injury status was completely up in the air and no one really knew anything. I didn't feel Young was the club's best option though because when Utley would return, the Phillies would have a $48 million player on the bench.
I changed my mine. Acquiring him should be Amaro's priority at this point of the season.
Why?
One week later, it's still unknown when Utley will play and whether or not he'll get surgery, but clearly his knee problem hasn't improved. At first, he was diagnosed with general soreness. Next, it was patellar tendonitis. Now, he's diagnosed with chondromalacia, also known as "Runner's Knee," and the team is seeking other medical opinions.
To be blunt, this is a bad sign.
Assuming Utley is out a long time, the Phils lineup is down two significant members from last season – Jayson Werth hitting fifth and Utley batting third.
The heart of one of the league's top lineups over the past few years is now depleted since Ryan Howard has no protection.
Ben Francisco taking over that fifth spot is manageable because he's been on fire in spring training and he's right handed. But, there's no one that is on the roster now worthy enough to take Utley's role as the No. 3 hitter.
Raul Ibanez is too risky because of his inconsistency in 2010. It's more ideal to have Placido Polanco hit in the two spot because of his success there last season. Jimmy Rollins needs to play "small ball," which is not the role of a number three hitter. Shane Victorino should lead off and doesn't have enough power to bat third. Wilson Valdez is a good defensive fill-in for Utley at second base, but he's not the greatest of hitters.
Young is clearly the answer. In my eyes, moved from a distant alternative to the only option there is. Valdez was a viable short term substitute for Utley. But, if he's out a long time, which is looking more likely everyday, then the Phils have to get Young.
Young hit .284 a year ago with 21 home runs and 91 RBIs. It was a down year for him statistically, but those numbers aren't bad either.
Prior to the beginning of spring training, the Rangers organization and Young were reportedly having issues with one another regarding trade rumors. Not to mention, Texas signed Adrian Beltre and Mike Napoli in the off-season.
And at one point, there was even a rumor going around that Young could be dealt to the Phillies, but that quickly died down.
But now, the stove is starting to heat up again regarding Young and the Phillies. The Rangers need pitching, considering Brandon Webb's injury and the Phils need a solid hitting infielder. Not to mention, on the Rangers official team Web Site, Young isn't even listed as a starter on the depth chart, thus making him Texas's designated hitter, which he is not happy about.
Blanton, who is owed $17 million of the next two years, and cash for Young, whose contract is good for three more years at $48 million, is a very plausible deal for Amaro and Rangers general manger Jon Daniels to make.
Pat Gillick, who preceded Amaro, was successful in his short stint as the Phillies general manager because he was a master at "The B-List" of players and that was a key part to the club winning the World Series in 2008. But, the Phils won that year because they got hot at the right time, not because they were a league-wide powerhouse.
Since Gillick left after 2008 and Amaro took over, the Phillies remained good and became great. They did so because of Amaro's aggressiveness to make big time deals rather than revert to "The B-List."
Amaro needs to do that one more time by trading for Young.
If that happens, Young can play third base and Polanco can move to second. Not to mention, the middle of the order will have decent power as in the past, along with a steady right handed bat in Young.
Phillies fans are concerned. Making this happen will ease their worries.