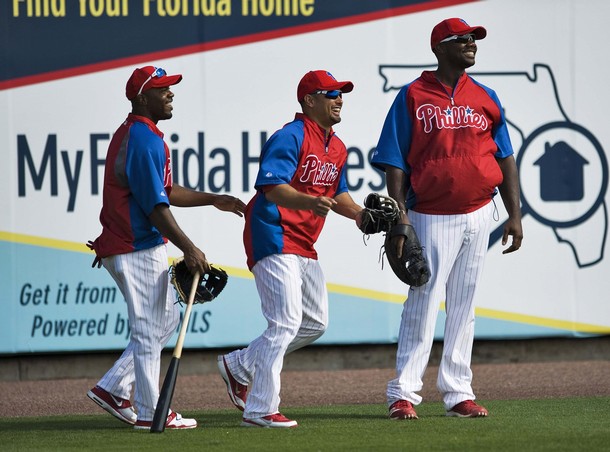 If Chase Utley isn't able to play at the start of the season, the Phillies will need to fill a hole in the third spot of the lineup. As things currently stand, the options for the third hole are Raul Ibanez, Placido Polanco, and Jimmy Rollins.
Raul Ibanez seems like the most logical choice to start the season. Charlie Manuel believes in Ibanez, and Ibanez had success batting third last season while Utley was out with a thumb injury. If Ibanez is capable of hitting .280 with some respectable power numbers, he would be a fine fill in again for Utley. The problem with Ibanez is that he's 39 years old, and isn't having an impressive spring. Ibanez has only hit .240 so far in Spring Training, and has driven in just one run. The Phillies aren't sure what to expect from Ibanez, and asking him to play a prominent role in the lineup may be expecting too much from the aging outfielder.
If Ibanez doesn't perform well in the role, Placido Polanco would likely get the second crack at the job. Polanco batted third at times last year because of Utley's struggles, or due to a match up against a left handed starter. Polanco is smart, steady hitter who will constantly find his way on base, meaning Ryan Howard would have more chances to hit with a runner on.
Polanco batting third would also mean Shane Victorino would jump up the two hole, where has performed in the past. It would give
the Phillies a lot of speed at the top of the order if Rollins and Victorino play within themselves and don't fall into bad habits, like consistently trying to knock the ball out of the park instead of just getting on base. The problem with Polanco batting third is that he has very limited power, and wouldn't be able to produce 25 homeruns or more like Utley would.
If both Ibanez and Polanco falter in the role, Jimmy Rollins would be the Phillies last resort option to bat third. Charlie Manuel would prefer only to move Rollins out of the lead off spot if absolutely necessary. Rollins has great all around skills, and can hit for average and for power. Shane Victorino is capable of handling the leadoff duties, and Polanco would move back to his role as the two hole
hitter. The problem with Rollins batting third is that like some of the other aging batters in the lineup, the Phillies aren't sure what to expect from Rollins. He is barely hitting above .200 in Spring Training. However, Rollins is in a contract year and if he is physically capable of it, should have a big season to help him get one final lucrative contract.
The three hole is a serious question mark for the Phillies right now, but Charlie Manuel has several different options that he can go to in order to fill the hole left by Utley. If none of these three options are able to pan out for the Phillies, they may need to seriously consider bringing in help through a trade if they determine that Utley can't help them this season.