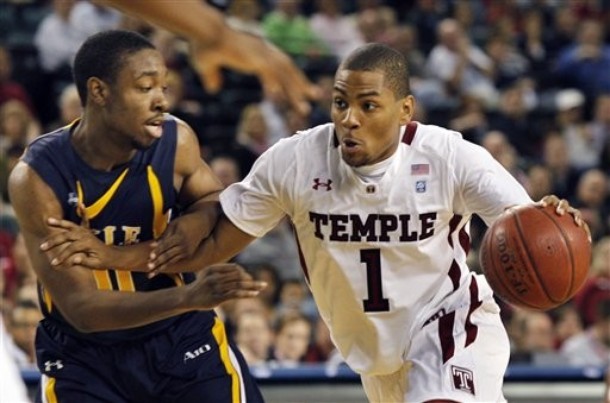 Work places will be divided on Thursday, March 17th, as Temple takes on Penn State in the first round of the NCAA basketball "March Madness" tournament.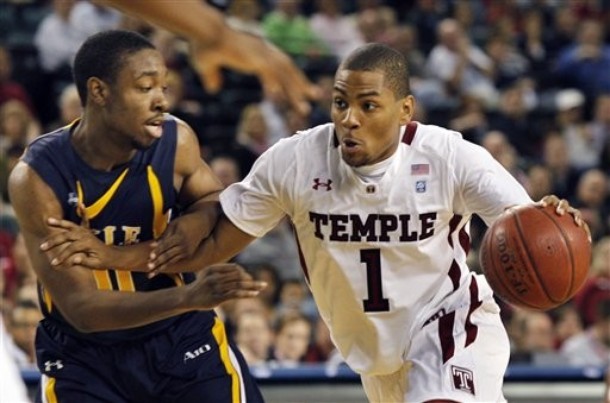 Temple and Penn State, the two schools that seem to have the most alumni in the city, should provide an exciting matchup.
Temple University, which is the seven seed in the West side of the bracket, finished the season with a loss to Richmond in the semifinals of the Atlantic 10 tournament. The loss was a disappointment, as Temple was the favorite to win the tournament for the fourth straight year.
The Owls finished the season with a record of 25-7 and 14-2 in the Atlantic 10. During the regular season, they faced three ranked teams. In the three games against Duke, Georgetown and Villanova, the Owls finished 1-2, beating Georgetown. Temple junior Ramone Moore is leading the Owls in scoring at 14.9 per game, while senior Levoy Allen leads the team in rebounds at 8.4 per game. Junior Juan Fernandez is averaging 4.1 assists to lead the team.
Despite the loss to Richmond to end the season, Temple still finished 12-3 in their last 15 games.
The Penn State Nittany Lions come into the game with a record of 19-14, and are a 10-seed in the tournament. Their run in the Big Ten tournament ended with a loss to Ohio State, 71-60. Penn State played 11 teams this season against ranked teams, 8 more then Temple did. Penn State finished 4-7 against ranked teams, with three of those losses coming against Ohio State.
Penn State is led by senior guard Talor Battle, who averages 20 ppg, 3 apg, and 4.5 rpg. The Lions are led in rebounds by senior Jeff
Brooks (6.5 rpg) and sophomore Tim Frazier in assists. The Lions finished 9-6 in there last 15.
On paper, it appears that Temple's Coach Fran Dunphy should get his first tournament victory. The Owls average more points, more rebounds, more assists, and have a better field goal percentage than the Lions.
One advantage Penn State has over Temple is their strength of schedule. Penn State has faced considerably better teams this season, and will not be afraid of Temple despite being an underdog.
The winner of the Temple- Penn State matchup will face the winner of the (2) San Diego State- (15) Northern Colorado game.
Okay Philadelphia who will win this game.