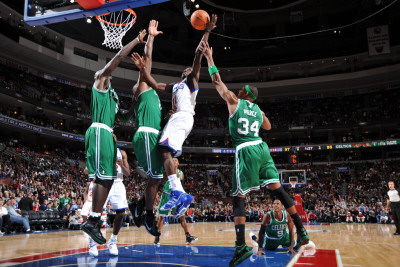 Unlike the Sixers, we can look ahead to a couple of probable playoff matchups next month. The Sixers are currently sitting in the 7th seed and would face the 2nd seeded Boston Celtics if the season ended today.
Over the next two days, we'll take a look at that matchup and other scenarios that would include the Chicago Bulls, Miami Heat and the Orlando Magic.
Sixers/Celtics
The rivalry between these two looks to be renewed with all three games being decided by 5 points or less, including a Sixers win last week.
However the NBA Playoffs are a different animal.
The Celtics kick it into another gear defensively between mid-April and June. I think the Sixers could only go five games games against the C's.
Here's why.
1. Boston's bench goes nearly 10 possibly 12 deep – that means fresh legs throughout the Series.
2. Boston wins the low post battle, Elton Brand, Spencer Hawes and Marresse Speights against Kevin Garnett, Glenn Davis, Shaquille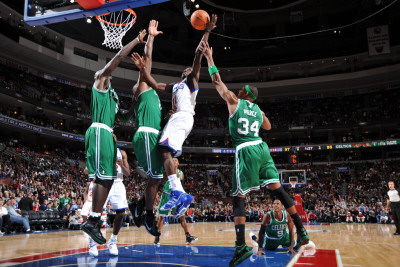 O'Neal, Nenad Krstic, Jermaine O'Neal and Troy Murphy. Too much depth and with the newly acquired Murphy too much firepower.
3. Youth vs. Experience, several of the Sixers losses this season can be chalked up to lack of experience, this series would be a painful lesson in that department.
4. The Playoff lights get a little hotter: More than half of the Sixers roster doesn't have playoff experience while the Celtics are a grizzled bunch of veterans.
I see the Sixers winning Game 3 in Philly and dropping Games 4 & 5. The Celtics would really overwork the Sixers in the paint and run the guards ragged. Brand, Hawes and Speights would be overmatched and there would be some relief in the form of Thaddeus Young but that's about it.
Jodie Meeks, Lou Williams and Evan Turner will spend the series running through picks and screens trying to keep up with Ray Allen and of course Andre Iguodala would have his hands full with Paul Pierce. Jrue Holiday matches up well against Rajon Rando but Rando is one of the great all-around point guards in this game and takes it up a notch in the playoffs.
Boston in five.