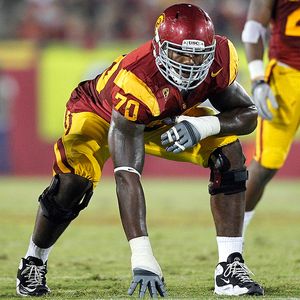 There are 42 college Pro Days set to take place in the next week and a half. Players from each college will workout for the various NFL coaches and scouts at particular college or university on the designated day.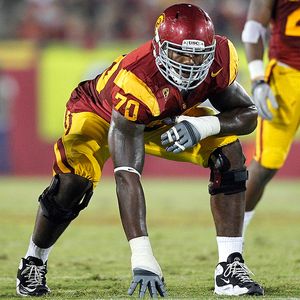 There's one particular Pro Day which I believe will have a great deal of affect upon the Eagles and their first round draft pick.
First of all, the history of Eagles draft under Andy Reid have shown us that the head coach leans towards addressing the offensive and defensive lines in the first round of the draft. The Birds need help on the right side of their offensive line and this 2011 draft class has quite a few first round quality offensive linemen.
There could be as many eight offensive linemen going in the first round with six tackles being selected as well as a guard and a center.
Most of the local media who cover the Birds, expect them Eagles to address need on the offensive line with the 23rd pick of the first round and I agree with them.
Picking at number 23 means having to wait until more than nearly three-quarters of the team have made their picks. Some of those teams have needs on the offensive line, so they'll get the first chance to make their picks before the Birds. That's brings us to Tyron Smith, who is potentially the top offensive tackle in the draft.
He played for the University of Southern California, but didn't workout at the NFL Combine because he had undergone arthroscopic surgery just days prior to the workout in Indianapolis. He is going to workout at the Pro Day for the University of Southern California, which will take place on Wednesday March 31st.
Smith, who is regarded as the best athlete amongst this year's offensive tackles weighed in at 308 at the combine which was up from his 290 pound weight at the end of the college season. He will weigh-in again, then do agility drills and he'll run a 40-yard
dash.
If his knee checks out okay, and his workout is as impressive as expected with his tremendous quickness, speed and athleticism, he could become the number one offensive tackle in this draft, which will mean he'll be the first tackle taken off the board in the first round of the draft.
His selection will push Wisconsin tackle Gabe Carimi and Florida center/guard Mike Pouncey down to the Eagles at the 23rd position. I believe the Birds would be happy with either of these picks, so Smith's workout will have an affect upon which players are available for the Eagles when they make their first round selection at number 23.
Here are all the remaining college Pro Days of 2011:
Monday, March 22 — Brigham Young, Iowa, North Carolina A&T
Tuesday, March 23 — Iowa State, North Carolina, Notre Dame, South Dakota State, Western Illinois
Wednesday, March 24 — Central Michigan, Connecticut, Jackson State, Nevada, North Carolina State, North Texas State
Thursday, March 25 — Akron, Catawba, Central Florida, East Carolina, Massachusetts, Murray State, Northern Arizona
Friday, March 26 — Arizona State, Boise State, Delta State, Miami (Fla.), Northern Illinois, Tennessee-Martin, Wake Forest, Wilfrid Laurier
Monday, March 29 — Newberry, Texas-Kingsville
Tuesday, March 30 — Coastal Carolina, Houston, Texas Southern (at Houston), Texas State, UCLA
Wednesday, March 31 — Pennsylvania, South Carolina, South Carolina State, Southern California, Texas
Thursday, April 1 — Hawaii