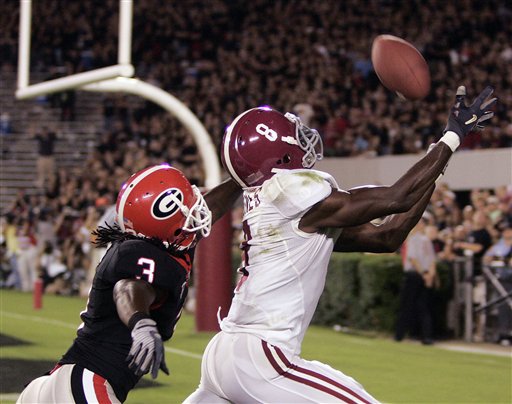 There's a feeling around the league right now that Auburn quarterback Cam Newton is growing on the Panthers and he swept them away at his Pro Day, so there a good chance that he could be Carolina's first pick in round one. Missouri quarterback Blaine Gabbert has also helped himself with an outstanding combine performance and impressive Pro Day, so it might be impossible for Buffalo to pass him up.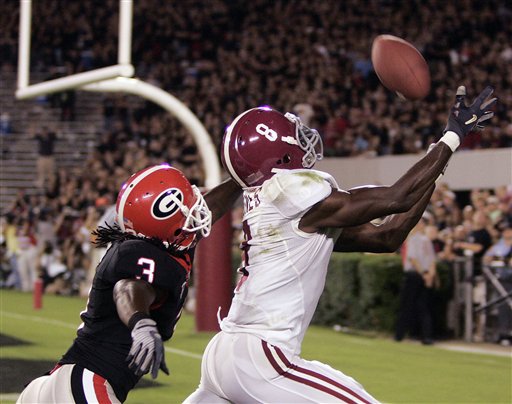 I think Alabama's wide receiver Julio Jones has overtaken Georgia wide receiver A.J. Green as this draft's number one receiver. Jones blew away the competition at the combine and he did it on a broken foot.
Defensive linemen are expected to dominate the draft for the rest of the top ten picks and throughout the teens. At the same time offensive lineman will start to enter the picture at the end of the top ten and throughout the teens.
As for the Eagles and their first pick, this year's crop of offensive lineman is deep, so the Eagles are sure to get a shot at one of them, but it might not be who they think it's going to be. There are quite a few teams in front them who need offensive linemen as well, so they'll have to select from the leftovers.
In this mock I have them selecting Boston College offensive tackle Anthony Castonzo, who hasn't played the guard position before but could be asked to move inside for a while. They could also make Castonzo the starting right offensive tackle and move current starting right tackle Winston Justice inside.
I could see them putting Castonzo at guard temporarily in order to give him time to adjust to the pro game.
Here's the way I see things working out at this point.
1. Carolina Panthers – Cam Newton, QB, Auburn
2. Denver Broncos – Marcell Dareus, DT, Alabama
3. Buffalo Bills – Blaine Gabbert, QB, Missouri
4. Cincinnati Bengals – Julio Jones, WR, Alabama
5. Arizona Cardinals – Von Miller, OLB, Texas A&M
6. Cleveland Browns – A.J. Green, WR, Georgia
7. San Francisco 49ers – Patrick Peterson, CB, LSU
8. Tennessee Titans – Nick Fairley, DT, Auburn
9. Dallas Cowboys – Tyron Smith, OT, USC
10. Washington Redskins – Cameron Jordan, DE, California
11. Houston Texans – Prince Amukamara, CB, Nebraska
12. Minnesota Vikings – Da'Quan Bowers, DE, Clemson
13. Detroit Lions – Robert Quinn, DE, North Carolina
14. St. Louis Rams – Jimmy Smith, CB, Colorado
15. Miami Dolphins – Mark Ingram, RB, Alabama
16. Jacksonville Jaguars – Ryan Kerrigan, DE, Purdue
17, New England Patriots – J.J. Watt, DE, Wisconsin
18. San Diego Chargers – Muhammad Wilkerson, NT, Temple
19. New York Giants – Nate Solder, OT, Colorado
20. Tampa Bay Buccaneers – Aldon Smith, DE, Missouri
21. Kansas City Chiefs – Marvin Austin, DT, North Carolina
22. Indianapolis Colts – Gabe Carimi, OT, Wisconsin
23. Philadelphia Eagles – Anthony Castonzo, OT, Boston College
24. New Orleans Saints – Phil Taylor, NT, Baylor
25. Seattle Seahawks – Mike Pouncey, C/G, Florida
26. Baltimore Ravens – Leonard Hankerson, WR, Miami
27. Atlanta Falcons – Corey Liuget, DT, Illinois
28. New England Patriots – Cameron Heyward, DE, Ohio State
29. Chicago Bears – Akeem Ayers, OLB, UCLA
30. New York Jets – Allen Bailey, DE, Miami
31. Pittsburgh Steelers – Derek Sherrod, OT, Mississippi State
32. Green Bay Packers – Aaron Williams, CB, Texas