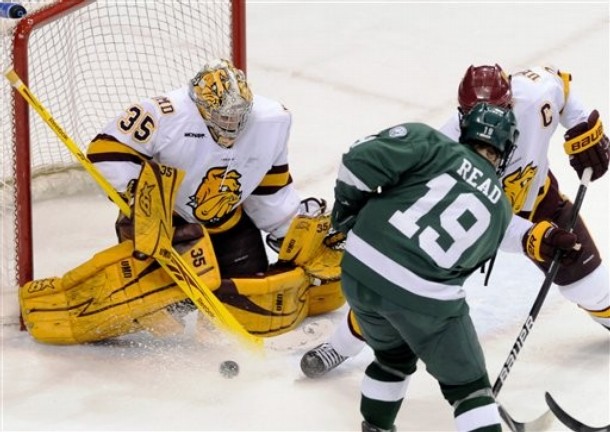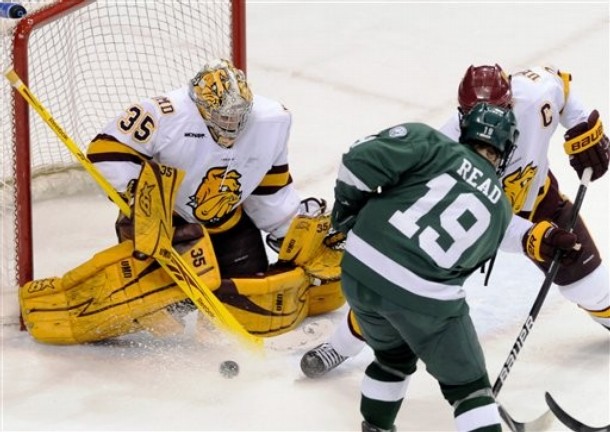 The Flyers continued their collegiate prospect search today with the signing of Matt Read, the 24 year-old captain of the Bemidji State Beavers, to a three year, one-way contract worth $2.7 million ($900K cap hit), according to Broad Street Hockey.
He put up 22 goals and 13 assists this season, similar numbers to what Phantom Mike Testwuide tallied in his senior year at Colorado College. While his background appears to be filled with positive character attributes and a strong work ethic, his signing further extends the Phantoms talent pool of over-age collegiate athletes.
Read joins Harry Zolnierczyk (signed earlier this month from Brown University), Testwuide, Ben Holmstrom, and Andrew Rowe (who has bounced between the AHL and ECHL this season) as collegiate players on the Phantoms roster.
Testwuide, 24, had a lackluster first half of the season, but appears to have found his game now that he has a season under his belt. His 13 goals and 18 assists with the Phantoms came largely in the second half of the season and suggest that, come next year, he will be one of the leading forwards on the Phantoms. The downside to this is that it means there will be more learning curves next year with the new crop of college players.
The Flyers also recently signed their 2009 7th round draft pick Oliver Lauridsen to an entry level contract for next season (two years, $650K cap hit). Lauridsen, who turns 19 on Thursday, was a defenseman with St. Cloud State, the same school that Andreas Nodl played for.  At 6'-6", Lauridsen is a big bodied defenseman ala Braydon Coburn but doesn't have much offsensive upside. Lauridsen will join fellow collegiate defensemen Erik Gustafsson, who has begun to see playing time with the Flyers this season.
To make room for the new additions, I would suspect that Stefan Legein (a healthy scratch tonight), Zac Rinaldo (now suspended for a third time and possibly indefinitely), and Jon Kalinski are gone. Kalinski may be given a shot with the big club next season, as the Flyers will once again have salary cap issues to be concerned with, but there's no guarantee he would even want to stay.
There are rumors that the Flyers are also targeting Merrimack University forward Stephane Da Costa. Da Costa, 21, put up 30 goals and 59 assists over his last two seasons. A native of Paris, France, it would be interesting to have one of the few French prospects in the system, to say the least.