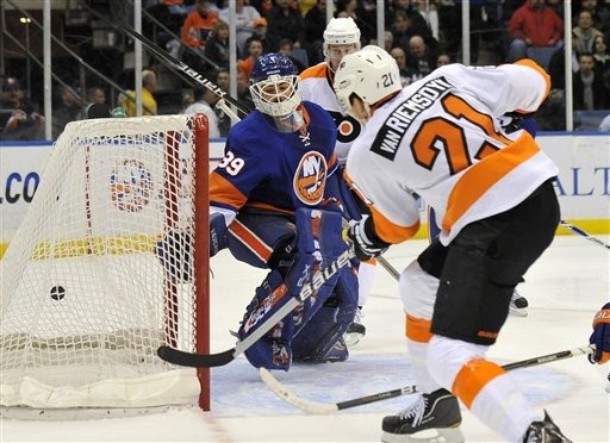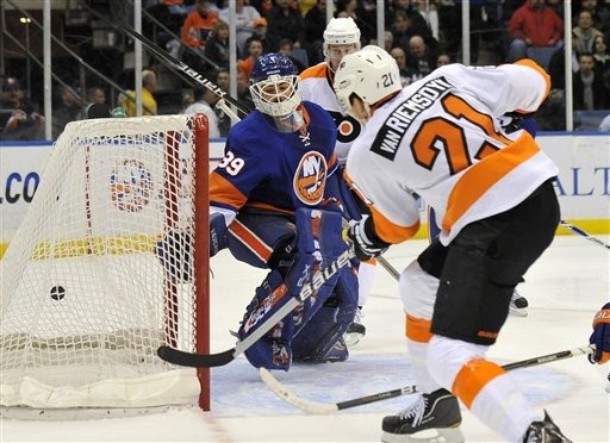 Continuing their dominance over Atlantic Division rivals, the Flyers grabbed another two points last night from the New York Islanders with a dominant 4-1 win. Sophomore James Van Riemsdyk netted a hat trick, raising his production to 19 goals and 36 points for the season. The Flyers have now reached the 100-point mark, sitting in first place with a small lead over the Washington Capitals and the Pittsburgh Penguins.
According to Anthony SanFilippo of the Delaware County Times, the win tied the Flyers' franchise record for road wins (24). I'm going to go out on a limb and say they are unlikely to catch the Vancouver Canucks for the President's Trophy (Canucks are at 107 points), but I'd almost rather they didn't have the additional weight on their shoulders as it is.
The win also put the final nail in the coffin of the Islanders season, though it was a long shot for them at this point anyway. Might as well be the Flyers to do it. In their defense, the Islanders have looked much better lately and have a crop of young forwards who are dangerous to play against. They just need to improve the defense and goaltending while staying healthy.
Over the last week, we've seen the Flyers' forwards work wonders against a hungry Capitals team but receive poor efforts from their goaltenders, followed by a by-the-numbers effort from the forwards against a yeoman Penguins roster but with stellar goaltending from Sergei Bobrovsky. Last night was a step in the right direction of receiving a complete, all-around effort from the whole team.
The tandem of Brian Boucher and Bobrovsky has worked out decently over the course of the season, but I think the ball has finally been dropped in Bob's court. I would be surprised to see Boucher get many, if any, games for the remainder of the season. Laviolette will be looking for Bob to get hot heading into the playoffs while building the team's confidence in their young netminder.
The Flyers have another tough challenge tonight against the Boston Bruins. The Bruins had fallen into slump not too long ago, but began to turn the ship around with recent wins against the bottom-feeding New Jersey Devils and their divisional opponents the Montreal Canadiens. They lost yesterday 1-0 to the New York Rangers.
Every match-up this season between the two clubs has been epic in nature and I wouldn't expect anything different tonight.