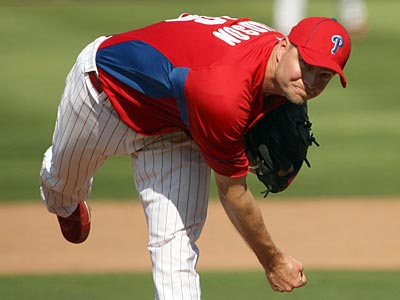 The Phillies announced on Friday that closer Brad Lidge would start the season on the disabled list because of pain in his shoulder. Lidge was not having an impressive spring to begin with, battling tendinitis in his arm and struggling to get his fastball above 87 mph.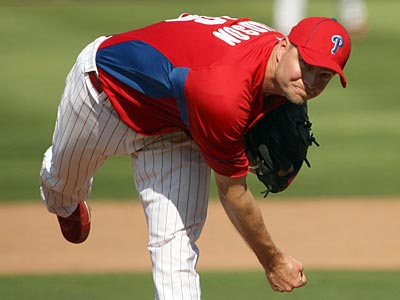 Lidge's absence now creates questions about who will be the closer until he can return. The options are Ryan Madson and Jose Contreras. The Phillies will give Ryan Madson the first shot at the job, and that is the right decision.
Madson has the physical tools to be a successful closer, he has an overpowering fastball and a solid changeup. Madson also has the desire to be a closer. He's made it no secret that he someday wants to be a fulltime closer. The problem is that to this point in his career, Madson has struggled every time he has been given an opportunity to settle into that role.
For Madson to be a successful closer, it's just a matter of him getting over the mental hump of pitching the 9th inning instead of the 8th. Madson may be the best set up man in baseball, and statistically has faced the heart of the opposing teams order more frequently in the 8th inning than Brad Lidge has faced them in the 9th. If Madson can get over his mental troubles of closing, he'd have no trouble shutting the door at the end of games.
This may be the best opportunity Madson will get to prove he can close. He is in a contract year, and he'll have a hard time convincing
the Phillies or any other team to pay him like a closer unless he can prove he can succeed in the role. Madson also has a chance to be the Phillies closer for the majority of the season. Even when Brad Lidge returns, there isn't any telling if he'll be able to recover the velocity of his fastball. There is a chance that Lidge has been physically worn down, and won't ever be a reliable closer again.
The opportunity is there for Madson to prove himself. Even though its too early to write Lidge off for this season, the Phillies are going to need Madson to fulfill his potential this season, and step up as the closer. He's had a couple of seasons to taste what the role is like, and he's gone through growing pains while struggling to succeed in that role. Its now or never for Madson as a closer. If he can't prove he can do it now, it will be hard for him to sell himself as a closer when he gets to free agency.