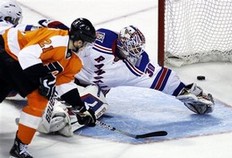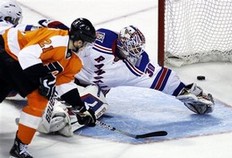 With an overtime win on Saturday for the Washington Capitals, the Flyers fell out of first place in the Eastern Conference for the first time in almost three months. They narrowly took back the lead after gaining a point in today's shootout loss to the New York Rangers.
The Rangers, sitting in 8th place, have only a two point lead over the Carolina Hurricanes.
"We would have thrown a big dagger in the Rangers' playoff hopes if we had won tonight," said Scott Hartnell. "They might possibly be our first round opponents. That gives them confidence, obviously nothing that we wanted to do, but we know we can play with any team in the league. We're just not quite there."
The line-up was shaken up today with Danny Briere sitting out for the infamous "lower body injury," which some are speculating to be groin-related. Blair Betts also left after the second period due to injury. Paul Holmgren, speaking to the media after the game, suggested that they may sit out a few games (ultimately the rest of the season), but they would be ready in time for the playoffs.
It's difficult to tell with this organization how healthy the players truly are, but don't be surprised if a number of them start the post-season banged up.
The overall impression of today's game was that it was a first step in the right direction for the team, which has been struggling to put in a consistent 60 minute effort since March. The team showed up ready to play in the first period, but blew a 1-0 lead due to back-to-back penalties. Their intensity continued to dwindle throughout the second.
"The first two periods, I think we didn't have anything going… we were kind of dead," said Claude Giroux.
Giroux played on a line with James Van Riemsdyk and Nikolay Zherdev as a result of Briere's absence, but the trio had a very strong game, all things considered. JVR scored his 21st of the season in the first period, using his body in the crease to collect a nice garbage goal. Zherdev tied the game in the third period, taking advantage of Rangers defenseman Ryan McDonagh limping to the bench after blocking a shot to start an offensive rush with Giroux.
"I don't know if you remember the first game after he had a long period out not playing, the game in Ottawa, he played real good for half the game and then he ran out of gas," said Holmgren. "I think this time, since the two games he's played, he's looked fresh. He's really worked hard. I'm proud of him. He spent a lot of time with the assistant coaches, a lot of time just by himself… we knew at some point he'd be a pretty nice option for us to get in there. Credit to Nik, he worked at it and he's played good in these games."
When the line-up returns to normal, expect Zherdev to continue playing with Giroux and Jeff Carter.
Ville Leino drew coach Peter Laviolette's ire after the second period and was benched for the bulk of the third. Laviolette would only say "we shortened the bench" as his reasoning. I didn't notice Leino as being particularly bad with turnovers, but Kris Versteeg didn't appear to forecheck on any of his shifts.
Hartnell addressed the loss in much the same way that his teammates have over the last month.
"It's a little concerning. It's collective. It's not just a line, or a couple of guys. We're not finishing checks, we're not… it seems like we're not doing the forecheck, we're not getting the pressure that we want. At the beginning of the year, we were relentless. Groups of five out there, just cycling non-stop. Seems like we have one good shift and two shifts off, and definitely not winning hockey, as you can tell from the last little while.
"It's going to be a short playoff season if we don't correct it now."
Unfortunately, they're running out of time.
For in-game updates and post-game video, you can follow me on twitter (@JoshJanet).