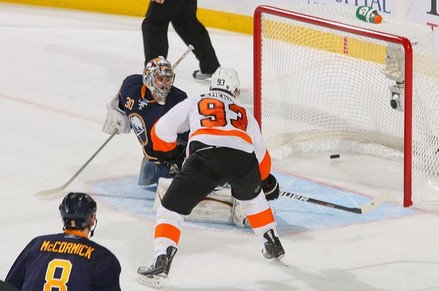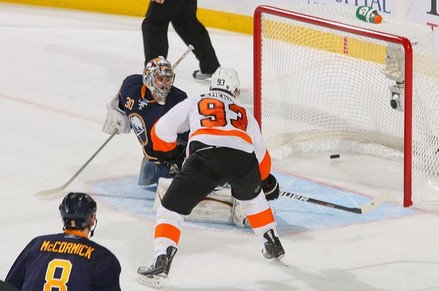 The Flyers' 4-2 victory over the Buffalo Sabres in Game Three was another nailbiter, but they managed to hold onto the win to take the series lead for the first time. Despite a potential goalie controversy, Brian Boucher took the reins of the club and stopped 35 of 37 shots.
Jeff Carter put the Flyers on the board early with a laser of a powerplay goal, but Drew Stafford returned the favor shortly thereafter. The Flyers had dominated from the outset for about six minutes before becoming complacent. For the remainder of the first period, the Buffalo Sabres out-hustled, out-chanced, and ultimately out-shot the Flyers 15-6.
Danny Briere recaptured the lead in the second period after a bang-bang play was set up by Scott Hartnell. Hartnell would have had a decent game if it wasn't for his poor decision-making when it came to penalties. Nikolay Zherdev, replacing an injured Andreas Nodl in the line-up, put the Flyers up 3-1 with help from linemates Mike Richards and Kris Versteeg.
Should Nodl be ready for Game Four, I would expect Dan Carcillo to sit. He has been playing very well thus far, scoring the second goal of Game Two and providing a lot of energy while not taking many penalties. Unfortunately, he is not utilized on either the penalty kill or the powerplay units, and as a result, was the only player on the team to receive less ice time than Zherdev (6:02 compared to 8:14). Nodl can at least eat up time on the penalty kill.
Nathan Gerbe, all of 5 ft-5in, cut the deficit to one goal with a high glove-side goal that Boucher would have liked back, based on his reaction.
The Flyers played defensive hockey for the third period, out-shot 11-5 in the frame. Kimmo Timonen managed to grab the empty net goal to put the Sabres to bed.
Heading to Game Four, the Flyers still need to work on their special teams as well as their discipline. In their defense, the referees have been calling the games very questionably, but that's not much of an excuse. Hartnell in particular needs to re-focus and control himself the way that Carcillo has.
Game Four begins on Wednesday. For the latest Flyers news and in-game updates, you can follow me on twitter (@JoshJanet).