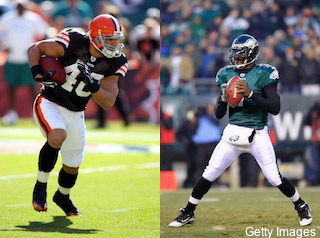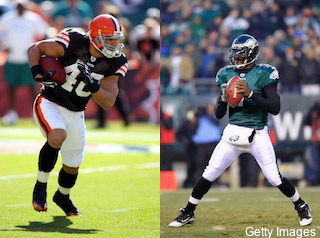 It was supposed to Michael Vick versus Green Bay Packers Super Bowl MVP Aaron Rodgers in the finals of the battle for being on the next cover of EA Sports Madden video football game. On the way to the finals something unexpected happened, Rodgers was upset by Cleveland Browns power running back Peyton Hillis.
Vick was a 3rd seed, but has had no problem getting more votes than his competition, so far. He has beaten Cowboys pass rushing linebacker DeMarcus Ware, Houston Texans perennial-All-Pro wide receiver Andre Johnson, San Francisco 49ers Pro Bowl middle linebacker Patrick Willis and Minnesota's All-Pro running back Adrian Peterson. Each win has been by a large margin, which is the reason he goes into the final as a favorite.
Hollis who was a 14th seed in at the beginning of the competition and he's been able to come out with enough votes to advance. He not only upset Rodgers, but he took down Atlanta's franchise quarterback Matt Ryan as well.
Some of the Packers fans say they didn't want Rodgers to win the award because of the much talked about Madden curse, which refers to the numerous players who have gotten injured in the same year their picture has been on the front of the Madden game.
Vick was on the cover previously and happened to break his leg and miss 12 games during that season.