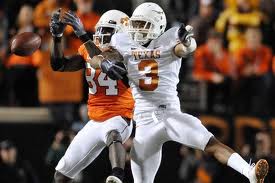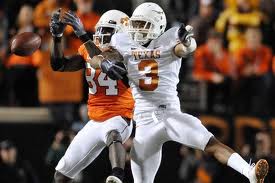 Every off season, NFL teams spend the majority of their time re-organizing for the following season. With the lack of a collective bargaining agreement, the only changes any team can make will be by way of this week's draft (That is, unless, Judge Susan Nelson grants an injunction without anyone staying the ruling).
Each team is allowed to bring in up to 30 players for an individual visit. This doesn't include local products or going to a college's Pro Day.
According to the Moving The Chains section of Philly.com, the Philadelphia Eagles have had individual workouts with 44 different prospects. Four of the 2010 prospects were drafted by the Eagles last year, starting with 3rd round selection Daniel Teo' Nesheim.
There's a good chance a few players Andy Reid and Co. did there homework on will be donning midnight green whenever the business know as the NFL resumes.
Let's take a closer look at those 22 prospects and see who's likely to end up in The City of Brotherly Love.
1. Akeem Ayers-LB (UCLA): Ayers is viewed by many as a 3-4 LB, but that wouldn't stop the Eagles from drafting him. Using a 1st round pick on a linebacker would be a complete shocker. I don't see it happening.
2. Allen Bradford-RB (USC): Bradford is a 242 lb north/south runner who had 14 total receptions as a Trojan. Unless the Eagles offensive philosophy changes, he won't be a good fit (See Charles Scott- 2010 6th round pick).
3. Curtis Brown-CB (Texas): With good size (6'0", 185 lbs) and man coverage being his strength, Brown would be a great pickup in the second round if he's available.
4. Jalil Brown-CB (Colorado): Brown has the potential to be a mid round steal (a la Asante Samuel). Wherever he goes, don't expect him to be on the field much his rookie year.
5. Chris Conte-S (California): Everything about Conte says special teams.
6. Andy Dalton-QB (TCU): I have a hard time seeing the Eagles draft a QB in the 2nd round. But, of course, I felt the same way in 2007.
7. Pat Delvin-QB (Delaware): The former Nittany Lion's 2009 season had many people thinking he could be a 1st round pick. Delvin's draft stock has steadily declined ever since. That said, he still has the potential to be a late round steal.
8. Brandon Fusco-C (Slippery Rock): Fusco's one of the top centers in the draft and could be available Day 3.
9. DeJon Gomes-S (Nebraska): Gomes likely won't be drafted and will have to wait for a new CBA to prove he can play special teams for someone.
10. Alex Green-RB (Hawaii): Green's ability in the passing game would make him a great fit in Philadelphia. His size reminds me of Correll Buckhalter.
11. Mario Harvey-LB (Marshall): At 5'11", 250 lbs, Harvey's size and style of play reminds me London Fletcher and Zach Thomas. Not bad company to be a part of.
12. Chris Hogan-WR/S (Monmouth): The 6'2", 220 lb Hogan is a long shot to make the NFL, but his size and background is reminiscent of 2009 Cowboy Pro Bowler Miles Austin.
13. Doug Hogue-LB (Syracuse): A converted running back, Hogue has a lot of upside.
14. Ross Homan-LB (Ohio St.): After reading about Homan, he seems like an Andy Reid guy. He was a team captain, has a high football IQ and plays special teams.
15. Davon House-CB (New Mexico St.): Projected 2nd round picks Curtis Brown and House are part of the reason the Eagles might trade down with their first round pick.
16. Kendall Hunter-RB (Oklahoma St.): Hunter would be a good fit but if he's projected to go in the 2nd round that's a bit of a reach for a third down back.
17. Ben Ijalana-OL (Villanova): The former Wildcat is listed as a tackle, but he'll be playing guard in the NFL.
18. Jaiquawn Jarrett-S (Temple): Jarrett has the ability to play either safety position. Not sure exactly how high he should be drafted, though.
19. Jarvis Jenkins-DT (Clemson): Jenkins has the potential to be a solid player. If the Eagles drafted him, Jim Washburn would need a lot of time with him.
20. Taiwan Jones-RB (Eastern Washington): The former cornerback ran a 4.29 forty at his Pro Day. He'd be a good fit in Philly but I think Al Davis will beat everyone to this guy.
21. Colin Kaepernick-QB (Nevada): Kaepernick is my favorite QB prospect this year and seems like Reid's type of signal caller. It would still surprise me if the Eagles take a QB on Day 2.
22. Jason Kelce-OL (Cincinnati): At 280 lbs, Kelce is a bit undersized. The Eagles normally prefer bigger linemen.
To Be Continued – We will take a look at the final 22 on Tuesday, then the prospects I think the Eagles will select on Wednesday.